BJP flouts loudspeaker ban during exams to protest an attack by alleged TMC leaders
District chief Lakkhan Ghorui tried to justify use of loudspeakers by saying that there were no exams on a Sunday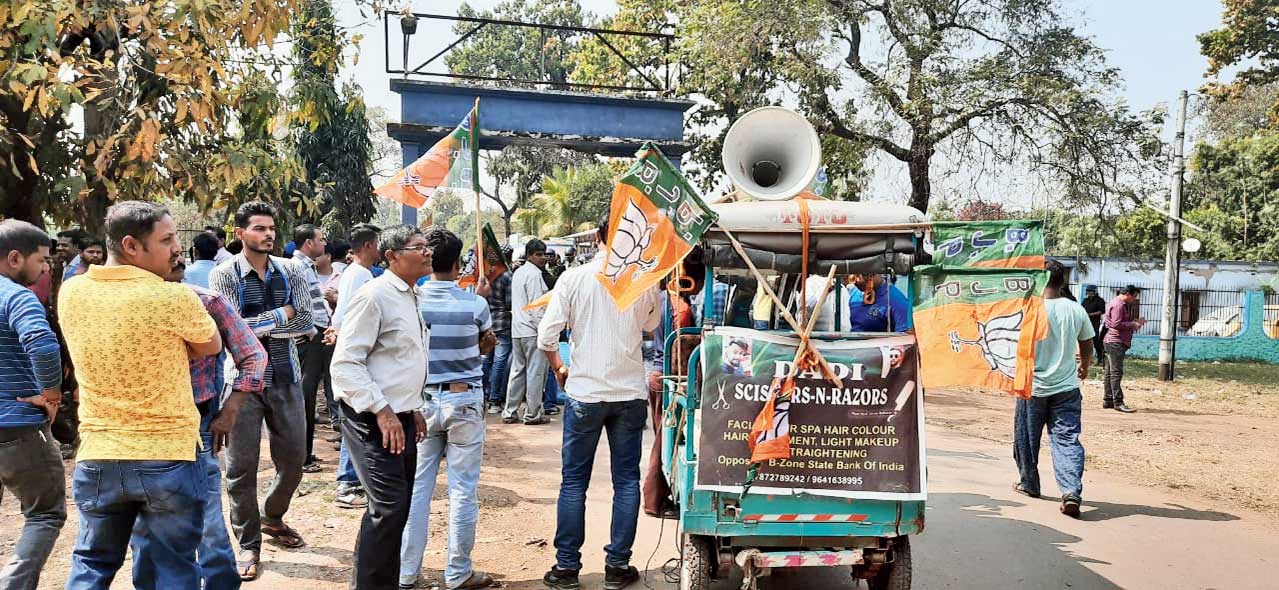 ---
|
Durgapur
|
Published 23.02.20, 07:43 PM
---
The BJP on Sunday flouted state-wide ban on use of loudspeakers during ongoing board exams when the party held a dharna in front of Durgapur police station to protest an attack on a restaurant by alleged Trinamul Congress leaders.
As the BJP raised the pitch of its protest against Trinamul, the police just looked on and didn't do anything to stop the use of loudspeakers.
The two-hour protest by the BJP from 11.30am was against vandalism at a restaurant owned by a party leader in an amusement park on Saturday. The BJP alleged that the attack had been led by councillor Rajib Ghosh and other Trinamul leaders.
Around 100 BJP workers led by district president Lakkhan Ghorui sat on a dharna in front of the police station and used two loudspeakers to raise slogans and address the gathering.
Asked why the loudspeakers were being used despite the ban, Ghorui, who addressed the protesters, said they had no alternative as the police did not arrest councillor Ghosh and other accused Trinamul leaders. Ghorui tried to justify the use of loudspeakers by saying there were no exams on Sunday.
Durgapur deputy commissioner of police (east) Abhishek Gupta was present when the ban on the use of loudspeakers was flouted.
Residents, particularly examinees, living in the vicinity of the police station had a horrifying time as the BJP workers scuffled with the police and the loudspeakers breached all sound limits.
"We will take action for using loudspeakers as it is banned now. We are also investigating the complaint of the BJP," Gupta said.
However, the police officers present at the spot failed to answer why the BJP had been allowed to violate the ban for nearly two hours.
After the protest continued for one-and-a-half hours, the police allegedly resorted to a mild lathi-charge to disperse the BJP workers.
About a kilometre away, Asansol mayor Jitendra Kumar Tiwari and his Durgapur counterpart Dilip Agasty attended a cultural event at Kumarmangalam Park where microphones and huge sound boxes were used from 2.30pm to 4.30pm on Sunday.
When journalists asked Tiwari why the ban on using sound boxes in an open area was violated, he said: "We have followed rules in using sound systems."
A senior police officer said: "We will look into the violation of ban on loudspeakers and take necessary action."