Bidhannagar Municipal Corporation's mayor keeps finance, deputy gets roads
The mayoral council members were given charges of their department at a function organised at the civic headquarters in Poura Bhavan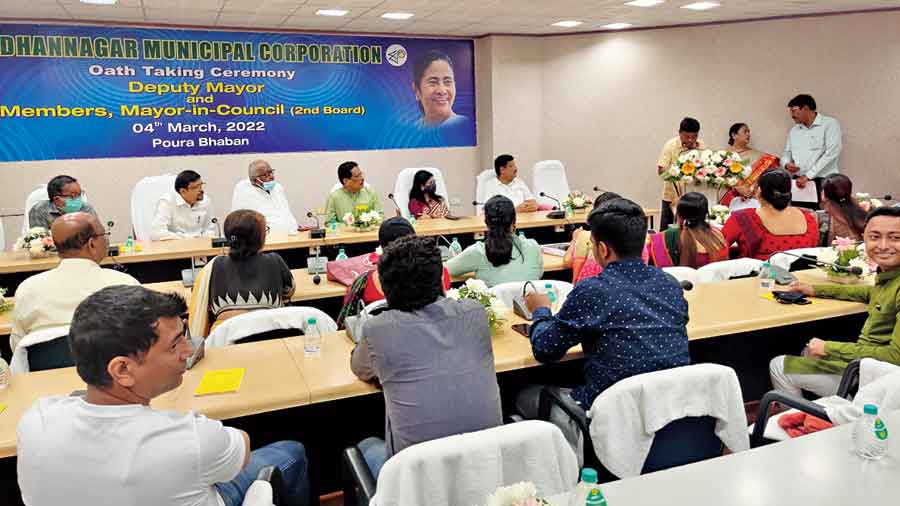 A meeting being held in Poura Bhavan on Friday to announce the portfolios of the mayoral council members.
Pictures by Debasmita Bhattacharjee
---
Salt Lake
|
Published 11.03.22, 12:24 PM
|
---
Krishna Chakraborty, the re-elected mayor of the Bidhannagar Municipal Corporation, will head the maximum number of departments of the civic body in the newly formed mayoral council, it was announced at a meeting of Friday.
Apart from being the mayor, Chakraborty will head a dozen key departments including finance and accounts, building and competition certificate, vigilance, general establishment, purchase and central stores, public works department, cultural affairs, estate, Atal Mission for Rejuvenation and Urban Transformation (Amrut) and amusement among others. The mayoral council members were given charges of their department at a function organised at the civic headquarters in Poura Bhavan.
Deputy mayor Anita Mondal will head departments like roads, trade license, training and the grievance redressal cell.
Several important sections of the civic body's day-to-day functioning in turn have been handed over to Debraj Chakraborty who will head the solid waste management department that is responsible for collection of waste and garbage from homes across all 41 wards of the corporation.
He has also been put in charge of sewerage and drainage and has his work cut out as large parts of the constituency faced severe water-logging during monsoon last year.
Debraj Chakraborty has also been entrusted with the tax assessment and collections department, from which collection has been abysmally low throughout the 41 wards of the civic body. This is because a court case is on over the assessment of taxes in Salt Lake and in Rajarhat too. Many do not pay taxes as assessment isn't proper.
Rahima Bibi retains her old post and will head the environment section of the corporation with the added responsibilities of looking after various state government schemes including Kanyasree and Ruposree at the urban local body level.
First timer Aratrika Bhattacharjee has been tasked with taking care of the sports department as well as disaster management, relief distribution and handling of MP and MLA LAD finds that are disbursed through the Bidhannagar Municipal Corporation.
Tulsi Sinha Roy, who as also been named as a mayoral council member for the first time, will head the water supply department and Rajesh Chirimar has been entrusted with heading education as well as markets under the civic body.
Banibrata Banerjee, another first timer, has been given the portfolio of health and he replaces Pranay Kumar Ray who worked extensively during the pandemic but did not make it to the mayoral council.
Sujit Mondal is in charge of parks and lighting and replaces Sudhir Saha, who was not given a ticket to contest the polls by the Trinamul Congress.
Bid to rename municipal corporation Rajarhat New Town MLA Tapash Chatterjee raised a proposal during the question-answer session in the Assembly on Wednesday to rename Bidhannagar Municipal Corporation as Bidhannagar Rajarhat Municipal Corporation. This, he said, was a long-standing demand of the people of Rajarhat which has 27 wards compared to 14 of Salt Lake under the corporation. The proposal had been passed by the last civic board, he said.