Turnout above 75% in two Murshidabad seats
Bhowanipore records over 50% polling amid skirmishes, signs of nerves
BJP nominee alleges 'proxy' voters from elsewhere; Murshidabad seats of Shamshergunj and Jangipur see over 75% turnout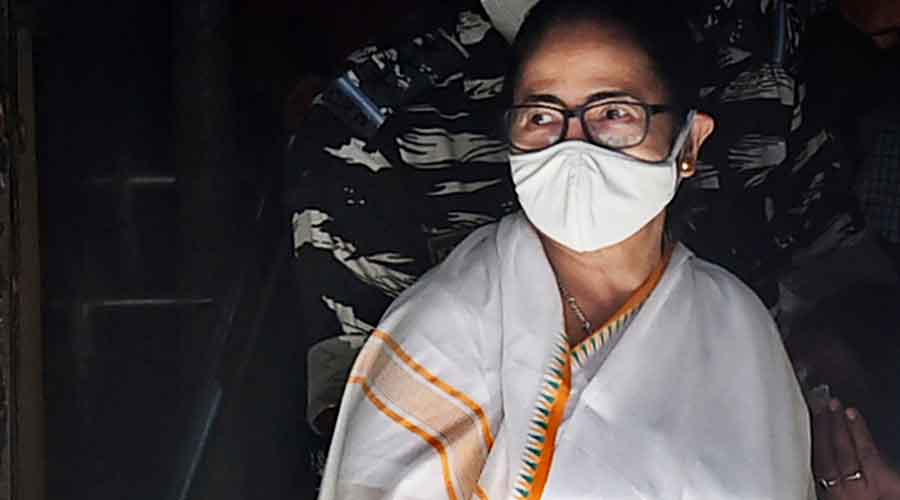 Bengal CM and TMC candidate Mamata Banerjee leaves after casting her vote at a polling station during voting for Bhowanipore Assembly by-poll, in Calcutta on Thursday, September 30, 2021.
PTI
---
Calcutta
|
Published 30.09.21, 07:00 PM
|
---
As the sun-kissed, bright day - marred by intermittent showers - in Calcutta neared the end on Thursday, workers of the Trinamul Congress seemed to behave in bizarre fashion, leaving many  wondering what the party that is confident of Mamata Banerjee's victory by over a lakh votes was afraid of?
Former footballer and BJP leader Kalyan Chaubey's car came under an unprovoked attacked around 3.30 pm when he was on a tour of the constituency near the Padmapukur area. The damage was not major, the footballer-politician too was unhurt. But the  incident gave a peep into the  ruling Trinamul camp's worries.
In some other areas, Trinamul workers managing camps chased away local residents. An unidentified youth, suspected to be a resident of Bansdroni, was caught near the polling booth at Khalsa High School on Puddapukur Road and later snatched away by a group. In a booth at ward 63, some CPM workers identified a resident of Cossipore in North Calcutta, managing the camp.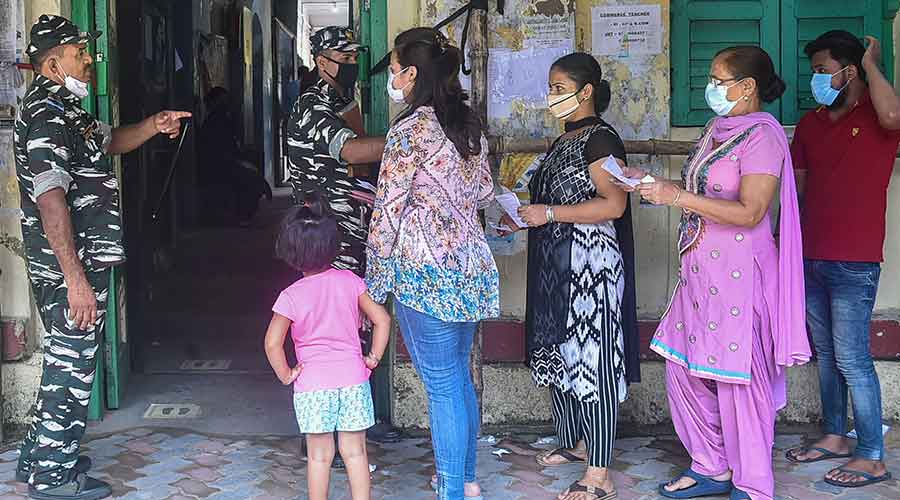 Priyanka Tibrewal, the BJP nominee, claimed the Bansdrdoni youth was paid Rs 500 to cast his vote for Mamata. "I have informed the election commission," she said.
Why the Trinamul needed "outsiders", which the party has denied, is unexplained.
"This is not democracy, this was an unprovoked attack. I will request the Election Commission to probe the reason behind this attack," Choubey later said.
"The BJP is making baseless allegations. Their candidate went inside booths with armed guards to create panic among voters," said Subrata Mukherjee, state minister.
"BJP thought they would rig polls here like they did in Nandigram, bribe the Election Commission. Twenty per cent of the voters have either died or left. No arrangement was made for senior citizens. Yet we will win with a huge margin, more than what it was last time," said Firhad Hakim.
State industries minister Partha Chatterjee sounded confident.
"Voter turnout is in sync with the trend during a bypoll. Higher turnout would have been better. Seventy five per cent of the votes polled will go to Mamata," Chatterjee said.
Trinamul leader Baishwanar Chattopadhyay claimed the opposition-BJP and CPM-could not give polling agents in more than 20-22 pee cent of booths.
Till 5 pm at Bhowanipore, the polling percentage was 53.32 per cent, almost 10 per cent higher than September 2011 when Mamata first became an MLA to continue as chief minister. Around 44 per cent of the voters had turned out in 2011 _around 77 per cent went Mamata's way giving her a victory margin of 54,213 votes.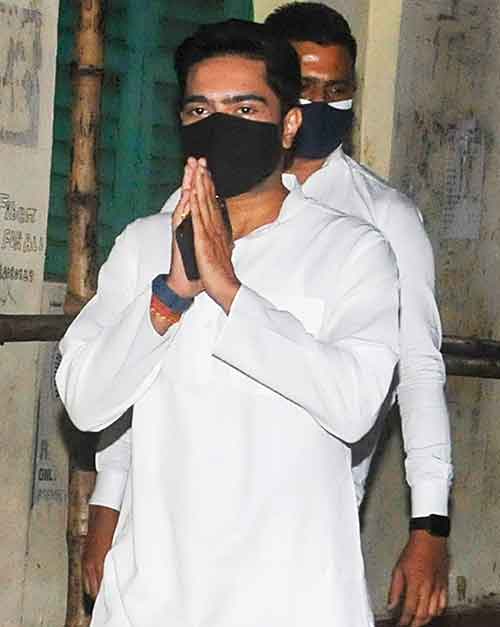 In the other two Assembly seats where elections were deferred till Thursday, Shamshergunj and Jangipur, both in Murshidabad, the turnout at 5pm was 78.60 per cent and 76.12 per cent.
Since 2011, lesser number of voters in Bhowanipore have favoured any Trinamul nominee, be it Mamata or anyone else.
While Mamata has been the undisputed Number One politician in Bengal, the record margin for any chief ministerial candidate is still held by her former bete noire Buddhadeb Bhattacharjee. During the peak of his political career, Bhattacharjee had won by a margin of 58,130 votes from Jadavpur in 2006.
Bengal's favourite daughter at least on paper is nowhere near that margin. In the 2014 Lok Sabha polls, BJP was actually leading from the Bhowanipore Assembly segment of the Calcutta South Lok Sabha seat. In 2016, Mamata's margin was reduced to 25,301 and continued to dip further stopping at 3,168 votes during the 2019 Lok Sabha polls.
This time, the polling having crossed the 50 per cent mark in the constituency of 2.06 lakh voters, would definitely bring some relief to Mamata, as it increases her chances of widening the victory margin. Though traditionally it is believed a higher turnout indicates anti-incumbency playing a role, in successive Assembly polls, the Trinamul under Mamata has defied the trend. In the Assembly polls held this year, the average statewide turnout was 81.33 per cent with the Trinamul winning 213 seats.
However, Mamata's own narrow defeat in Nandigram has exposed her electoral vulnerability. While Mamata would like to treat it as a once-in-a-lifetime blemish, the BJP is looking for an encore. The absence of Congress from the scene has ensured that the anti-Trinamul votes would go to the BJP. After 2011, this is the first time that the CPM has put up a nominee in the constituency, which it had reserved for alliance partner Congress.