Bharatiya Gorkha Prajatantrik Morcha wants statehood talks
The newly formed party's demand is likely to put pressure on the BJP and its six allies in Darjeeling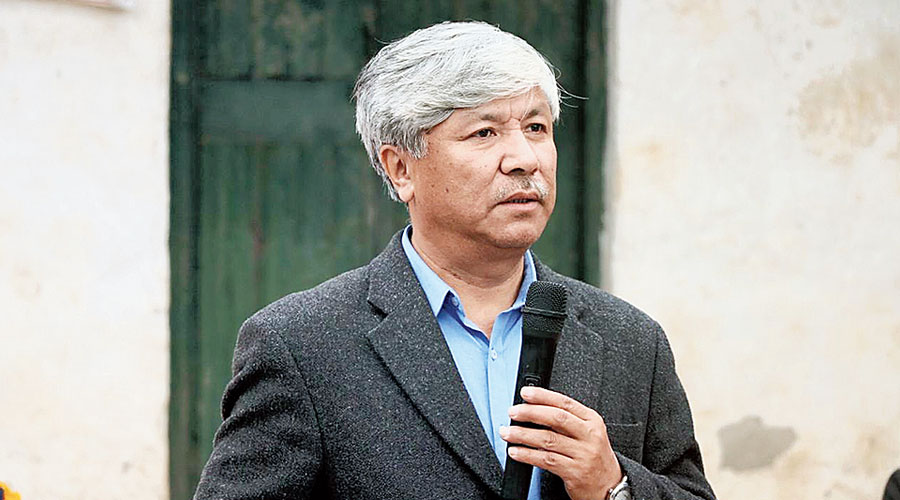 Amar Lama
Telegraph Picture
---
Darjeeling
|
Published 17.09.21, 04:46 AM
|
---
The Bharatiya Gorkha Prajatantrik Morcha has demanded that the tripartite talks that Darjeeling BJP MP Raju Bista had announced only discuss the demand of a separate state of Gorkhaland.
The newly formed BGPM's demand is likely to put pressure on the BJP and its six allies in Darjeeling, including the GNLF, as many believe the saffron camp is not keen on Gorkhaland discussion given its pan-Bengal political interest.
BGPM general secretary Amar Lama said on Thursday: "Only Gorkhaland and nothing else should be discussed at the tripartite meeting."
After calling on Union home minister Amit Shah with leaders of the BJP's hill allies in New Delhi on August 6, Bista had said Shah had conveyed to them that a tripartite meeting would be held in the first week of September and the state government, too, would be invited to the talks.
Even though the meeting has not yet been called, Bista reassured that the same would be held in September itself.
"In this meeting, the aspirations of the hill people (Gorkhaland) should be discussed and an agreement should be reached on," Lama said on Thursday.
Even though the Union home minister will decide on the list of invitees, the BGPM also has an elected representative in Ruden Lepcha Sada from Kalimpong Assembly segment .
"If BJP MLAs, Neeraj Zimba and B.P. Bajgain, are invited to the meeting, then the BGPM will definitely demand that its representative, too, be called. If invited, Sada would definitely speak in public about whatever discussions which take place at the tripartite meeting," said a BGPM leader.
For the BJP, which has promised a "permanent political solution" for the hills, a positive discussion on Gorkhaland would be a damper for the saffron camp in the rest of Bengal, which is largely against the creation of a separate state.
Roshan Giri, the general secretary of the Gorkha Janmukti Morcha, had claimed earlier that the agenda of the tripartite talks had been changed from "Gorkhaland" to "issues concerning Gorkhaland Territorial Administration" because of pressure from the Bengal BJP.