BGPM and TMC topple Darjeeling civic mandate
A meeting was convened at civic body where all 16 tabled and passed motion against Ritesh Portel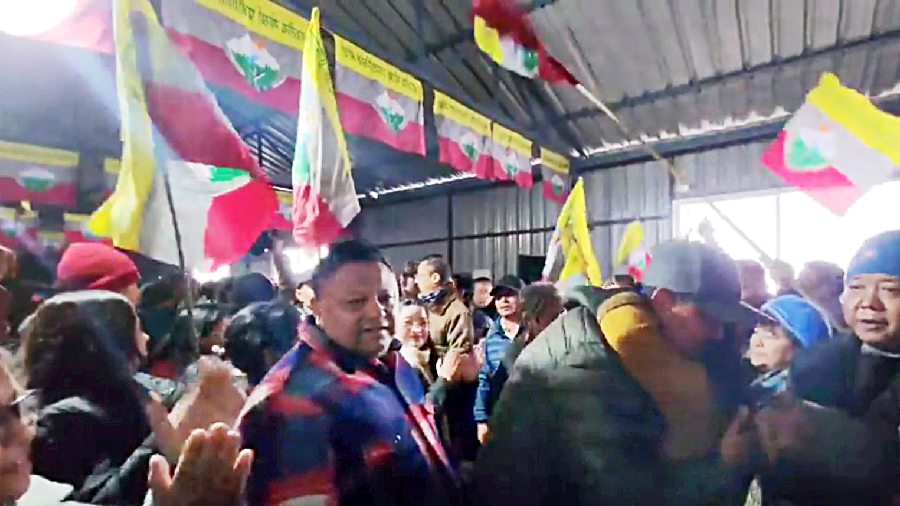 BGPM president Anit Thapa and supporters celebrate the floor test victory in Darjeeling on Wednesday
---
Siliguri
|
Published 29.12.22, 03:39 AM
|
---
The hill town of Darjeeling witnessed a major political change on Wednesday as the Bharatiya Gorkha Prajatantrik Morcha (BGPM) and Trinamul jointly toppled the Hamro Party-led board in a no-confidence motion tabled against the civic chairman.
Over the past few weeks, the BGPM staked claim on the civic body where elections had been held earlier this year and won by Hamro Party (HP), as six HP councillors defected to the BGPM. The BGPM however claimed that they had 16 councillors — the magic figure in the existing 31-member municipality with one seat made vacant by a prior resignation.
Accordingly, an extraordinary meeting was convened at the civic body on Wednesday, where all 16 tabled and passed the motion against Ritesh Portel, the civic chairman and HP member. Portel, along with 11 other councillors of the HP, however, didn't participate in the meeting. Three councillors of Bimal Gurung's Gorkha Janmukti Morcha stayed away.
"Our 14 councilors, along with two Trinamul councillors, successfully passed the resolution. It is a political achievement for us," said Anit Thapa, the BGPM chief, after the meeting.
Thapa also announced Dipen Thakuri, the councilor of ward 2 who had defected to the BGPM from HP, as his party's candidate for the new civic chairman. The success, BGPM insiders said, will bolster the party's confidence ahead of rural elections likely to be held in the hills early next year, after over 20 years.
"Earlier, we had secured the majority at the GTA (Gorkhaland Territorial Administration) with peoples' mandate, and now, we have the Darjeeling municipality. It will encourage our leaders and workers to put in their best in the panchayat elections," said a party functionary.
After the meeting, the executive officer of Darjeeling municipality said the administration will act on Wednesday's resolution, and a meeting would soon be convened to elect the new chair.
Thapa, who is also the chief executive of the GTA, said the new civic board will work independently.
"Our only aim is to keep the hills united and develop the region in a planned manner. The civic board will work on its own and won't be controlled from elsewhere," he said.
The BGPM's plan to gain control of the civic body led to a new political alignment in the hills as Bimal Gurung of the Morcha, Binay Tamang, who is now with Trinamul and HP founder Ajoy Edwards have joined hands and alleged that democracy was violated by how the BGPM got HP councillors on board.
Edwards, who launched a month-long agitation on Tuesday, said: "We deferred the protest on Wednesday because of the prohibitory orders (issued by the administration). But our protest will continue as the peoples' mandate in the civic elections has been blatantly violated. We will also take legal steps."