Better pay clears land hurdle to new bridge
The development paves the way for the resumption of work on a 264-foot-long bridge, 18 feet wide, to connect Laxminathpur and Faridkati in Baduria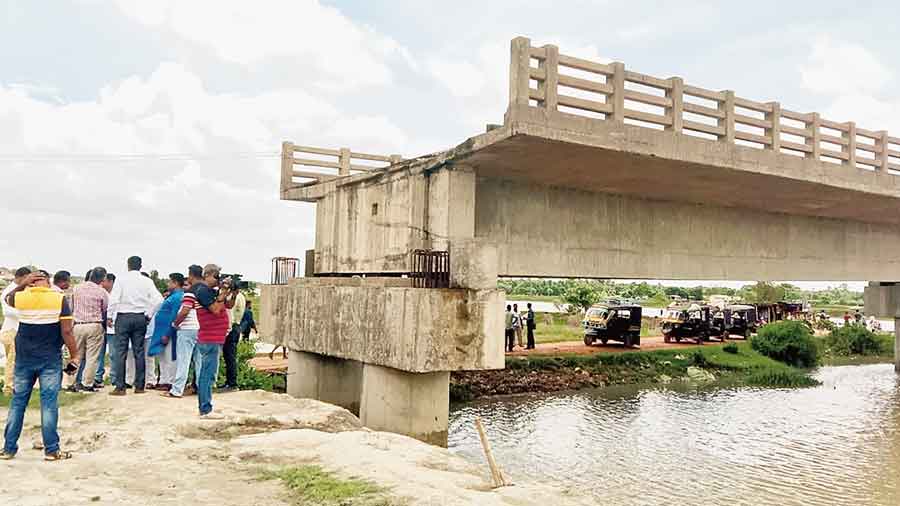 The incomplete bridge over the river Ichhamati in Baduria of North 24-Parganas.
Pashupati Das
---
Calcutta
|
Published 18.07.22, 01:20 AM
|
---
The North 24-Parganas district administration has resolved a land acquisition problem holding up the construction of an approach road to a bridge over the river Ichhamati in Baduria, though a major part of the bridge was ready nearly five years ago.
District officials and state PWD officials this week held talks with land owners, mostly members of a religious organisation, with the latter agreeing to hand over 4.5 acres to the state government at a rate determined by them..
The development paves the way for the resumption of work on a 264-foot-long bridge, 18 feet wide, to connect Laxminathpur and Faridkati in Baduria.
The hurdle to the acquisition of land appearing to be over, PWD authorities are contemplating resuming the work as soon as payments get cleared. North 24-Parganas district magistrate Sharad Kumar Dwivedi said: "We are hopeful of starting the approach road work by November this year."
PWD officials claimed that it would take around 18 months to execute the remaining work that includes building approach roads on either side of the bridge before opening the bridge to the public.
Angered over the suspension of work for over four years, chief minister Mamata Banerjee recently directed the district administration and PWD authorities to settle the dispute at the earliest so that work can resume.
Sources said the bridge was sanctioned in 2013 with a project value of Rs 13 crore.
"A majority of the work was completed by 2017. Nevertheless, the much-awaited bridge  proposed as an alternative to connect to Ghojadanga land port had to be suspended owing to a dispute over the price of the 4.5 acres that was to be acquired by the state government to build a 1.9km approach road towards Baduria market," said a district source, adding that the bone of contention the past few years had been the price the government was willing to pay.
Following a "marathon meeting" with land owners this week, district magistrate Sharad Kumar Dwivedi offered an enhanced price to owners on behalf of the state government.