Governor Jagdeep Dhankhar defends visit
Visit to 'establish a connect with the students in his capacity as their guardian'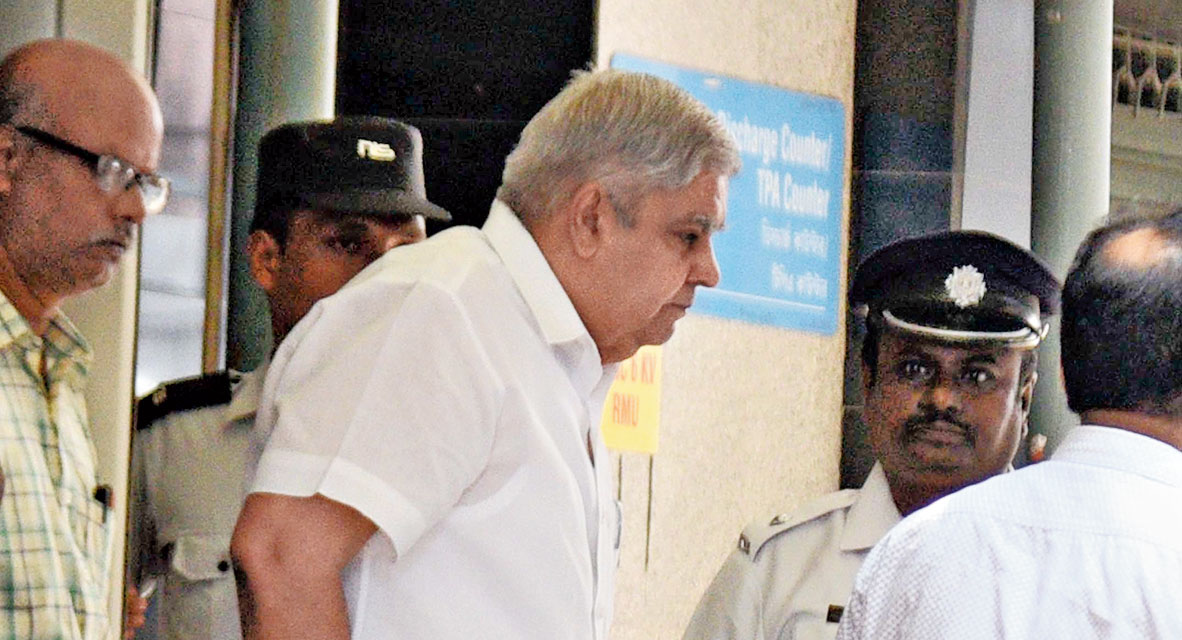 Governor Jagdeep Dhankhar outside AMRI, Dhakuria, on Saturday.
Picture by Gautam Bose
---
Calcutta
|
Published 22.09.19, 07:53 PM
|
---
Governor Jagdeep Dhankhar on Sunday defended his decision to go to Jadavpur University when Union minister Babul Supriyo was facing students' agitation on Thursday, saying he had gone to "establish a connect with the students in his capacity as their guardian".
The governor, also chancellor of JU, said this at a programme organised by Rajasthan Parishad on Sunday.
Education minister Partha Chatterjee, speaking as Trinamul secretary-general, had criticised the chancellor for landing on the campus ignoring the chief minister's plea "that the Governor being the constitutional head need not go at this moment".
"Ek vishay kaha gaya ki aap ek vishwavidyalaya mein gaye. Maine socha, maine chintan kiya. Aur maine paya ki kya main abhibhavak hoon. Kya mujhe vidyarthio ki chinta hain? Kya unse baatchit karne ka mujhe adhikar hain? (It was said that I had gone to a university. I thought.... Then I started wondering whether or not I was their guardian. Should I not be concerned about the students? Don't I have a right to hold a dialogue with them?)," Dhankhar said.
"Then I thought if I do not connect with the students, who else will? I have to connect with them. I have to have a dialogue with them. I have to understand their situation. Only then can we go ahead."
Dhankhar, who had to jostle with the students as police made way for him, said he was happy that the students and teachers cooperated with him.
"I am happy to state that I received cooperation from students and teachers after I reached the campus. And the situation was in a way resolved. This is not about going there, it is about the intention with which I had gone," said Dhankhar.
The chancellor admitted that his decision to visit the campus was a "difficult" one. He had spoken to chief minister Mamata Banerjee on his way to the campus.
"Yeh ek bahut kathin nirnay tha. Aur maine socha jo desh ke liye kuchh bhi karna chahte hain, woh chhatro ke liye nahin karenge to kiske liye karenge? (It was a very difficult decision. Then I thought if someone who wants to work for the country doesn't work for students, who else will?)" the chancellor said.
The chancellor made the statements a day after he had called on VC Suranjan Das and pro-VC Prabir Ghosh at hospital. He told Das that the academic had his "full support" and they would "work together to restore normalcy" at the university.
On Saturday, Das reminded the chancellor that it was the teachers and university staff, not the police, who had persuaded the students to lift the blockade and allow the governor's car to leave the university, a source said. Supriyo was in the car, too.