Bengal cabinet clears technology ventures worth Rs 3,000 crore
Phase II of the Bengal Silicon Valley Hub in Rajarhat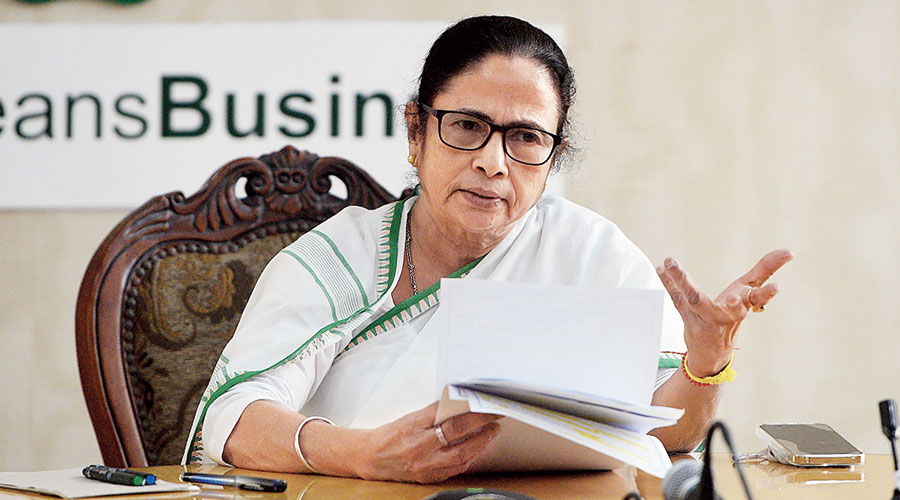 ---
|
Calcutta
|
Published 04.12.20, 04:10 AM
---
Bengal is hoping to create at least 40,000 jobs in the technology sector as it tries to crank up investments in the pandemic-hit year.
The state expects to receive investments worth Rs 3,000 crore from 20 technology ventures in Rajarhat, chief minister Mamata Banerjee said on Thursday. These ventures were cleared by the state cabinet on Tuesday and will form Phase II of the Bengal Silicon Valley Hub in Rajarhat.
Addressing the inaugural session of the 19th edition of Infocom — an initiative of ABP, which publishes The Telegraph — Mamata said these projects would create 9,000 jobs.
The projects cleared on Tuesday, along with those cleared earlier and slated to come up in Phase I of the Hub, are expected to generate more than 40,000 jobs.
The chief minister said technology giant Wipro had committed an investment of Rs 500 crore on its second campus, where 10,000 jobs would be created, taking the IT major's total headcount in the city to 19,000. Wipro operates a special economic zone in Salt Lake's Sector V. The Wipro project is not part of the Hub.
In her speech, delivered from Nabanna — Infocom 2020 is taking place on a virtual platform because of the pandemic — Mamata spoke of the need to usher in digital technology to improve people's lives and create employment opportunities for Bengal's pool of talent.
Mamata said: "We need to focus on the right priorities and create an environment of inclusive growth rather than polarise the polity. Technology can be a great leveller. Infocom must show us the way to bridge the digital divide and demonstrate how technology can spur growth and development."
The state's top bureaucrats — chief secretary Alapan Bandyopadhyay and home secretary H.K. Dwivedi — sat by her side as she spoke.
An Airtel data centre — one of the 20 Hub projects — will be built at a cost of Rs 350 crore. This is the second such centre by a telecom company at the Hub in Rajarhat. The other one is being developed by Reliance Jio.
The Silicon Valley Hub sprawls 200 acres. TCS, part of the first wave of companies to come to the Hub, has taken up 20 acres to build a second campus.
India's largest IT company already employs 44,000 people in Calcutta and the headcount could go up to 61,000, the chief minister said.
To meet the aspirations of job seekers, especially those who returned to Bengal during the pandemic, the state government has introduced a skill-matching portal called Karmo Bhumi.
"Some 352 companies and 40,000 job seekers are registered with the site. The placement of 8,000 people has already been done," Mamata said.
Around 1,500 IT companies, including Cognizant, IBM and Cap Gemini, operate in Bengal, together employing more than 210,000 IT professionals. Infosys recently informed the state government that work on its maiden campus would start in July 2021 and be completed in two years.
Mamata told the virtual audience about the rapid strides Bengal had made in the past eight years in terms of capital expenditure, and described the challenges it was grappling with since the outbreak of the pandemic. The state GDP has gone up 2.5 times from 2011, she added.
"We are doing better than other states even though revenues are low…. If there's a will, there's a way. If there's no will, there's no way," Mamata said.
The three-day event, being live-streamed on a dedicated YouTube channel, has brought together 500 delegates from large, small and medium enterprises as well as government representatives from Bengal and other eastern states.
Across 20 sessions, the event features 35 speakers, including Google India country manager and vice-president Sanjay Gupta, Accenture's chief strategy officer Bhaskar Ghosh, Ericsson India Global Services managing director Amitabh Ray and the director-general of Software Technology Parks of India, Omkar Rai.
Chhattisgarh chief minister Bhupesh Baghel will address a session on Friday. Amit Mitra, Bengal's minister for finance, industry and information technology, will address the valedictory session on Saturday.