Bengal: Budget session of Assembly scheduled for 2am on March 7
Governor notes "unusual, history-making" timing in tweet; Opposition CPM, BJP mock government as Speaker hints at clerical error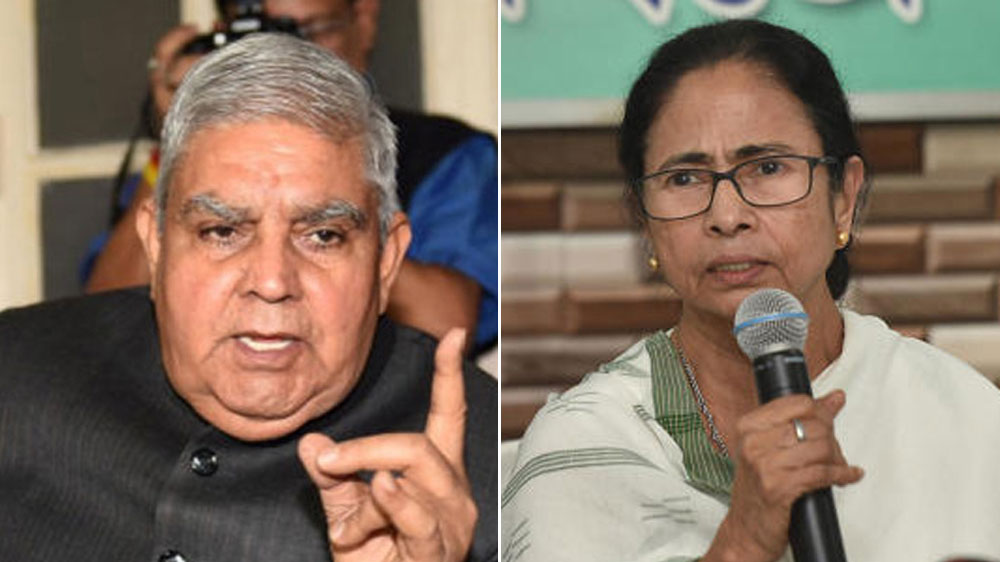 Jagdeep Dhankhar and Mamata Banerjee
File picture
---
Calcutta
|
Published 24.02.22, 05:15 PM
|
---
The Mamata Banerjee government has convened the budget session of the state Assembly on March 7, 2022, at 2am, well past the midnight hour, amid speculation that the somewhat unusual timing of convening the first day of the session was a typing error.
Nevertheless, Governor Jagdeep. Dhankar took note of the timing. "Invoking article 174 (1) of Constitution, accepting Cabinet Decision, Assembly has been summoned to meet on March 07, 2022 at 2.00 A.M. Assembly meeting after midnight at 2.00 A.M. is unusual and history of sorts in making, but that is Cabinet Decision," tweeted  Dhankhar on Thursday afternoon.
"Finding the timing of session after midnight somewhat odd, an outreach effort was made by calling Chief Secretary for urgent consultations before noon today. There was usual compliance failure. The issue was determined accepting the Cabinet Decision," Dhankhar wrote in another tweet.
Effectively the Governor will have to make his address to the legislators at 2.00 am, likely when the Russia-Ukraine battle would still be raging in another part of the world.
A cabinet note which has been circulated says, "The proposal contained in para-08 of the Cabinet Memo that was approved by the Cabinet is thus, 'Now it is proposed that West Bengal Legislative Assembly may be summoned by Hon'ble Governor on 7.03.2022 at 2am and if approved by the Cabinet the proposal for summoning the West Bengal Legislative Assembly at such date and time may be submitted to Hon'ble Governor for summoning the House."
According to sources, a cabinet meeting has been convened on February 28, Monday, where it is likely the "error" regarding the timing of the session will be changed. Since a cabinet note was issued, no change can be introduced without the cabinet's nod.
In Indian history, the first Prime Minister Jawaharlal Nehru made his "tryst with destiny" speech at the stroke of midnight on August 15, 1947.
Dhankhar will have the rare honour, though not at the same time, of addressing MLAs.
"Is it correct?" asked Sujan Chakraborty, CPM central committee member. "This is only possible because the chief minister is Mamata Banerjee and the ruling party is Trinamul Congress. They prefer to work in the cover of darkness as they cannot face the people any longer."
Suvendu Adhikary, the leader of Opposition tweeted, "Midnight session!!! State government's head's in disorder."  
While there have been many an occasion when a session started during the day has proceeded till late into the night, summoning the session after midnight is a rarity.
"There is no such precedence in parliamentary democracy. When bureaucracy is run by subservient officers this is what happens," said Abdul Mannan, Congress leader.
Assembly Speaker Biman Banerjee said it could be a clerical error.
"But, since this is the official notice, we are preparing accordingly," said Banerjee.