Bengal BJP MLA Suman Kanjilal joins TMC ahead of panchayat election
Anti-people policies and hate-laden agenda of the saffron party forced him to quit and join the state ruling party, tweets Abhishek Banerjee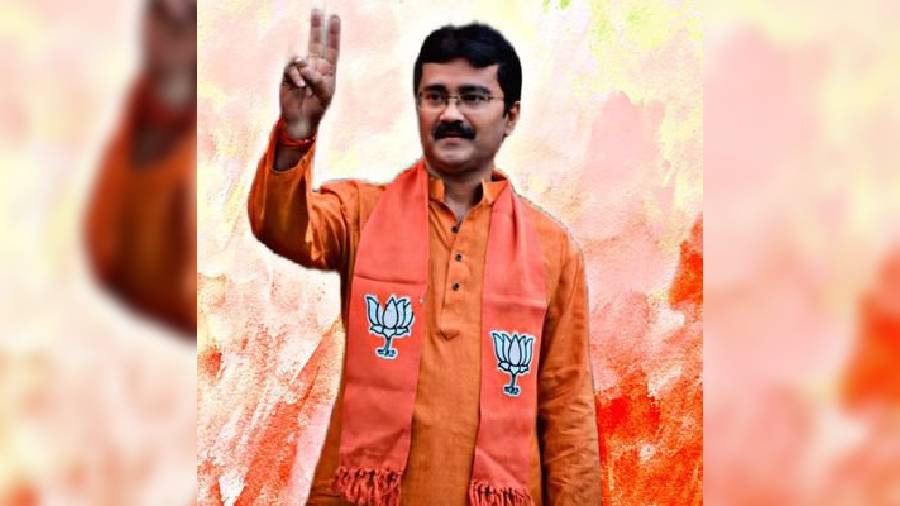 Suman Kanjilal
Twitter/@SumanKanjilal15
---
Kolkata
|
Published 05.02.23, 09:31 PM
|
---
West Bengal BJP MLA Suman Kanjilal joined the Trinamul Congress in Calcutta on Sunday ahead of the panchayat elections due in the state this year, the TMC said in a statement.
TMC national general secretary Abhishek Banerjee handed over the party flag to Kanjilal, a first-time MLA representing the Alipurduar constituency in the northern part of the state.
BJP state spokesperson Samik Bhattacharya said Kanjilal's leaving the party and joining a "corrupt" organisation will not have any impact on the saffron camp.
"Yet another @BJP4Bengal MLA realises the truth that BJP has no intention to serve people," the Mamata Banerjee-led party said on its official Twitter handle.
He is the sixth BJP member of the West Bengal Assembly to have switched sides after the 2021 election, following which the TMC returned to power in the state for the third consecutive term. However, none of them resigned from the assembly.
Sharing a video on its official Twitter handle which showed Abhishek Banerjee handing over to Kanjilal the party's scarf and flag, the TMC claimed that the "anti-people policies and hate-laden agenda of @BJP4India" forced him to join the ruling party in the state.
"The central government has done precious little for the development of north Bengal in the past two years," Kanjilal told reporters.
Welcoming him into the party, TMC spokesperson Kunal Ghosh claimed that several other MLAs are waiting to join the party. "But our leader Abhishek Banerjee will be judicious and screen every case on merit," he said.
BJP spokesperson Bhattacharya said, "In a big party like the BJP, the leaving of one or two legislators to a party like the TMC, which has its back to the wall in mounting corruption cases, will not make any impact." Leader of the Opposition Suvendu Adhikari demanded that Kanjilal "admit on tape & inside the Assembly that he's joined TMC & quit BJP. Let's get the Speaker involved." The BJP leader also said that the MLA has betrayed the people of Alipurduar.
Abhishek Banerjee had recently said the TMC is keeping its doors half open as hordes of BJP MLAs are all set to cross over to it but "we will regulate any such entry." Previously, two other BJP MLAs from north Bengal - Krishna Kalyani of Raiganj and Soumen Roy of Kaliaganj joined the TMC at different times. Three other saffron party legislators from the southern part of the state, including former Union minister Mukul Roy, also switched sides.
Lok Sabha MP and former West Bengal BJP vice-president Arjun Singh had also joined the TMC.
Except for the headline, this story has not been edited by The Telegraph Online staff and has been published from a syndicated feed.