Bengal 4 boast Number 10 jerseys
German soccer club Eintracht Frankfurt honours players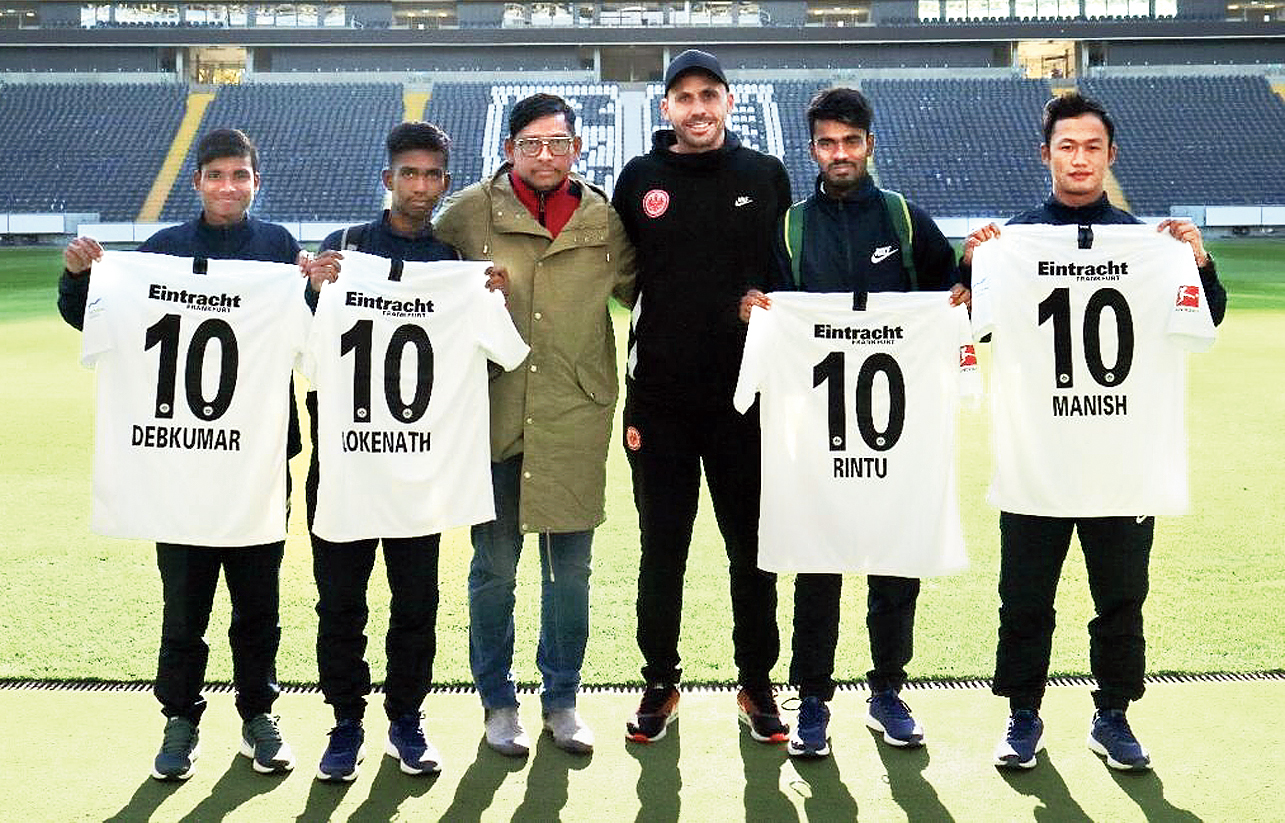 The four footballers from Bengal pose with their Number 10 jerseys in Frankfurt. Kaushik Moulik (third from left) is also with them.
Telegraph picture
---
Darjeeling
|
Published 09.11.18, 07:52 PM
|
---
A premier football club in Germany, Eintracht Frankfurt, has honoured a Darjeeling player and three others from Bengal by handing them its official Number 10 jerseys with their names emblazoned.
The four footballers' talents were discovered by Bengal police which held different soccer tournaments across the state early this year.
For any footballer, Number 10 jersey is the most coveted possession.
The four players — Manish Subba (Pulbazar near Darjeeling), Debkumar Khirali (Lalgarh) and Calcutta boys Loknath Mondal and Sekh Rintu — come from humble backgrounds and their parents do odd-jobs for a living.
Facilitated by Football Next Foundation based in Calcutta, the players are currently on a training-cum-exposure trip to Germany.
Kaushik Moulik, the founder of the Foundation, told The Telegraph over the phone from Frankfurt: "Eintracht Frankfurt decided to honour the Bengal boys by handing them the club's official Number 10 jerseys with their names printed on them. It was a huge honour for the four."
The officials of the club presented the jerseys to the players at the home stadium; Commerzbank-Arena, on Wednesday.
Speaking to The Telegraph over the phone from Frankfurt, Subba said: "It was an out-of-this-world experience to receive an official Number 10 jersey with one's name on it."
The footballers who reached Germany on November 7 said they were learning new things every moment.
"On the first day, they took us for a tour of the club's stadium and museum and explained to us how the German football system and the club function," said Subba, 23. "During the tour, I felt they were basically trying to judge how passionate we are about the game. They were trying to analyse us on different parameters, including our passion for soccer."
According to Moulik, the Bengal players were told about success stories of footballers from countries like Bosnia, who made a mark in Bundesliga. "The boys also trained with Nicolai Adam (former U-17 coach of Indian football club)," said Moulik.
The Bengal quartet has also
trained with Eintracht Frankfurt's players and are learning the game's strategies and techniques. The German club, which was founded on March 8, 1899, is currently playing in Bundesliga, which is the top tier
of the German football league system and placed 7th in the 18-team league tournament.
Darjeeling police, which discovered Subba, also decided to organise a football tourney for students in the age group 10-12 from December 7. Sources said a pool of 20 students would be drawn up and given three years of training, during which they would also be sent to the German club for training.
"What I have found out is that players in the hills are dreaming big. They have dreams to play in English Premier League and Bundesliga and want to be associated with top clubs like FC Barcelona, Real Madrid and Manchester United. This is the kind of passion and dream we are looking for," said Moulik.