Bangla traders' tit for tat
Stress on resuming import through Petrapole land port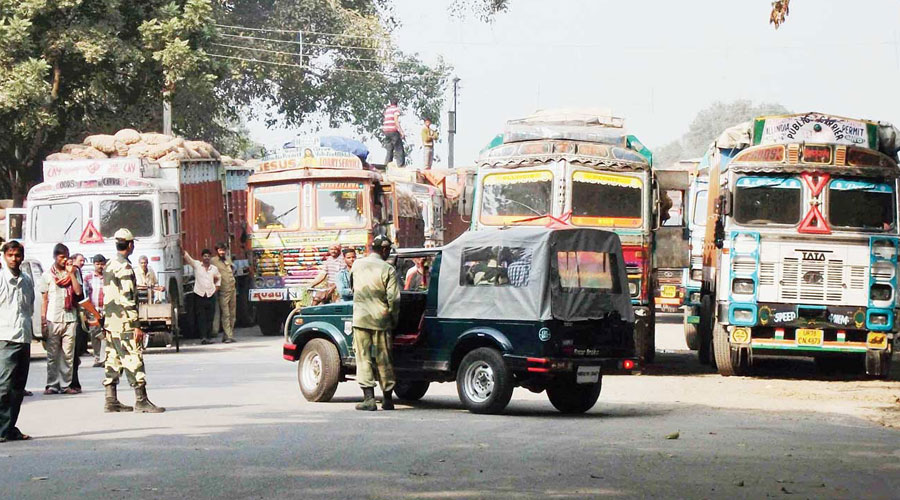 ---
---
Export to Bangladesh through the Petrapole land port was suspended "indefinitely" since Wednesday morning after some Bangladeshi traders allegedly stopped the Indian cargo from entering Benapole on the other side of the border.
Bangladeshi traders said they would not let in Indian trucks till the time Indian authorities allowed import to resume through the Petrapole land port.
"Some Bangladeshi traders stopped import (from India) on the grounds that they cannot export (to India)...In the absence of clear instructions from the Bengal government, we cannot resume imports (from Bangadesh)," said Petrapole land port manager Suvajit Mandal.
The total annual trade through the Petrapole-Benapole route is in excess of Rs 35,000 crore.
Concerned over the developments, the Federation of Indian Export Organisations' Calcutta chapter wrote a letter to Mamata Banerjee seeking her immediate intervention to end this impasse.
FIEO Calcutta's regional chairman Sushil Patwari, in the letter, said Indian manufacturers, including MSMEs, were falling short of essential supplies and raw materials, affecting sales and trade commitments. He added it was necessary to accept import cargo for the sake of fairness in international trade between India and Bangladesh.
Export from India through Petrapole resumed on June 7 following approval of the Bengal government, which issued specific standard operating procedures to tackle the Covid-19 threat.
No such guideline, however, was issued by the government, for resuming import or the entry of goods from Bangladesh, angering the traders of the neighbouring country.
Petrapole Clearing Agents' Staff Welfare Association secretary Kartick Chakraborty said: "It (the impasse) is a matter of genuine concern as traders of both the countries are suffering huge losses."
Officials in the North 24 Pargana district administration refused to comment, only saying state secretariat Nabanna would take the final call after examining the Covid situation in Benapole, a hotspot.