Bangladesh Hilsa gift for Durga Puja trickles in
Agents claim slow customs nod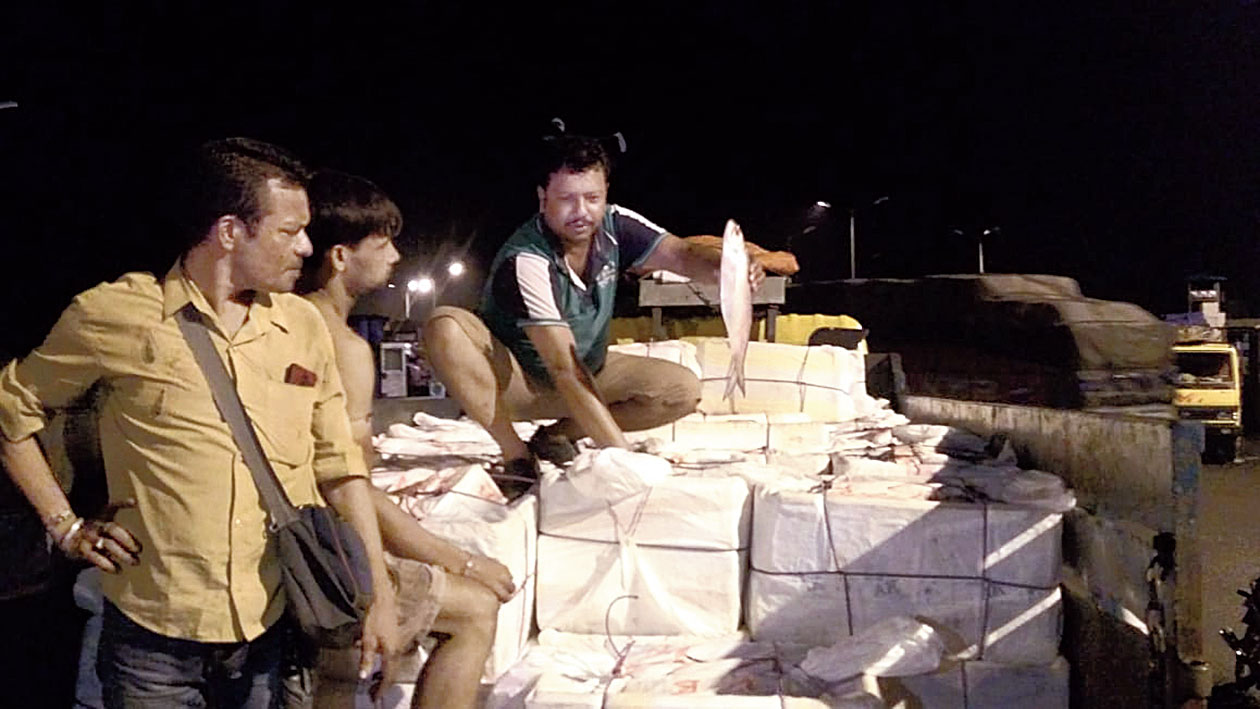 ---
|
Bongaon
|
Published 30.09.19, 07:58 PM
---
Eight trucks carrying 30.5 tonnes of Bangladeshi Hilsa out of 500 tonnes promised by Dhaka arrived in Bengal late on Monday evening after a day-long wait blamed on sluggish Indian customs clearances at the Petrapole border in Bongaon, North 24-Parganas.
The Sheikh Hasina government had last week announced that it would export the Hilsas to India as a Puja goodwill gesture.
The remaining 429.5 tonnes will arrive through the Petrapole border, around 71km from Calcutta, in phases by October 10, officials and agents said.
Feroz Mandal, a clearing agent, said the Bangladeshi authorities had sent the consignment by afternoon but the delay was caused by the Indian officials. "Exporters and agents have agreed to work together during the festival so that the rest of the Hilsas can arrive."
Sources in Petrapole said the unloading of Hilsa from the Bangladeshi trucks began late in the evening on Monday. Packed in theromocol boxes with ice, the fish was then loaded onto Indian trucks.
Exporters and wholesale fish traders in Calcutta and Howrah said they were relieved and expect the Hilsas to be readily available in another day or two.
"We have been trying for this since 2012. Hopefully, the price of Hilsa would be now within the reach of fish lovers," said Syed Anwar Maqsood, secretary of the West Bengal Fish Importers' Association. Hilsa prices in have been hovering around Rs 1,600 a kg.
The production of Hilsa has been declining over the years.
Sources in the market said the production has dwindled from 80,000 tonnes in 2001 to nearly 15,000 tonnes in 2013 to around 10,000 tonnes in 2017 largely because of over-fishing in the Bay of Bengal. Bangladesh has been able to check the declining Hilsa population by banning fishing during the breeding period and establishing sanctuaries for the fish.