Auto-rule flout the norm on VIP Road
On November 6, an auto had overturned on the airport-bound flank of the Ultadanga flyover, killing Swapan Basu, 53, a Maniktala resident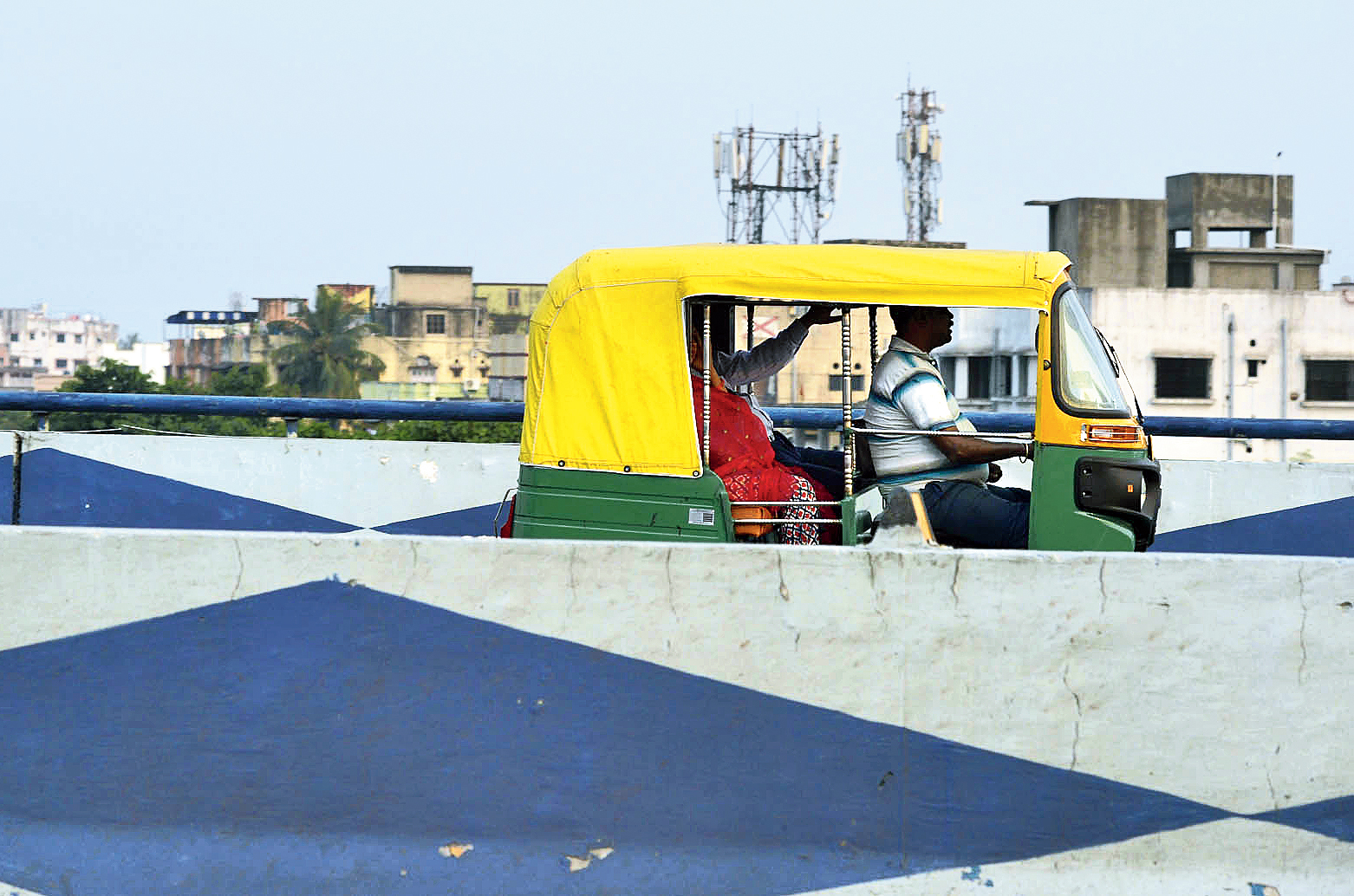 An auto illegally plies on the Kestopur flyover on Friday
Picture by Sanat Kumar Sinha
---
Calcutta
|
Published 10.11.18, 09:32 AM
|
---
Autos are banned on flyovers but it is common to see those on the Ultadanga-Baguiati route plying on the Kestopur and Ultadanga flyovers and on another leading to Duttabad.

On November 6, an auto had overturned on the airport-bound flank of the Ultadanga flyover, killing Swapan Basu, 53, a Maniktala resident.
Basu was flung out of the three-wheeler and he hit his head on the railings of the flyover. Two other men seated in vehicle were injured. The driver fled.
Police had said the four were on a joyride and had been drinking inside the vehicle.
Three days after the accident, on Friday, Metro found several autos running on flyovers on the Ultadanga-Baguiati route.
Autos headed towards Ultadanga were seen plying on Kestopur flyover.
Auto drivers generally take the flyovers in the afternoon and late at night when police vigil is lax, Shambunath Pal, 37, an auto driver near Baguiati, said.
"We know it is not allowed but we take the flyovers as it helps us save time because of the absence of traffic signals," Pal said.
Another auto driver said he could not understand why the three-wheelers were not allowed on flyovers.
"I don't know why we are not allowed to drive down flyovers when even goods vehicles get on it illegally. I drive on them whenever I see there are no policemen around," the driver said.
A senior officer of the Bidhannagar Commissionerate said that auto rickshaws were banned on the flyovers.
"Autos are banned on flyovers," an officer of Bidhannagar commissionerate said. "We prosecute drivers whenever we see them plying on flyovers. We have penalised several such drivers."
Bhaskar Chakraborty, 42, who stays in a housing complex near the airport, said autos were common on the Kestopur and Ultadanga flyovers.
"Auto drivers not only flout the flyover ban, they also drive rashly on flyovers risking their and passengers' lives," Chakraborty who drives from his home to his office in Minto Park every day said. "These autos pose a threat to other vehicles as well."
Autos often pick up passengers from the extreme left flank of VIP Road at the base of the Kestopur flyover and then drive diagonally across the road to get on to the flyover, Reetoja Bhattacharya, 29, a Kaikhali resident, said.
"They don't care about safety and often zip across VIP Road caring little for cars heading straight at them. It is scary," Bhattacharya said.
There have been several accidents on VIP Road, one of the main thoroughfares leading to the airport, involving autos.
The police are still to arrest the driver of the auto that overturned on November 6.