Hatchery shut, citing rural slump
Company was forced to close down the Birbhum unit as demand for both live birds and processed chicken had gone down: Prasun Roy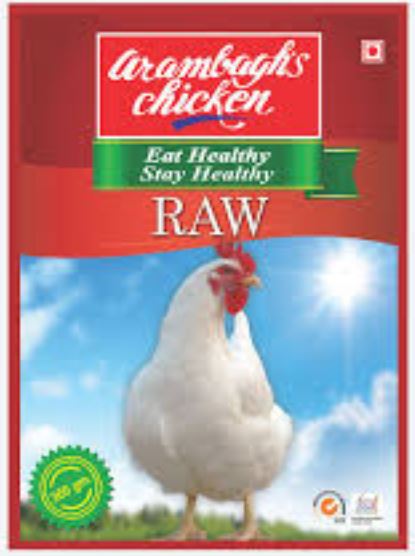 ---
|
Calcutta
|
Published 28.10.19, 11:21 PM
---
Arambagh Hatcheries Ltd, counted among the leading producers of the live chicken bird, has closed down one of its biggest hatcheries in Bengal, citing a perceptible drop in rural consumption, coupled with other factors blamed for the general economic slowdown.
The shuttered unit is located in Birbhum's Rajnagar. The company is still running its five other hatcheries in Bengal.
"Prices of live chicken dropped to Rs 65 a kg from the middle of June. This is normal and it happens every year. But prices again go up with the onset of the festive season…. This time it did not happen. This is because of the weak rural economy," Prasun Roy, managing director of Arambagh Hatcheries, said.
Rural Bengal accounts for around 65 per cent of the chicken sales in the state.
The CPM-backed Citu has accused the company of using the "pretext of economic downturn" to close the unit.
Roy said the company was forced to close down the Birbhum unit as demand for both live birds and processed chicken had gone down.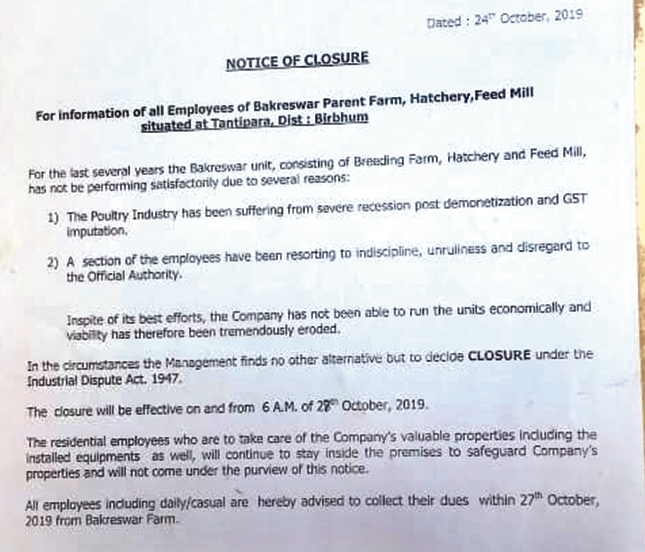 Roy said the company was losing Rs 12 to Rs 15 a kilo on live birds. "Lack of demand has kept the prices depressed while the cost of raw material (maize, the primary chicken feed) has gone up significantly from Rs 15 to Rs 23 a kg…. We cannot sustain this loss for months," he said.
Sources in the hatchery segment said a pest attack last year had affected the production of maize, resulting in higher prices of the crop this year.
The company cited two other factors that have cast a cloud on the future of its employees, whose number has come down to 200 now from 500 a few years ago.
"Demonetisation and hasty implementation of the GST have caused an overall slowdown in the economy and the depressed demand is an indicator of that…," Roy said.
Roy expressed the hope that the kharif crop of maize — likely to hit the market soon — would stabilise the price of the feed and lower the costs. "I hope the closure is temporary," Roy said.
On Monday morning, workers found the closure notice on the gate, saying "the poultry industry has been suffering severe recession post-demonetisation and GST imputation". The notice also mentioned "indiscipline and unruliness" among a section of employees.
"It was a sudden shock for us and we are yet to be paid our dues," said Jiten Dolui, who has been working in the poultry farm for 10 years.
The local unit of Citu has started an agitation demanding that the hatchery be reopened. "They have used the pretext of economic downturn to close the unit…. Our workers have not been paid their dues so far. At least five thousand people were benefited through this farm directly or indirectly, said Sadhan Ghosh, a Citu leader in Birbhum.