Apologetic Rajib Banerjee back, murmurs in Trinamul Congress
He rejoined TMC in the presence of the party's general secretary Abhishek Banerjee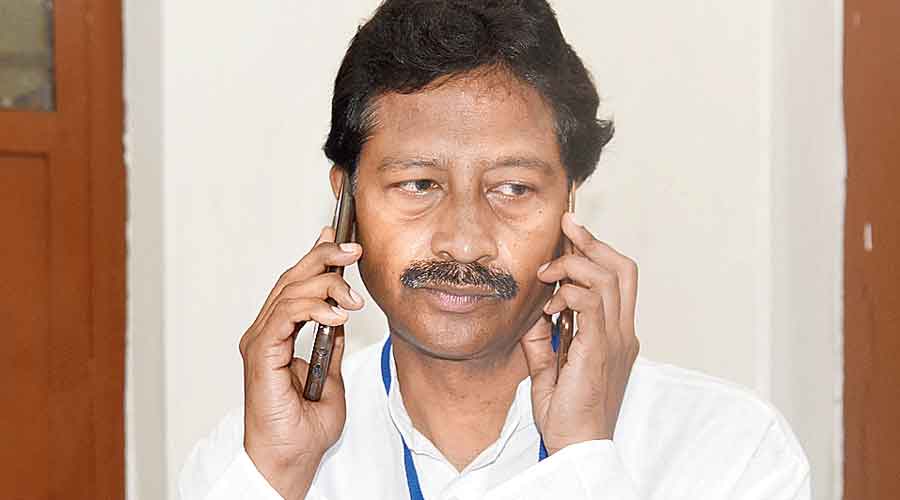 Rajib Banerjee.
The Telegraph
---
Calcutta
|
Published 01.11.21, 01:10 AM
|
---
Former Bengal minister Rajib Banerjee, who switched from Trinamul to the BJP this January before the Assembly polls, rejoined his former party on Sunday at a rally in Tripura's Agartala.
Rajib, as BJP candidate for his home seat Domjur, had lost to Trinamul's Kalyan Ghosh. The BJP had inducted him into its national executive committee.
Rajib rejoined Trinamul in the presence of the party's general secretary Abhishek Banerjee. His is the eighth notable defection from the BJP after its poll debacle in Bengal.
Rajib issued a slew of public apologies and hailed Bengal chief minister and Trinamul supremo Mamata Banerjee as "Mother India" and "goddess" after taking the party flag from Abhishek.
"I am grateful to Mamata Banerjee and Abhishek Banerjee for allowing me to rejoin the party," he said. "There is no shame in admitting I made a mistake (by joining the BJP).… Never trust the BJP," he said, alleging its chief agenda was to win votes by polarising people on religion.
He said he had joined the BJP as its leaders had painted a rosy picture of what they wanted to do in Bengal in terms of development but realised that their agenda votes from "religious politics".
He added: "I had criticised the Duare Ration and Swasthya Sathi policies of Mamata Banerjee. I thought they were poll gimmicks.... But after coming to power with such a strong mandate Mamata Banerjee did implement all those policies. Today she is not just the mother of Bengal, she is Mother India. She has been established as a goddess."
Bengal BJP chief Sukanta Majumdar said Rajib's departure meant nothing to the party.
Rajib's homecoming created murmurs within Trinamul too. The party's Serampore MP Kalyan Banerjee said he failed to understand why a "top to bottom corrupt person" had been taken back into the fold.
"I have to accept that the top leadership of the party has included Rajib Banerjee in the party, but Mamta Banerjee had said during a meeting in Domjur that Rajib Banerjee has three-four houses in Gariahat…. Only the party leadership will be able to tell why he was taken back despite this," the Serampore MP said.
Rajib, addressing the people of Tripura in Abhishek's Agartala rally, said that although he had spoken in favour of BJP's double engine government to denote the same party's government in the state and Centre, it was a mistake. Tripura had a double engine government since 2018, yet it made no progress whatsoever, he said.
"I've many relatives here in Tripura. They had told me that the double-engine government concept is a mistake. They (BJP) had promised 50,000 jobs a year. Nobody got it. They'd also promised DA to the state government employees at the union government's rate. Nothing has happened.... Don't trust the BJP. Your trust will be broken like mine. Put your trust in Mamata Banerjee and Abhishek Banerjee," he added.
A Bengal BJP source said: "This (Rajib's defection) isn't our embarrassment, it's Delhi's. They flew him to in a chartered flight for joining (the national committee)."
Trinamul's Kalyan Banerjee said: "I have to accept that the top leadership of the party has included Rajib Banerjee in the party, but Mamta Banerjee had said during a meeting in Domjur that Rajib Banerjee has three-four houses in Gariahat and his transaction is going on in Dubai. Only the party leadership will be able to tell why he was taken back despite this."
He added: "Abhishek Banerjee had said anybody who breaks the trust of party workers won't be taken (in the party)… In order to stay in Trinamul, everyone has to obey top leadership. I have to as well. But I don't know why such a top-to-bottom corrupt person was taken back in the party."