Aparna Sen at ex-enclaves
A portion of the former enclave is located on the other side of the fence, in Bangladesh territory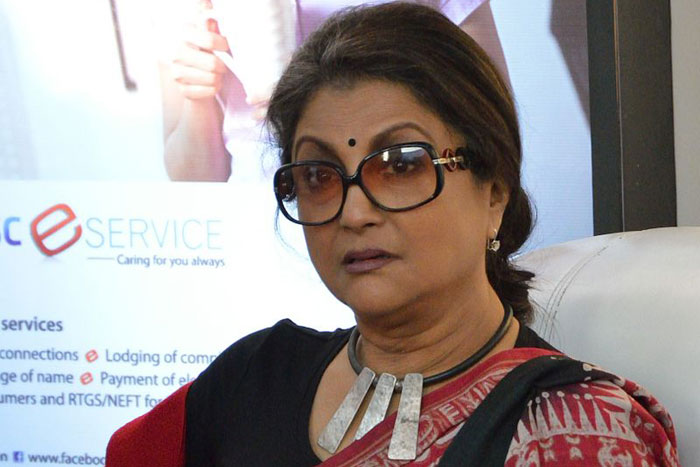 ---
Cooch Behar
|
Published 19.10.19, 07:34 PM
|
---
A delegation of human rights activists including actor-director Aparna Sen, Bolan Gangopadhyay and Mudar Patherya visited erstwhile Bangladesh enclaves and a settlement camp in Cooch Behar's Dinhata on Saturday.
The visit was organised by the Banglar Manabadhikar Suraksha Mancha (Masum), a Calcutta-based organisation working for human rights.
"Since 2012, we have been highlighting the plight of enclave dwellers in Cooch Behar to draw the attention of the government. The Land Boundary Agreement that came into effect in 2015 has reduced their problems to some extent but some difficulties persist," said Kiriti Roy, the secretary of Masum.
The delegation first visited Karala. A portion of the former enclave is located on the other side of the fence, in Bangladesh territory. Fifty people live in this area.
Sen and the others spoke with BSF officers posted at the border and said they intended to visit the locality. The security personnel did not allow the group to proceed to the portion of the former enclave located on the other side of the border, but brought the residents to the Indian side so that the team could speak to them.
Abdul Jalil, Harun-al-Rashid, Laili Bibi, Mariam Bibi and some other residents narrated their ordeal.
"We are Indian citizens but we do not have electricity, drinking water and health-care facilities. Our children feel discouraged to go to school as they have to cross the gates, which are opened only at specific times. It is like staying in a jail," Jalil said.
Sen said it was "surprising" that despite being Indian citizens, they did not have the independence to move about freely in their own country.
"There is no health facility here and even pregnant women have to walk for half a kilometre to get to a vehicle. The state and central governments should take the initiative to reduce the problems of these people," she said.