Amphan: Peanuts to fix cyclone scars
Though schools are shut because of Covid curbs, talks of resuming classes, particularly for students of classes IX-XII, have left teachers worried as most classrooms need immediate repairs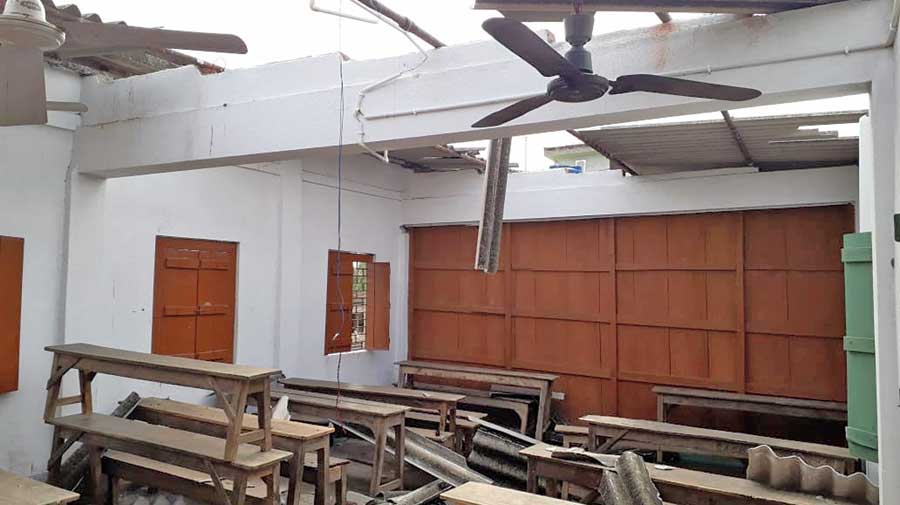 A classroom of Bhowanichak Aghore Chand High School in Contai damaged in Cyclone Amphan.
Anshuman Phadikar
---
Tamluk(EastMidnapore)
|
Published 11.09.20, 03:24 AM
|
---
Authorities of 2,472 schools in East Midnapore, devastated by Cyclone Amphan, had asked the district administration for funds to repair the buildings.
What they received from the state government fell far short of their needs.
Though schools are shut because of Covid curbs, talks of resuming classes, particularly for students of classes IX-XII, have left teachers worried as most classrooms need immediate repairs. The premises of these schools, which account for around 6 lakh pupils, are being used to distribute midday meal rations to students.
A district official said most damaged schools received between Rs 15,000 and Rs 25,000 to repair kitchen sheds. He added the schools had been paid from a corpus of Rs 4.75 crore. That's too little, say school authorities.
Around 1,200 students study at Bhowanichak Aghore Chand High School in Contai. The school has been severely damaged during Amphan. During a recent inspection, teachers found that monsoon further damaged the building.
"We got a civil contractor to assess the damage and he put the cost of repair at Rs 15 lakh. Amphan has blown away most sheds of our 12 classrooms. Left with no roof, classrooms have been exposed to rain for months..," said headmaster Tapan Kumar Das. On funds received, Das said: "We only got Rs 15,000 so far to repair the shed of the room where midday meal is prepared."
The situation is no different at neighbouring Banamalichhatta High School with 1,100 students on its rolls. Teachers said that Amphan had ravaged the school's three buildings, including the kitchen shed, and now rain keeps pounding on the damaged structures.
"We received Rs 25,000 towards the repair of the kitchen shed but we need much more," said assistant headmaster Ramanikanta Patra, putting the estimate at Rs 10 lakh.
Patra led a crowd-funding campaign among stakeholders of the school and managed to raise nearly Rs 3 lakh to repair "walls crumbling from rainfall-induced damp".
Das has been pleading with panchayat and block authorities for funds since June to no success so far.
Schools are asking district authorities to seek at least Rs 50 crore from the state government to get all schools repaired. "Buildings of most schools have been damaged. It is more important to take care of structural damages than replacing a kitchen shed, something schools can repair on their own," said a source.
However, around 282 schools in Nandigram-I and Sutahata blocks are better off. In the first phase, the schools in these two blocks received nearly Rs 5 crore from the state government's minority welfare department to repair the Amphan damage.
On alleged administrative inaction to release funds for school repairs, district inspector of schools (secondary) Aminul Hasan said: "Within a few days of Amphan hitting the district we sent a list of damaged schools to the education department. We have allotted funds to the schools to repair damaged kitchen sheds. The government has also allotted money to repair damaged school buildings in Nandigram-I and Sutahata blocks. The government is yet to give us funds to repair all damaged schools in the district."
BDO of Deshpran block Manoj Mullick said: "The education department is looking into the matter."