Amid chaos, cries of survivors
Trembling hands didn't know what to cling to. Feet chained by fear struggled to move.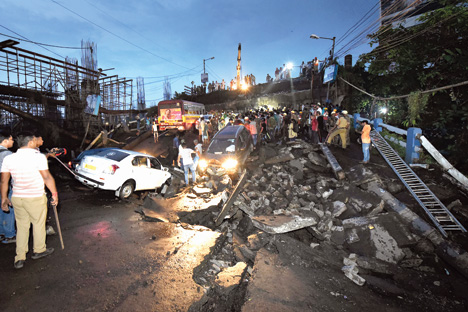 ---
Published 05.09.18, 12:00 AM
|
---
Majerhat: Trembling hands didn't know what to cling to. Feet chained by fear struggled to move.
In the few seconds that it took for passengers inside a Behala-Rabindranagar bus to realise that a bridge had collapsed under them, an eternity appeared to have gone by.
At ground zero, around seven metres below where there was once the deck of Majerhat bridge, Hazi Kausem saw the dazed look in the eyes of the passengers, some of them drenched in blood, groaning and unable to move.
"When I and some other volunteers reached the spot, there were injured people lying all around. A few had crawled out of the vehicles. Several were crying. Those still inside the cars remained seated, as if in a trance," Kausem, a resident of the Karl Marx Sarani neighbourhood in Kidderpore, recounted to Metro.
He had come running down the intact portion of the bridge from the Alipore-end, eager to help but confused about what to do. "Even the police initially didn't seem to know how to respond to what had happened," he said.
According to another witness, a couple of passengers emerged unharmed from a white Swift Dzire that was right behind the minibus. Two persons lay curled on the ground. They seemed to be unconscious. A man in a red shirt and blue denims waited to be rescued from under a portion of a concrete slab.
A few feet away, a motorbike rider frantically looked for his mobile phone.
Cries for help filled the air as traffic sergeants made requisitions and gave instructions over walkie-talkies.
Police said 20 people were injured in the collapse. While one of the injured was taken to Vidyasagar Hospital, 12 were moved to SSKM Hospital and nine to CMRI. One of the injured was declared dead at SSKM.
Amid the wail of ambulance sirens, some construction workers were seen desperately looking for colleagues who had been resting in makeshift shelters under the bridge. A concrete slab apparently landed on that portion and there was no way of immediately finding out if anyone had been trapped, injured or killed.
"We could not reach under the huge slab of concrete. A few of the injured were shaking their heads vigorously and crying. I also saw people running after getting out of vehicles," said Dhananjoy Singh Rajput, a Bhowanipore-based trader who had reached the spot after parking his motorbike on the roadside within minutes of the bridge collapse.
Dhananjoy had been headed for Behala from the Alipore side when the deafening sound of bridge collapsing made him freeze.
Police commissioner Rajeev Kumar arrived a little later, as did mayor Sovan Chatterjee, municipal commissioner Khalil Ahmed and urban development minister Firhad Hakim.
By 5pm, there was a huddle of ministers, senior police officers and bureaucrats on top of the intact portion of the bridge to draw up an action plan.
A team from the National Disaster Response Force (NDRF) was called in along with their counterparts from the Disaster Management Group. A squad of police commandos also arrived, led by commandant Navinder. Three army columns were on stand-by.
Over the next half an hour, five ambulances, three cranes, four fire engines and a battery of cops took over the site, although they failed to keep the crowd away from what was still an unsafe zone.
The ripple effect of traffic disruption intensified as diversions kicked in. Local trains on the Sealdah-Budge Budge section of Eastern Railway had to be suspended because the route travels under the bridge.