All India skating meet honours for Ultadanga girls
First-ever medals for Bengal in speed skating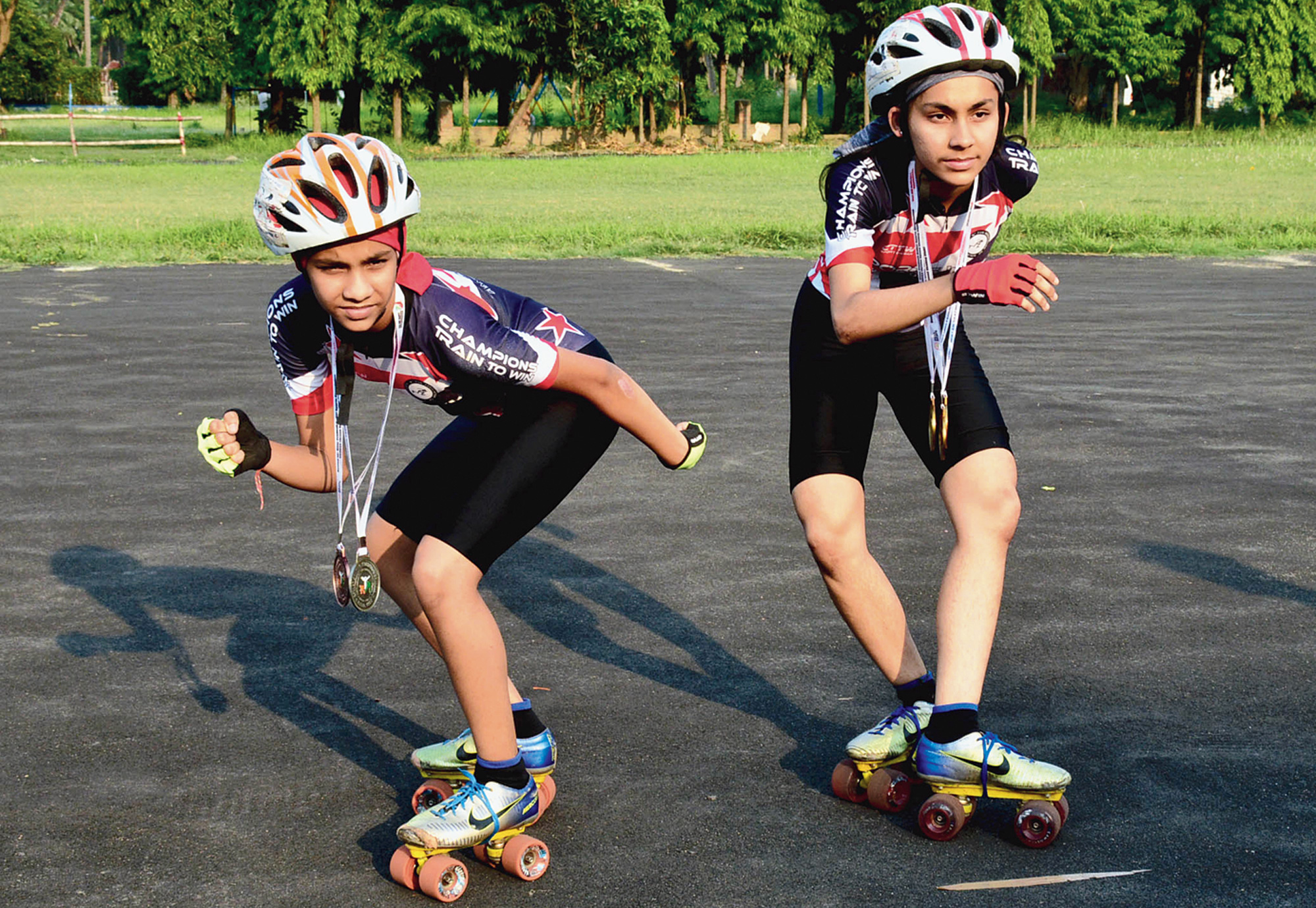 Prisha and Ridhi Bahety practise at Bidhan Sishu Udyan on Wednesday with their medals on.
Saradindu Chaudhury
---
Calcutta
|
Published 29.04.19, 07:49 AM
|
---
Close on the heels of the neighbourhood getting Bengal's longest flat skating track at Bidhan Sishu Udyan (BSU), comes another good news. Ultadanga girl Ridhi Bahety has become the first speed skater from the state to bring home not one, but three gold medals from the national meet. Her sister Prisha has also brought home a silver and a bronze. This was the first appearance in the tournament for the Bahety sisters.
"This is the first time that Bengal has got medals in speed skating at any national level meet under the Roller Skating Federation of India (RSFI)," says Pradip Ganeriwal, RSFI patron and past president. "We have won medals earlier in artistic skating, classical dance on skates and roller hockey events but never in speed skating."
Ridhi and Prisha were part of an 18-member Bengal contingent that participated in the All India Open Speed Skating Championship that took place in Noida from April 18 to 21 under the aegis of the RSFI. "Contestants from 20 states took part in the competition. Ridhi won in all the three events she competed in — 3,000m quads road, 1000m quads track and 200m quads track races — in the 17 and above age group," says her coach Victor Balmiki, who had accompanied the team.
"I was confident about doing well in the road event and the 1,000m," says the petite girl, flaunting her three medals at BSU. "I had worked really hard."
Ridhi picked up skates at the age of six in school where classes were held. The basics were taught in a small indoor rink while practice sessions happened on a road with less traffic after school. "She was so passionate that we enrolled her for private coaching the same year," recalled mother Rekha.
Prisha, four years younger to Ridhi, would demand to follow her sister. So she too was enrolled in skating classes when she turned four.
Ridhi used to play table tennis and go swimming as well, as did her sister. "She had reached zonal level in the first and inter-school level in the second when we decided that they could not continue with everything," her mother says.
Her first event was the West Bengal Roller Skating Championship when she was eight. The first year she got a bronze, the next year a silver and three bronzes. She skipped the year after and returned to get four golds. She was 11 then.
In 2015, Ridhi's first CBSE National meet in Amritsar fetched her a silver and a bronze but the next year in Bhopal there was a heartbreak. "She fell in the last lap," Rekha recalls.
But she made up for it with a sterling show in 2018, winning a gold and a silver in the same meet in the under-16 age group and following it up with a gold in the School Games Federation of India nationals within weeks.
Prisha too had been following in her sister's footsteps, picking up three golds in three consecutive years in the state championships. Last year, she picked up two silvers in the CBSE nationals.
"It helps to attend tournaments with Sis. She helps me with strategies — when to overtake, when to stay back…When I race she tells me where she will stand by the tracks. When I pass her, she shouts out what to do," says Prisha.
For many months now, it has become routine for the entire Bahety family to leave home at 4am to take the daughters to practise on Owl road in New Town. "The roads are free at that hour. She comes back and leaves for school at 7am. If she has studies left, she studies on the way. Else she takes a nap. She returns at 4pm and goes for classes at 4.30pm."
It is a lucky for the sisters that the skating track has opened right across the street from their house. "That way she can come back quickly by 7pm and sit down to study after a bath."
This is one quality in her that her coach also lauds. "She is an excellent athlete. And she can focus on whatever she does. She is good in studies too," Balmiki says.
Ridhi scored 96.4 per cent in her Class X Board exam. "She has always managed without a single tutor. We are not worried about her studies," her mother smiles.
And she has kept up with another passion — dancing. "I dance mixed form — contemporary and hip hop — at a Salt Lake institute. I teach the smaller kids there too," she says.
But asked to choose between the two, she would choose skating any day. "When I am on skates, I feel like I am flying." And her dream is to be a part of the Indian team. Speed skating is an event in the Asian Games, though not in the Olympics.
After the girls came back last weekend, there has been no let-up in practice nor has there been an elaborate celebration other than dinner at Sigree. "We were called to the principal's room in school and our pictures were taken for the school magazine," says the Class XII student of Mahadevi Birla World Academy.
The next tournament she will take part in is in December — the RSFI nationals. "After that I will focus on my Class XII Boards. Those three months should be enough for my preparation," says the teenaged champion.