After fire, Calcutta mayor draws hawker line at 50ft from crossings
No plastic sheets or tarpaulin covers to be allowed for stalls (but what about summer and monsoon?)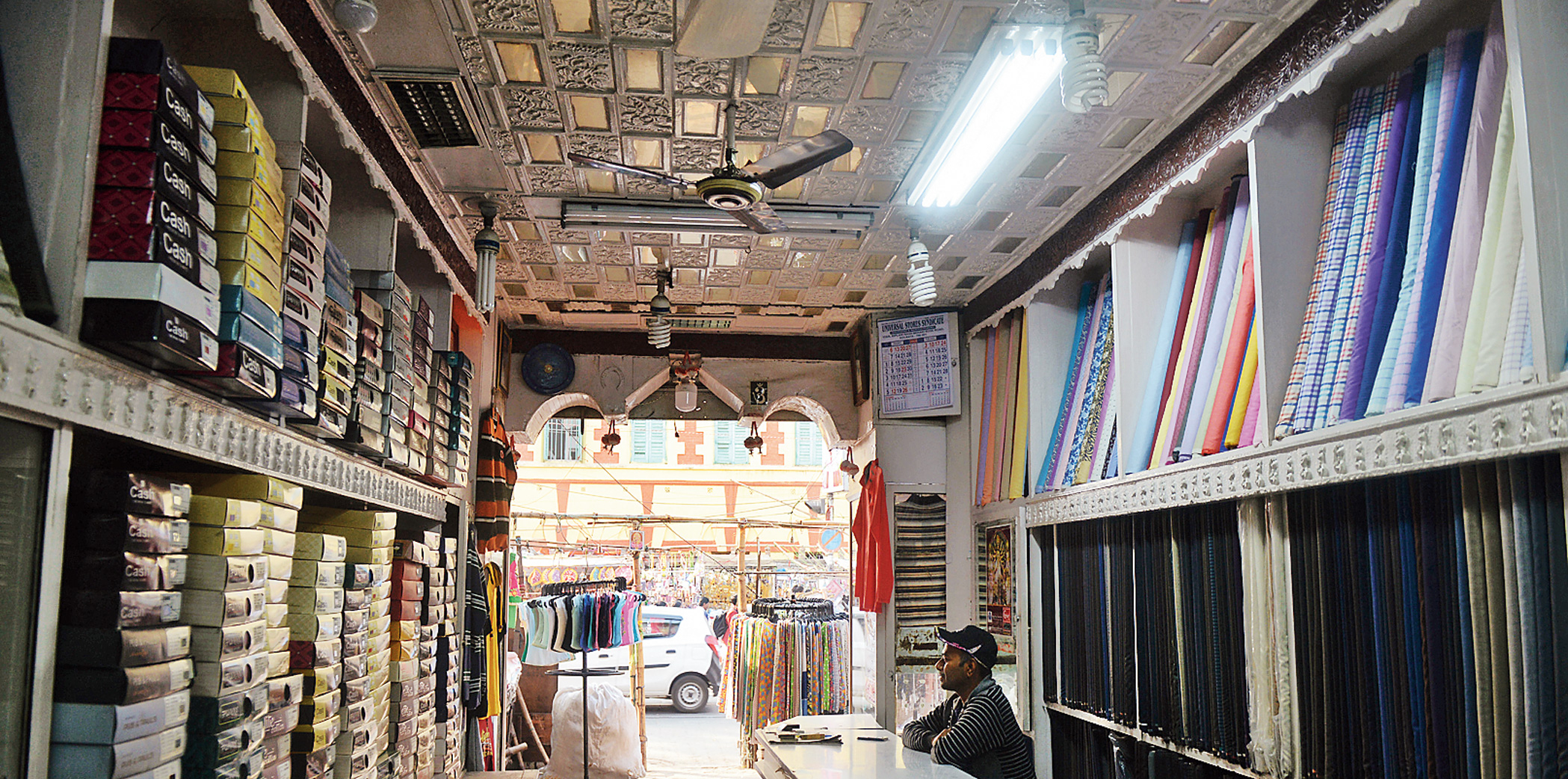 A garments shop at Hatibagan in north Calcutta basks in daylight on Tuesday for the first time since 2008 after the hawkers' stalls in front pulled down their tarpaulin and plastic covers at the behest of deputy mayor Atin Ghosh, who is also the president of the hawkers' union there.
Bishwarup Dutta
---
Calcutta
|
Published 22.01.19, 09:04 PM
|
---
Hawkers will not be allowed to do business within 50ft of "important crossings" anywhere in the city and, wherever it is legal to set up stalls, tarpaulin or plastic cannot be used as a roof or partition, mayor Firhad Hakim said on Tuesday after a meeting with the unions.
"I have told the unions that all hawkers have to pull down their tarpaulin covers," Hakim said of the eyesore tents that line pavements in Gariahat and other hawker havens in town.
The impact of the diktat was immediately visible along a stretch of Hatibagan in north Calcutta, where a delighted trader said that daylight entered his shop for the first time after the hawkers sitting in front pulled down their tarpaulin walls.
The meeting convened by Hakim, who is also the minister for urban development and municipal affairs, was attended by representatives of some hawker unions, senior police officers and the owners of Traders Assembly and Adi Dhakeswari Bastralaya at the Gariahat junction.
The two garments stores at Gurudas Mansion were ravaged by a fire early on Sunday that forensic sleuths suspect started from a hawker's stall on the pavement in front of the building. Several apartments in the five-storey building were also damaged.
The meeting on Tuesday was a response to the growing clamour for regulation of illegal street vending in Calcutta, whose unbridled expansion is seen as a safety threat besides being damaging to legitimate businesses.
Sources in the Calcutta Municipal Corporation (CMC) said it would be easier to fight a fire in a crowded commercial zone and limit its span if hawkers did not turn their stalls into permanent installations covered in tarpaulin and plastic.
Shaktiman Ghosh, the general secretary of the Hawker Sangram Committee, said his union had no objection to Hakim's decision to keep hawkers at least 50 feet away from the major crossings. "We have been saying this for a long time. We have identified 58 crossings where hawkers have to sit 50 feet away…. If the hawkers do not comply with this rule, the police must force them to do so."
A resident of Gariahat who has seen the hawker sprawl only expand said he would believe what the mayor said the day hawkers sit at least 50 feet away from the four-point crossing. "I have been hearing and reading about such promises since long. Little has been done to execute those plans."
Former mayor Bikash Ranjan Bhattacharyya had proposed to keep hawkers 50 feet away from the crossings in 2007, but it was never implemented. In the past few years, hawkers have extended their presence to almost every square foot of pavement in Gariahat up for grabs.
Rathin Samajpati, a doctor who lives in Gurudas Mansion, had told Metro after the fire on Sunday that a vacant space on the pavement in front of that building was overrun by hawkers barely eight months ago. This portion of the pavement leads to a zebra crossing.
Mayor Hakim said the city police would undertake a survey of hawkers occupying pavements. "A town vending committee has been formed and we will divide the city into hawking and no-hawking zones," he promised.
The West Bengal Urban Street Vendors (Protection of Livelihood and Regulation of Street Vending) Rules, 2018, was notified last June.
The rules state that hawkers must not cover their stalls in tarpaulin or plastic and leave two-thirds of every occupied pavement free for walking. Lighting a fire on a pavement for any reason is prohibited.
In the six months since the rules were notified, Hakim's announcement is the first instance of a municipal initiative to regulate street vending.
The mayor said the CMC was getting a sample stall made — the dimensions are 5 feet long and 3 feet wide — to show hawkers in Gariahat what theirs should look like. "If they find the sample useful, we will make similar stalls for them."
Hawkers who lost their stalls in the Gariahat fire will be paid Rs 20,000 as compensation. The amount will be credited to their bank accounts after they provide those details to the police, Hakim said.