AC agony: Government staff blow hot and cold
No temperature control in office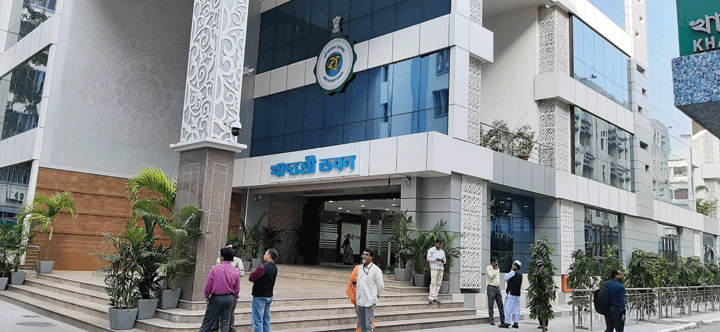 ---
|
Calcutta
|
Published 08.12.19, 08:27 PM
---
Some employees at Khadyasree Bhavan are shivering and others sweating, but few can accuse them of making heavy weather about working in the recently inaugurated Rs 70-crore complex.
The employees have complained that the absence of a system to control the temperature in the centrally air-conditioned building of the state food and supplies department in Esplanade has turned their workplace into a "nightmare".
Sources said about 500 employees of the department posted in the eight-storey building on Mirza Ghalib Street here had been finding it "unbearable" to work there.
Two months ago, large sections of the department had moved to the new building. The sources said the electrical wing of the state PWD did not install any mechanism to control the temperature of the central AC system.
"The department spent Rs 5 crore on the AC system. But the absence of temperature control has turned the building into a nightmare for employees. The employees are suffering because of faulty planning," said an official.
The official listed the factors associated with the building that engineers had seemingly neglected.
"Some rooms of the building get sunlight directly and these need lower temperature for the conditions to be comfortable. Rooms on the other side of the building, which don't get sunlight directly need a higher temperature. But as there is no control system, some rooms are unbearably cold and some are hot despite the AC," the official said.
At a meeting to resolve the problem held on October 4, the sources said, the PWD was held responsible for the problem.
"The officials of the food and supplies department had reported that the temperature of AC machines couldn't be controlled by any mechanism currently. Still, the PWD (electrical wing) did not solve the problem," read the minutes of the meeting convened by food and supplies minister Jyotipriya Mallick.
Sources in the PWD said since the system had already been installed — without keeping options open to rework the temperature control system — it was not possible to rectify the fault.
"A new system needs to be installed by dumping the existing one set up at a cost of Rs 5 crore. But the state is
not in a financial position to install the system afresh. So it is not clear what the future of the building will be," said a source.