Nurse, now a Covid-19 patient, lists problems
Unless a patient insisted, the healthcare staff did not bother to take down their medical history, she claimed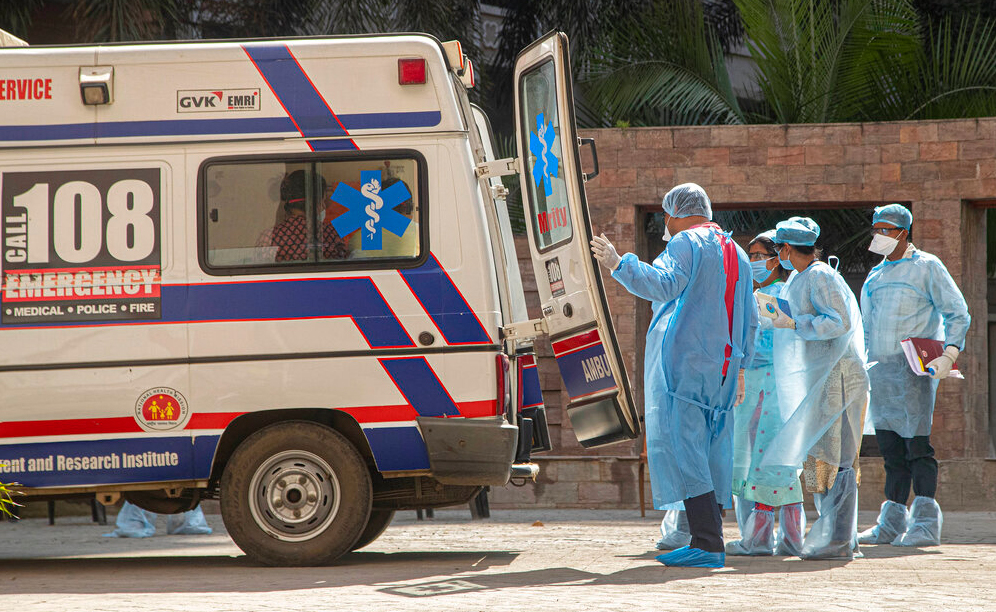 A health worker closes the door of an ambulance that will take people from an apartment complex to a hospital for quarantine after a contact was found to be Covid-19 positive, in Guwahati, Assam, Saturday, April 4, 2020.
(AP)
---
Calcutta
|
Published 10.04.20, 10:51 PM
|
---
A nurse suffering from Covid-19 and admitted to the M.R. Bangur Hospital has alleged that the protective gear-clad doctors never come close to the patients and that no one had once checked her for lung congestion since her admission on Tuesday.
Bangur is Bengal's largest Covid-19 hospital with 1,100 beds.
The nurse, who is in her 50s, said the doctors and nurses at the hospital were only asking patients whether they had any problems, that too from about two metres away.
She said that unless a patient insisted, the healthcare staff did not bother to take down their medical history, not even ask if the patient was under any prior medication.
This newspaper tried to seek comment from Vivek Kumar, principal secretary to the health department, but the official was not available.
A person familiar with the healthcare protocol and based in New Delhi said more details were required before any conclusions could be reached.
"Healthcare workers need to take care while treating Covid-19 patients. Many Covid-19 patients, who have only mild symptoms, probably do not need daily close examinations by doctors. However, those with severe illness or symptoms such as shortness of breath would need to be managed differently and require close examinations," said the person who requested anonymity because he works closely with patients as well as doctors.
"Steps aimed at maintaining distance are probably driven by efforts to minimise their exposure to the virus in the environment they work in. The risk of infection depends on the amount of virus exposure — and healthcare workers would be exposed to high levels of the virus, compared to general public," a geriatric medicine specialist in Delhi said.
However, he added that not asking about prior medication would be wrong.
The nurse being treated at Bangur also alleged the medical staff were not advising patients about what they should do: for instance, while asking a patient to put on a nebuliser they were not explaining how to use it.
"Being a nurse I know how to use a nebuliser. But the other patients are feeling helpless because no one is explaining to them how to use the nebuliser," the woman, a Dum Dum resident, said.
A nebuliser is a device that helps one to breathe in a medicine as a mist through a mouthpiece.
The nurse's teenage son, who has been admitted to a state-run quarantine facility in New Town with his father, too complained that they had last been examined by a doctor "four days ago". Since then, they have only been asked if they have any symptoms like fever, dry cough or respiratory problems.
"They took swab samples from me and my father on Monday but have not yet told us whether the results have arrived or whether we have tested positive or negative," the son said over the phone.
A public health worker who did not want to be named said the patients deserve more care. In particular, he said, such treatment of frontline health workers and their relatives could hit their morale, with very unhappy consequences during a crisis such as this.
The nurse told The Telegraph over the phone: "I was shifted from the hospital where I work on Tuesday (April 7). I had been undergoing treatment there since April 1 and everything was fine. I don't know why the government insisted on shifting me.
"When I arrived, the hospital had yet not been informed that I was being shifted here. I had to wait about 30 minutes before being admitted to the isolation ward. There was no bed sheet. I was given one only when I started arguing."
She complained that the door of one of the toilets on her floor could not be bolted.
"How can a woman enter a washroom when the door does not close? There is another washroom whose doors do close but there's no water in that washroom," the woman said.
She said she had shot a few videos showing the conditions at the hospital and circulated them among her friends. As the word spread, a senior hospital official arrived on Friday morning and told her she was not allowed to take pictures inside the ward.
"I argued with the lady. I told her she should go around and see the condition of the washroom for herself. There was neither hand wash nor any hand sanitiser in the washrooms," the nurse turned patient said.
The problems were fixed after the senior hospital official's visit.
"Medical staff at the hospital are not taking down the patients' medical histories. No one asked whether I was under any medication or had an underlying condition," the nurse said.
A doctor who works at a private hospital said that knowledge of a patient's medical history and what medication she is taking is crucial to her treatment.
"If someone has heart disease but does not carry her medicines to the hospital where she has been admitted, we have to ensure that those medicines are supplied from the hospital pharmacy. Also, the dosage of the continuing prior medication will determine the dosage of the new medication," the doctor said.