4 layers of coal after drilling 515ft in Deocha
The primary observation is significant as the government was earlier in a fix as to whether mining would be feasible if coal reserves were found deep underground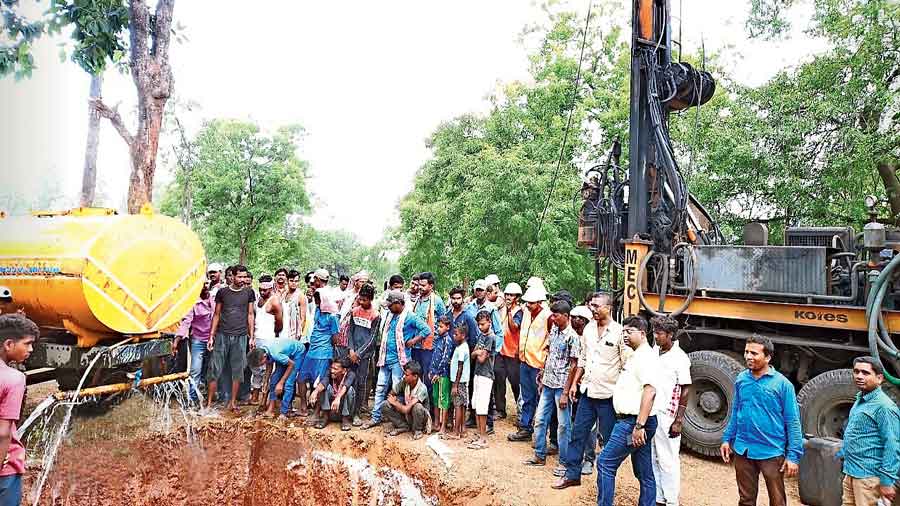 A drilling site in Birbhum's Deocha-Pachami.
---
Calcutta
|
Published 18.07.22, 02:10 AM
|
---
Officials of the Central Mine and Planning Design Institute (CMPDI), a subsidiary of Coal India, assigned for exploratory drilling in the proposed Deocha-Pachami coal mine project, said they had detected at least four layers of coal after drilling some 515 feet underground as of Sunday afternoon, which reportedly affirms the feasibility of mining there. 
Officials said the result of exploration of coal seams so far yielded optimistic results for the government.
"We have detected at least four layers of coal till Sunday, after we drilled around 515 feet under the ground. Although the drilling of the borehole will continue till we reach metamorphic contacts, I can assure you that mining is very feasible in this zone," said a senior official of the CMPDI monitoring the exploratory drilling.
"It won't be surprising to find options for open-cast mining in a stretch of the project area," he added.
The primary observation of experts involved in exploratory drilling is deemed significant as the government was earlier in a fix as to whether mining would be feasible if coal reserves were found too deep underground.
Still, exact geological reports and information about quality and amounts of coal-reserve will be reported to the government only after drilling in all 14 earmarked points.
CMPDI, a public sector undertaking, has been tasked with  exploratory drilling by the Bengal government at Deocha Pachami. The institute, along with another public sector agency, Mineral Exploration and Consultancy Limited (MECL), is conducting the drilling since last Thursday from a point.
"The thickness of coal layers detected so far is between 10cm and 40 cm, till 515 feet under the ground. It indicates that there will be more thick layers," said an official of the CMPDI.
Sources said the CMPDI assured government of starting drilling at least two or three more points soon so as to speed up the exploration of coal seams.
"If we continue our work unhindered, the exploratory drilling will be completed within a month. After that, we will send all samples and reports from the ground…." said an official of the CMPDI.
Authorities plan to drill at 14 places in the first leg of the coal mine project spread across 2.61sqkm. The first leg of the Deocha-Pachami coal mine area has been named the Dewanganj-Harinsingha coal block.
State government officials said the assurance of mining viability of mining was positive for the state government as it had already invested crores on the project by purchasing land and offering government jobs.