3 Trinamul Congress leaders resign after Abhishek Banerjee's directive
Axe for rural last-mile service laxity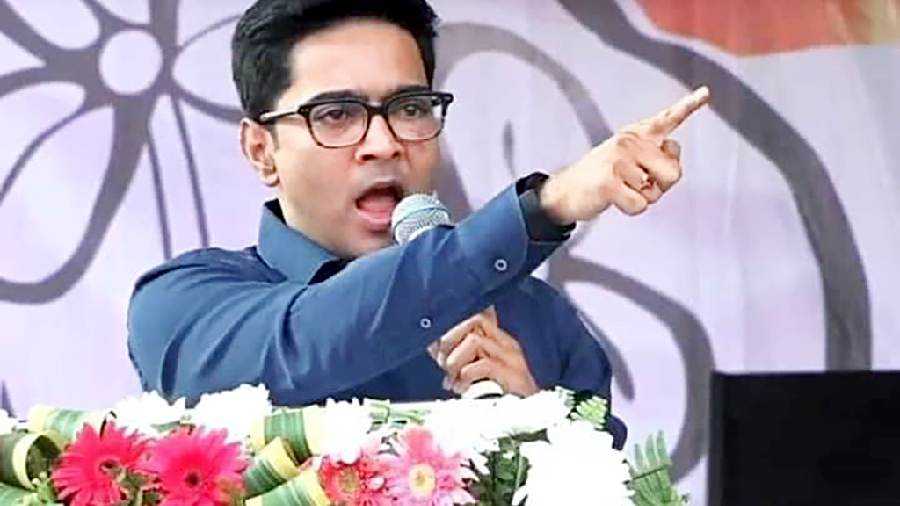 Abhishek Banerjee at Contai on Saturday
File picture
---
Tamluk
|
Published 05.12.22, 03:32 AM
|
---
Two senior functionaries of East Midnapore's Marishda gram panchayat and a local Trinamul president stepped down from their posts on Sunday following Trinamul national general secretary Abhishek Banerjee's directive to them to resign after he received multiple complaints against the rural body during his visit to the village on Saturday.
Panchayat chief Jhunu Rani Mondal, deputy chief Ramkrishna Mondal and ruling party president Gautam Mishra submitted their resignation before Trinamul East Midnapore president Tarun Maiti. 
"As it was Sunday, the panchayat chief and deputy chief could not submit their resignations to the block development officer of Bhupatinagar. They have tendered their resignation to the party's district president Maiti and those would be sent to the BDO office on Monday morning. The resignation of Marishda panchayat president has been accepted by Maiti," said a senior Trinamul leader.
Abhishek visited Marishda on Friday afternoon and at least a dozen villagers, especially women, complained to him about how gram panchayat functionaries harass them even for a signature on government papers. They accused the rural body heads of not allowing houses for them even though they appealed 10 years ago. The Diamond Harbour MP ensured that he would take proper steps to provide them with every government benefit they deserve.
"I visited a village and many complained to me about the panchayat functionaries. The local party president can't deny his responsibility behind such slackness. I will request Tarun Maiti (Trinamul's East Midnapore president) to ensure that chief Jhunu Rani Mondal, deputy chief Ramkrishna Mondal and the president of the local panchayat should tender their resignation within two days," Abhishek told a crowd of around 25,000 at Contai.
Sources in Trinamul said Abhishek's move as a ruling party leader to punish rural body representatives before the polls was a way to send messages to people's representatives of rural bodies across Bengal that the party would not spare anyone if they didn't work properly.
Sources said before tendering their resignation, the panchayat chief and deputy chief questioned if it was fair to remove them without giving them the chance to defend themselves. They also questioned Abhishek's right to ask them to resign as they had been elected democratically.
Trinamul leaders, however, said there was nothing wrong with Abhishek's order as the party usually nominates persons to the posts of chief and deputy chief of a gram panchayat.
"It is the political party that decides the name of the head of any rural or civic body. So, it is irrelevant to check Abhishek's authority. They might not resign, and in that case, the rest of the rural body members would have to bring no-confidence against them," a Trinamul leader said before the three resigned. 
However, a senior Trinamul leader in East Midnapore said the resignations of the rural body chief and deputy chief could not be considered officially till they were accepted by the BDO.
"Abhishek gave two days' time and there was no hurry to take resignation from the panchayat functionaries on Sunday. There will be nothing wrong if they submit their resignation at the BDO office on Monday," said a Trinamul leader and added that police were probing complaints of alleged threats issued by the resigning panchayat functionaries to villagers who had complained to Abhishek.