10kmph: top car speed on Tallah bridge
A ban on the movement of heavy goods vehicles on the 'severely distressed' bridge came into effect last Saturday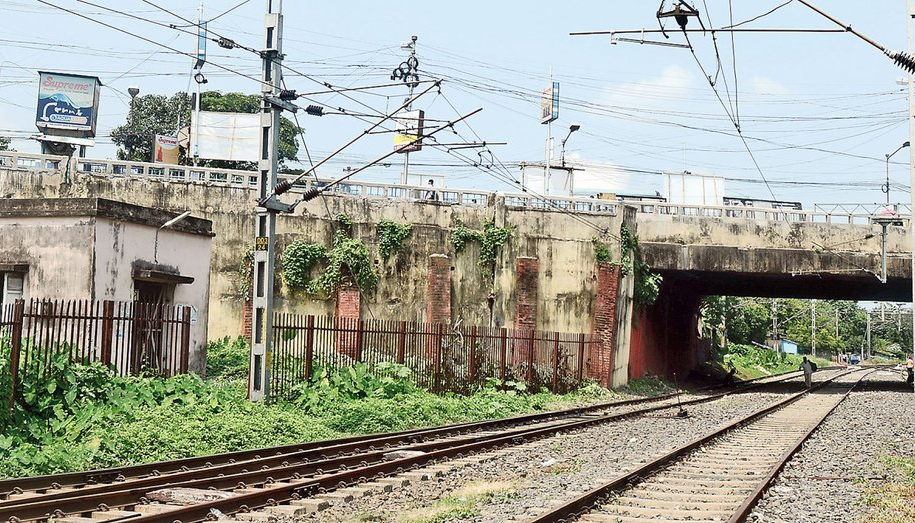 ---
|
Calcutta
|
Published 28.09.19, 12:02 AM
---
Buses and minibuses will not be allowed on the ailing, 57-year-old Tallah bridge for an indefinite period from 7am on Sunday, officials said.
Smaller vehicles such as cars and motorcycles can ply down the bridge, a busy link between Calcutta and the northern fringes, but their speed has to be within 10kmph.
As for pedestrians, police will regulate their flow, depending on how many can be allowed at a time.
The officials said the transport department and police would come up with a diversion plan for private buses and minibuses by the time the curbs kicked in. The diversion plan for government buses was drawn up on Friday (see chart).
The decision to impose the curbs was taken at a meeting presided over by chief minister Mamata Banerjee at Nabanna on Friday. Representatives of engineering consultancy RITES tabled a report on the health of the bridge at the meeting, which was also attended by officials of the PWD, transport department and the railways.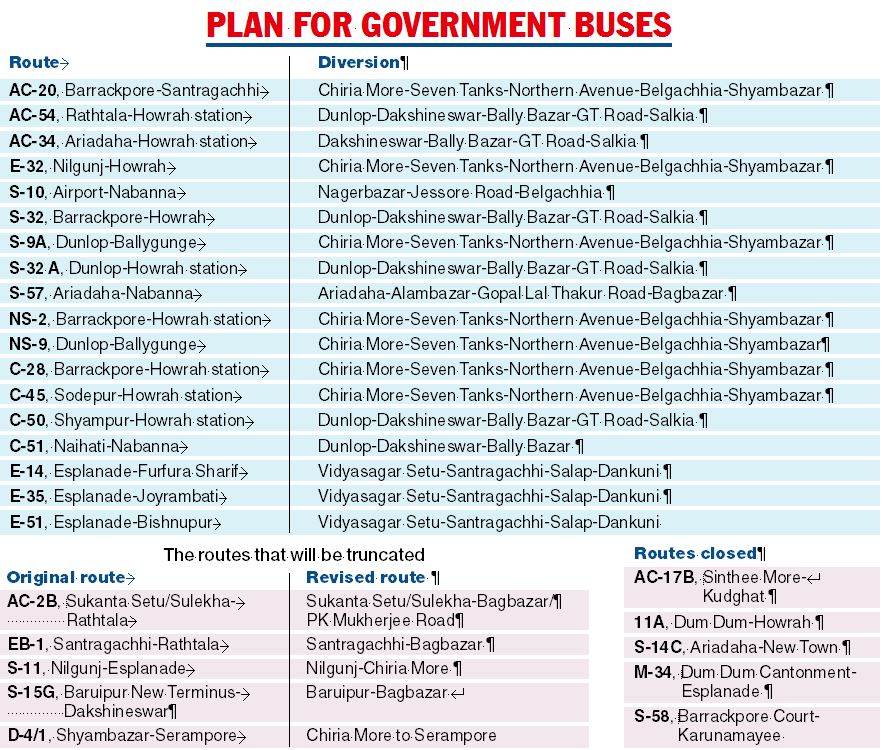 The report says the bridge is in a "severely distressed" condition and calls for an immediate ban on the movement of vehicles with a gross weight of more than 3,000kg on it.
A ban on the movement of heavy goods vehicles on the bridge came into effect last Saturday, after engineers flagged concerns over the precarious condition of the structure.
The state government has appealed to the railways to run more trains to try and reduce the inconvenience commuters will suffer because of the restrictions.
"We have appealed to the railways and the Metro authorities to run additional trains to cater to the large number of commuters who may be taking the services," transport secretary N.S. Nigam said.
"We have requested the Metro authorities to run more trains till Noapara. They have agreed to make the necessary arrangements."
The Tallah bridge — built with the same technology as the Majerhat bridge, which had collapsed in September last year — was unveiled in 1962. It links Shyambazar with Sinthee, Dunlop, Sodepur, Barrackpore and other areas further north.
PWD teams on Friday started removing paver blocks from the pavements. The hoardings that were erected by various Durga puja committees have been brought down. Both measures are aimed at reducing the load on the structure.
"The PWD, transport department and the police will jointly inspect the bridge on Saturday. By then a diversion plan for private buses and minibuses will be ready," an officer at Lalbazar said.
The transport department has identified five routes, involving 15 buses, that will have to be closed because of the curbs. Five other routes, involving another 15 buses, will have to be truncated.
"Steps are being taken so some buses start their journey from Kolkata station. Smaller buses plying across Calcutta will be shifted to north Calcutta," an official said. "Arrangements are being made to start feeder service linking Dum Dum and Noapara Metro station to BT Road."