Set accidents: Film industry should safeguard, not just compensate
Making monetary amends are not enough; strict regulatory and safety measures must be the norm during movie shoots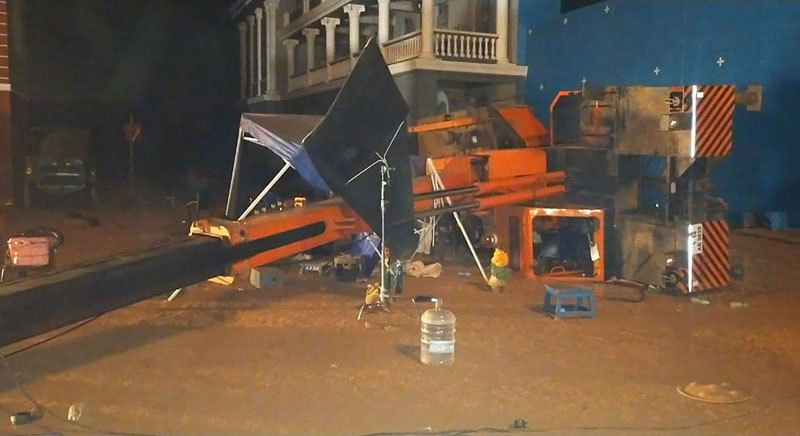 ---
|
Chennai
|
Published 21.02.20, 08:06 AM
---
Actor Kamal Haasan and film director Shankar narrowly escaped death on the sets of their under production film Indian 2 last Wednesday. A crane came crashing down, killing three technicians, and injuring nine others at EVP Film City, near Nazarathpet in Chennai. Had Shankar and the cameraman not moved a few seconds before the crash, they wouldn't have survived, Haasan said. The actor himself was standing very close to the crash spot, along with co-actor Kajal Aggarwal.
The crane operator, who was earlier booked on charges of causing death by negligence, has been picked up for questioning in connection with the incident. A police official investigating the case confirmed the news but did not divulge any further details.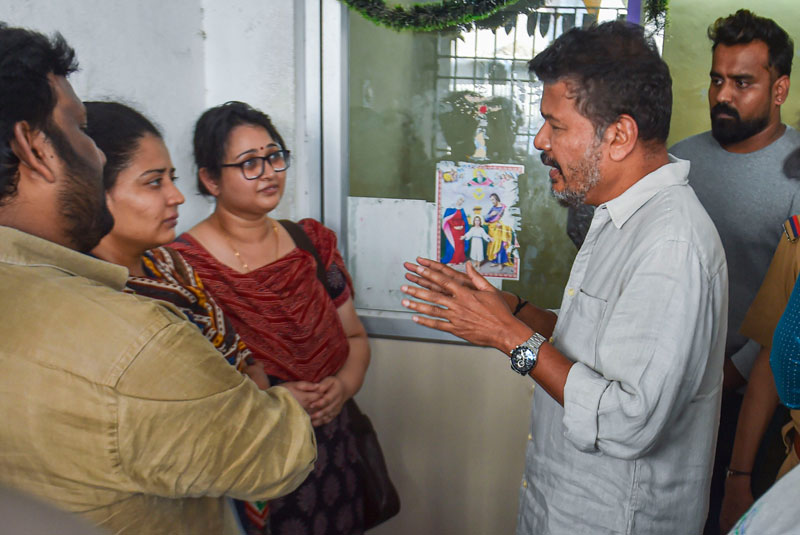 This is not the first time that the Indian film and television industry has witnessed such accidents. From the death of 50 people in a fire on the sets of The Sword of Tipu Sultan to Amitabh Bachchan's near-death experience whilst shooting Coolie, safety norms on film sets have long been a cause for concern.
In most cases, the casualties of such accidents or acts of negligence are technicians and stunt artists. And almost every time an uneven monetary compensation is provided as settlements. However, little or no importance is accorded to the following of strict regulatory and safety measures and practices, which include proper maintenance, upkeep and infrastructure.
This is really Sad ! That place is actually horrifying, the same kinda light fell on a person during BIGIL shooting and we were all shattered just like this one !! I just wish ppl don't go there to shoot again or just don't go there , lot of negative vibes 🙏🏼 RIP😭 https://t.co/bwJnRLJqW7

— Amritha (@Actor_Amritha) February 19, 2020
Needed: Sets with proper facilities
Take the EVP Film City for example. Soon after Wednesday's incident, Tamil film actor Amritha Aiyer tweeted recalling a similar accident at EVP during the shooting of her film Bigil. The film city was an amusement park earlier. During the shooting of Rajinikanth's 2017 movie Kaala, a man was electrocuted on set there. An AC mechanic also died after falling from the second floor during the shooting of Bigg Boss Tamil 2, incidentally hosted by Haasan.
"That place is actually horrifying, the same kind of light fell on a person during Bigil shooting and we were all in shock! I just wish people don't go there to shoot again or just don't go there, lot of negative vibes, RIP," Amritha wrote in her tweet.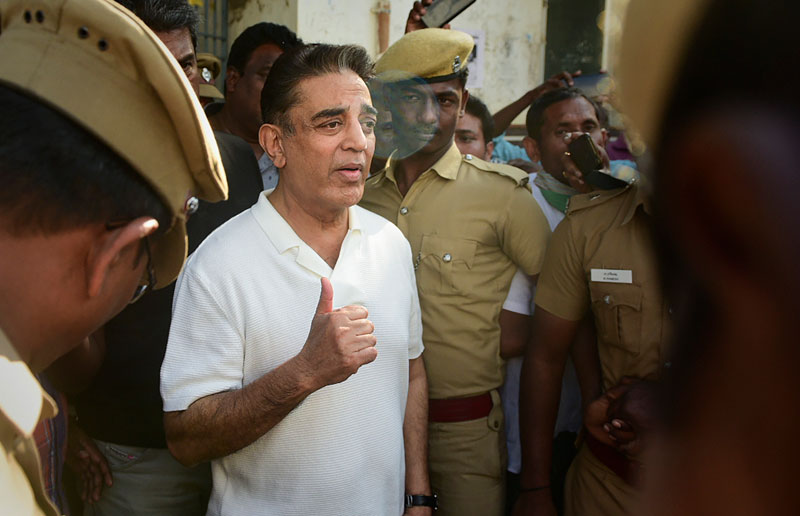 Haasan has announced Rs 1 crore as immediate relief to the families of the victims and those injured in Wednesday's incident at EVP. He said that this is an interim relief, "What I am saying is accidents are like tsunami. It does not know who is rich or poor. Any industry, including Tamil film industry has the responsibility to take care of its workers. Through you I urge (the industry) to take steps to safeguard the interest of workers," he said.
Haasan further observed that it is rather insulting that an industry, which boasts of Rs 200-Rs 300 crore ventures, cannot protect its own. There should be proper mechanisms in place.
A case has been registered against the crane operator under various sections of the IPC, including causing death by negligence, police sources said. The accused is absconding. Meanwhile, Haasan's MNM (Makkal Needhi Maiam) announced he will not take part in the party events related to its third year inaugural celebrations scheduled on Friday.
Compensation is not enough
Compensation remains to be the only curative measure adopted in such cases. This is also evident from the reiteration of financial assistance offered by several industry associations and influencers. According to Aejaz Gulab, general secretary of the Mumbai-based Movie Stunt Artists Association, an elaborate system is in place to ensure the security of stunt people who are often at the forefront of danger. In cases of accidents, the association takes over. "... if an accident happens, hospitalisation is taken care of by the production side. They also take care of the medical expenses. They have to give a part of the salary until the person returns to work. In case of death, we calculate the amount as per the compensation act," Gulab told PTI.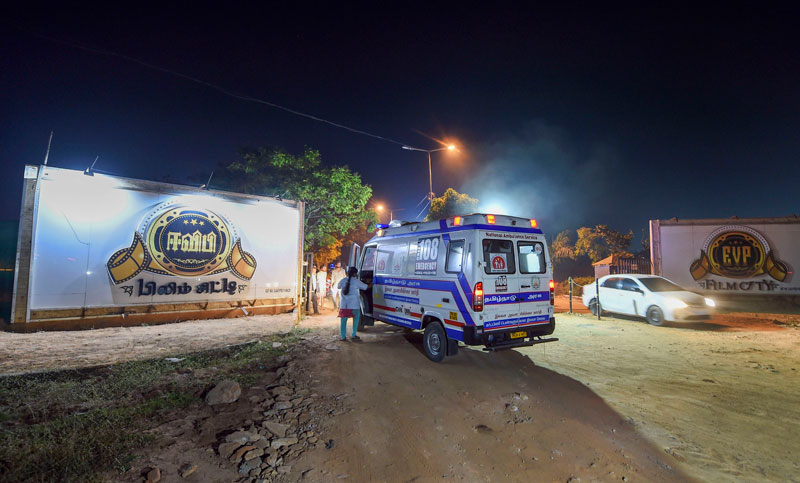 Actor Akshay Kumar, he said, is of enormous help and has been paying the premium of 425 members of the stunt community for the last three years. Stunt director Sham Kaushal added that films are usually insured. It is the producer who compensates and many times actors and directors also provide financial aid.
In the south Indian film industry, unions look after the community, said stuntman Subbu. "The Andhra Pradesh Cine Stunt Director's & Stunt Artist's Union gets our mediclaim done. I have never been injured, but some in my union who were hurt were taken care of by the union," Subbu shared with the PTI.
A history of tragic accidents
The 1989 fire on the sets of the TV series, The Sword of Tipu Sultan in Mysore, is perhaps the most tragic and conspicuous incidents of such kind in India. Lead actor and producer Sanjay Khan suffered major burs, and underwent 73 surgeries, spending more than a year in hospital. He later returned to finish the series. A few years ago Amitabh Bachchan was shooting for a fight sequence for his 1983 feature Coolie with Puneet Issar.
Bachchan fell on a table, rupturing his intestine. He later recovered, even after being declared clinically dead for a few minutes. Both these were headline-making, "high-profile" cases. But a lot of incidents barely go noticed, while some gain somewhat more visibility than the others.
The list is replete with very recent incidents too. In 2016, two stunt actors drowned in a lake near Bengaluru while shooting for the Kannada movie Maastigudi. Both were captured on camera jumping off a helicopter into the lake from a height of about 50 feet, reportedly without any life jacket.
In 2017, a painter fell from the scaffolding at the Goregaon sets of Sanjay Leela Bhansali's Padmaavat and died. The same year, a technician lost his life on the sets of the Anushka Sharma starrer Pari, after he came in contact with a live wire at the film's set in Kolkata.
Director Kaizad Gustad's assistant was killed in a train accident while he was standing on tracks during a film shoot in Mumbai in 2004. Go back forty odd years, and you encounter Jayan, a popular '70s Malayalam and daredevil. He was killed in 1980 when a helicopter stunt for his film Kolilakkam didn't go as planned.
Financial aid, and compensation for death are absolutely necessary, but aren't preventive measures. Proper risk assessment and the subsequent putting in of safeguards and regulations are necessary to reduce the higher incidence of such fatalities.