Energy boost for Assam kids
Children create innovative plan on science day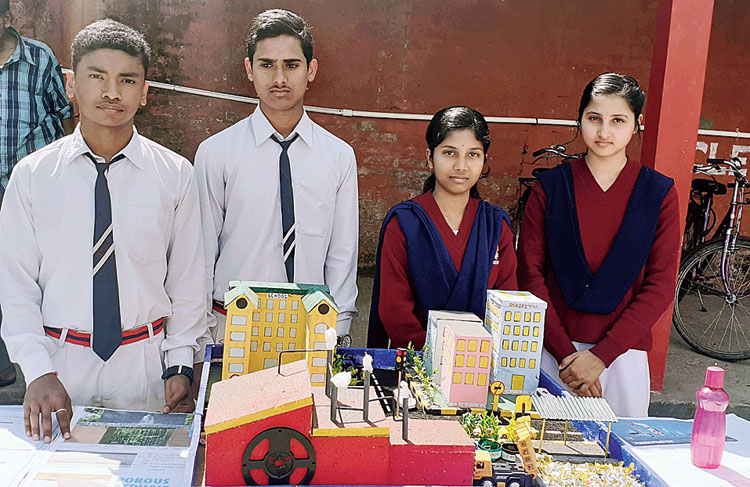 Students at an exhibition
Picture by Manoj Kumar Ojha
---
Doomdooma
|
Published 29.02.20, 01:22 AM
|
---
Schoolchildren in Assam are gearing up for national glory with their model of a zero-energy city, created for National Science Day.
National Science Day is celebrated in India on February 28 to mark the discovery of the Raman effect by Indian physicist and Nobel laureate C.V. Raman on February 28, 1928.
Hundreds of school students across the state on Friday took part in preparatory exhibitions ahead of the national-level exhibition.
At Learners' Educational Institutions in Assam's Tinsukia district, the topic of the exhibition was Science, Society and Environment. Three students of the school, Shristi Pradhan of class VIII, with associates Shalini Gupta, Gauri Shaha and Junmoni Gowala, Aditya Tanti of class VIII with his associates Lalan Tanti, Mohit Tanti and Arbaz Khan, and Raj Deb of class IX created the model of a zero-energy city.
Shristi, 13, told The Telegraph, "We tried to create a zero-energy city. First, we need to minimise the amount of energy we use and then the rest can be produced from sunrays or wind. Three years ago I had made a model titled Energy Audit of the School Building and the working project we have made for the exhibition is an extension of that. The previous model dealt with improvement of energy efficiency of the school building, while this one is about how to create a zero energy city."
She said, "A zero-energy city is one that does not require any source of power and is completely self sufficient. It doesn't depend on any source of energy except for renewable sources like solar energy. Three years ago, the project was on a small scale. My friends and I decided to make it on a larger level."
Aditya, 14, who was earlier studying in Dimapur, said, "Our project focused on the conservation of energy and producing the required energy by non-conventional sources. We have used ancient techniques lost in history books. We used simple methods to replace refrigerators, coolers and airconditioners." "There were many projects from all fields of science. We preferred this one as it is most important and can compete with others on a national-level," he said.
Sanjay K. Gupta, the managing director of Learners Educational Institutions, told The Telegraph, "Our institutions encourage young minds to develop greater curiosity towards science."