Kohli's India stay 'calm', Black Caps implode again
India prevailed in the Super Over in the fourth T20I to take a 4-0 lead in the five-match series against New Zealand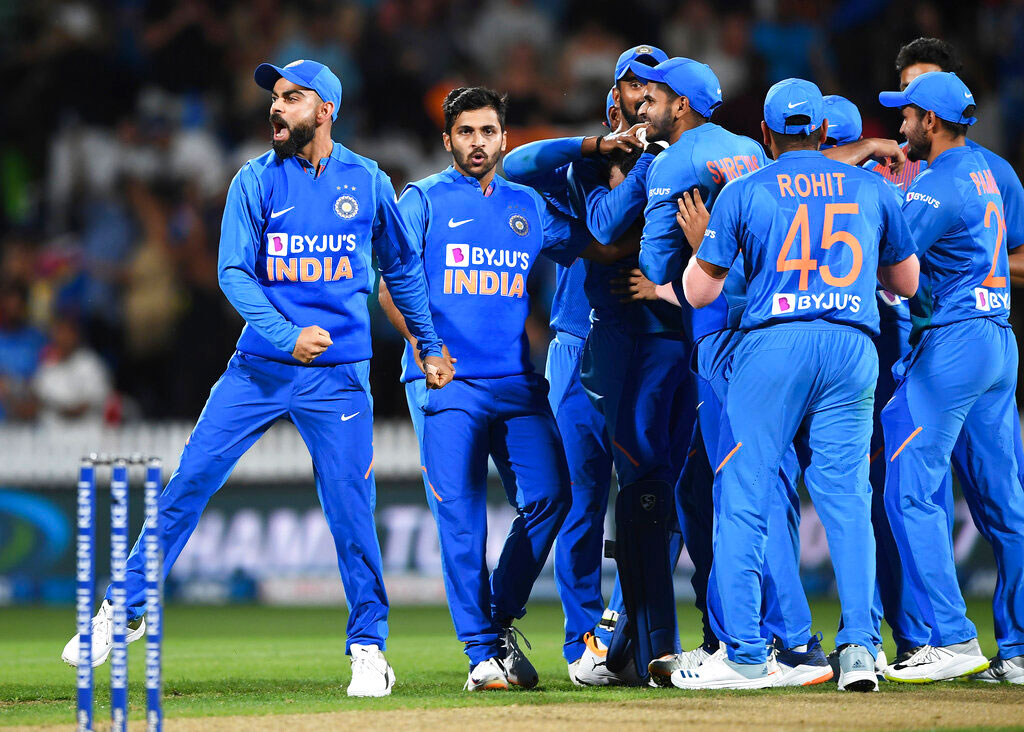 Virat Kohli celebrates as the game is tied and goes to a super over during the Twenty/20 cricket international between India and New Zealand in Hamilton on Wednesday
(AP)
---
Calcutta
|
Published 31.01.20, 07:51 PM
|
---
For the second time in three days, India were superb in the Super Over, while for New Zealand it was nightmarish once again.
New Zealand, overwhelmed by nervousness, threw it away yet again as India prevailed in the Super Over in the fourth T20I to take a 4-0 lead in the five-match series on Friday.
Needing just 11 runs off the last two overs with seven wickets in hand, New Zealand dug a hole for themselves yet again, taking the game to a Super Over in Wellington. Just like they had failed to finish the match despite being in an advantageous position in Hamilton in the last match.
In the Super Over, New Zealand, batting first managed 13 runs in six balls. Tim Southee, who was captaining the Black Caps in injured Kane Williamson's absence, was once again in charge to bowl for the hosts in the Super Over. KL Rahul thrashed him for a six and a four off the first two balls to make the equation easy for India. And Virat Kohli completed the formalities with ease.
Captain Kohli, victorious in back-to-back Super Overs, said that he has learnt the importance of staying calm during tense situations.
"There's something new that I've learnt, that you've just got to stay calm in the game, observe what's happening and if the opportunity comes then you capitalize on it. The fans couldn't have asked for a better finish in two consecutive games. We hadn't played a Super Over before, and now we have played two back to back," Kohli said at the presentation ceremony.
Chasing a target of 166, New Zealand looked comfortable in the chase for most part of the match. For India, it was a come-from-behind win.
"It feels good when you're out of the game and get yourself back in, it really shows the character of the team," Kohli said.
Asked about his decision walk out to bat in the Super Over alongside Rahul, the captain said: "Initially Sanju (Samson) and KL were supposed to go given they can strike the ball well. But I went in because I was more experienced and in a pressure situation, it was important for me to handle things."
"The two strikes off the first two balls were important and then I thought I'd get the ball in the gaps and get the job done. I haven't been part of a Super Over for too long, but happy to have got my team across.
"We are very proud of how we went about our business today," Kohli said.
After Rahul was out off the third ball of the Super Over, a fired-up Kohli and Samson finished the game in style with a ball to spare.
New Zealand, understandably, were left a disappointed lot. "It is very tough. To get ourselves into the position we got today and then give them a chance... India grabbed it with both hands," said Southee.
Pandey, Thakur shine
Earlier, New Zealand won a fourth consecutive toss and opted to field. Regular captain Williamson didn't play the match owing to a shoulder niggle.
The Indians weren't off to a great start but Manish Pandey proved his value to the team with an unbeaten 50 off 36 balls, taking the visitors to 165 for eight from 88 for six in the 12th over.
India's total wasn't enough considering the batting-friendly conditions but the hosts made life a lot tougher for themselves from a commanding position before succumbing to pressure.
The entertaining knocks from Colin Munro (64 off 47) and Time Seifert went in vain (57 off 39).
Mohammed Shami, who was rested on Friday, had bowled a brilliant 20th over on Wednesday. On Friday, it was Shardul Thakur's chance to rise to the challenge, conceding just six runs when the opposition needed seven for victory.
With the series already in the bag, India gave opportunity to Samson, Washington Sundar and Navdeep Saini for the first time in the five-match series, resting Rohit Sharma, Ravindra Jadeja and Shami. However, none of them was able to make an impact in the game.
'That's cricket'
New Zealand's Munro gave credit to the visitors, saying they "always" find a way to bounce back. "That's cricket isn't it? We put ourselves in positions to win both of those games I thought. But India, with the roll they're on at the moment and the cricket that they're playing, they always just find a way. And then Super Over is a bit of luck each way. It can go either way I reckon," Munro said on Friday.
"We're all sitting in the sheds now and talking about it and hurting that we have let two games like that slip. There are a few guys that are hurting. But we are tight in our group and we will bounce back, come Sunday hopefully," he added.
The fifth and final T20I is on Sunday.
Munro said New Zealand were happy with the target they had set for themselves. At one stage they were coasting through it, but regular wickets hurt them.
"I thought I should come out a bit harder and play some shots early. To be brutally honest, they've bowled really well to me after that first game in Eden Park. They've come straighter at me and put two guys out on the leg-side and sort of attacked my body a lot more.
"And the nature of the new-ball on this wicket… it was sticky and holding a bit every now and again. It probably was nice for me to show that maturity and getting through that tough phase against the new-ball and getting myself in. Very disappointed with the way I got out but it's nice to sort of contribute to a team total."