Virat Kohli bats for world Tests Championship
We want to make sure that we qualify as soon as we can and be in that frame of mind to hopefully win Test championship: Kohli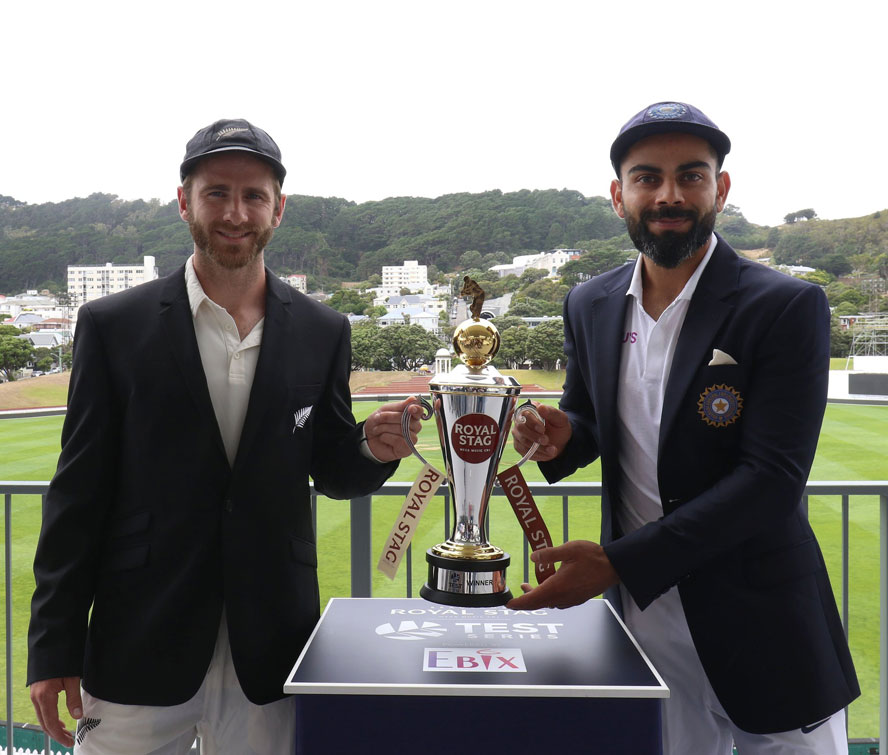 Two Captains Virat Kohli and Kane Williamson pose for the shutterbugs ahead of the two match Test series.
(Twitter/@BCCI)
---
Calcutta
|
Published 19.02.20, 09:26 PM
|
---
Virat Kohli feels the World Test Championship will be the biggest among all the events even as the International Cricket Council (ICC) is planning to organise one men's limited overs tournament every year during the next eight-year cycle from 2023-2031.
According to ICC's proposed Future Tours Programme (FTP) cycle, a proposed T20 Champions Cup is earmarked for 2024 and 2028 and an ODI Champions Cup in 2025 and 2029 alongside the T20 World Cups in 2026 and 2030, and the ODI World Cups in 2027 and 2031.
"I think World Test Championship as an ICC tournament should be right up there. All the other tournaments for me they start under that. This is probably the biggest of them all as every team wants to make it to the final at Lord's.
"We are in that zone. We want to make sure that we qualify as soon as we can and be in that frame of mind to hopefully win that (championship)," the Indian captain said ahead of the first Test against New Zealand in Wellington beginning Friday.
"It has made Test cricket more exciting and that's something we have experienced as a side although we haven't had too many games away from home. This is our first away tour since the start of the home season," said Kohli.
"Games will be intense and teams will go for wins rather than settling for draws which is what we need to see in Test cricket. The South Africa versus England series was very exciting. England won the Cape Town Test in the final hour and you will see lot more results like that because there are lot more points in line."
Kohli feels he has a "rigorous three years" lined up and feels taking periodic breaks during the hectic schedule helps him continue playing all formats as well as the IPL.
He has often stressed on workload management of the players. Playing on a continuous basis since being rested for the Bangladesh T20Is at home last November, Kohli highlighted the additional pressure of being a captain.
"I think it's been eight or nine years that I have been playing almost 300 days a year with the travelling and practice sessions. And the intensity is right up there all the time. So it does take a toll on you.
"We do choose to take a lot more breaks individually even though the schedule might not allow you to. You are going to see a lot of that in the future from many players," Kohli, 31, remarked.
"At a time when the body doesn't respond as well as it should, maybe when I am 34-35, you might have a different conversation at that stage. But for the next two-three years, I have no issues at all. I can keep going on with the same intensity. So the mindset is on the larger picture and from that point, I am preparing myself for a rigorous three years from now."
The side's approach and attitude, according to Kohli, hasn't changed in the ongoing tour of New Zealand.
"It's international cricket. Every team needs to be treated in the same manner. Basically, what we do is focus on our strengths. It doesn't matter how much patience the opposition has.
"I think in New Zealand, it's all about cricket discipline and what the team brings on to the field. They are intense and very, very fit guys and they can keep going all day and test your patience. They are really skilled with what they do as bowlers, batsmen, and obviously brilliant fielders as well.
"So they don't give you a lot within the game to sort of bank on or pounce on. You need to be wary of the chances that come along the way and be focused enough to capitalise on those," Kohli said.