US Open: The crowd matters, it's loud and clear
The surprise upon everyone's return to the tournament was how forcefully the newest generation of rising stars would storm the gates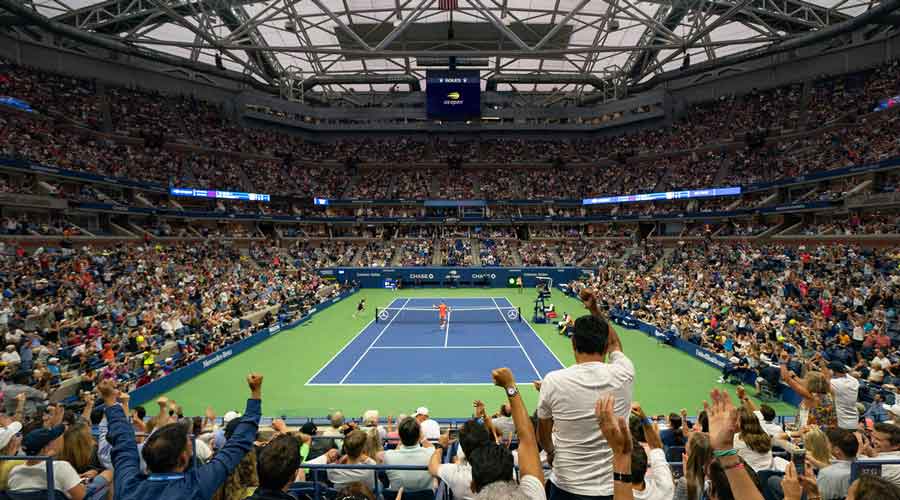 ---
Published 15.09.21, 01:13 AM
|
---
To fully appreciate the unmasked roars of 2021 at the US Open, it was best to have experienced the silence and vast empty spaces of 2020.
It was the contrast that made such a difference this year in the collective mood.
"The crowd was the third player this year," said Chris Evert, one of tennis's grande dames, who played in her first Open in 1971. "The crowds at the US Open have always been like this, but this year they just seemed louder."
Established stars like Novak Djokovic had missed the noise. Relative newcomers like Emma Raducanu were hearing it for the first time. The fans had missed the experience.
The surprise upon everyone's return to the tournament was how forcefully the newest generation of rising stars would storm the gates.
Serena and Venus Williams, Roger Federer and Rafael Nadal were absent at once for the first time in 25 years, and though it seemed that void would be much too big to fill, the young players piled in gleefully.
With so many stars missing and so much prime tennis real estate available, young Americans like Frances Tiafoe and Jenson Brooksby became fixtures on the main show courts, playing thrilling matches. The Spanish 18-year-old Carlos Alcaraz, playing in his first US Open, reached the quarter finals and soon had fans chanting "Carloooooos" as loudly as they usually chant "Rafaaaaaa."
Attendance was down from 2019, the most recent year when fans were permitted to attend. But volume and emotion were up, and the fans who watched from home or streamed back through the gates — after showing proof of vaccination — were rewarded with one of the most exceptional tournaments in tennis' long history.
At one end of the continuum was Djokovic, 34, one of the biggest stars in global sport, chasing a rare Grand Slam — victories in all four major tournaments in the same year — and the crowning moment of a long career spent in pursuit of his rivals, Federer and Nadal.
At the other end was the women's singles tournament, which was improbably commandeered by the 19-year-old Leylah Fernandez and the 18-year-old Raducanu.
Raducanu and Fernandez' arrival on centre stage created a sense of discovery and wonder. One long shot in a US Open women's final is rare enough, but two long-shot teenagers made it a scene.
There has been much to bemoan of late and professional tennis has hardly been immune: from quarantines and isolation to Naomi Osaka's existential crises that have often left her in tears in news conferences as she strained to manage her public role and private struggles in a sport she plainly excels at but that seems to bring her little delight at this stage.
But the 2021 US Open brought a sense of renewal and a sense that, in spite of it all, some of the kids were more than all right, able to summon the energy and optimism to take centre stage and make the shots that mattered most.
They lit up the largest tennis stadium in the world and then read the room beautifully, with Fernandez hitting just the right note as she talked about New Yorkers' resilience on Saturday, the 20th anniversary of the September 11 attacks.
Even Djokovic, who came one victory short of the sport's ultimate achievement, chose not to end on a down note. A year ago, he had eliminated himself from the US Open, inadvertently striking a lineswoman in the throat with a ball he hit in frustration after losing his serve early in his fourth-round match against Pablo Carreño Busta. Djokovic was defaulted from the match, played in an all but empty Arthur Ashe Stadium.
Long the villain in New York, he returned this year, fighting his way through a series of intense tussles on the same court, gradually hearing more and more crowd support as he worked his way to the final. Microphone in hand, he made his appreciation clear through the disappointment on Sunday.
"You guys touched my soul," he said. "I've never felt like this in New York."
He was hardly alone in that sentiment this year at the US Open, a tournament that felt all at once, both smaller and bigger than itself, and tennis too.
New York Times News Service