Indian men's hockey team wins Olympic medal after 41 years
The following are the reactions from some of the players and coach Reid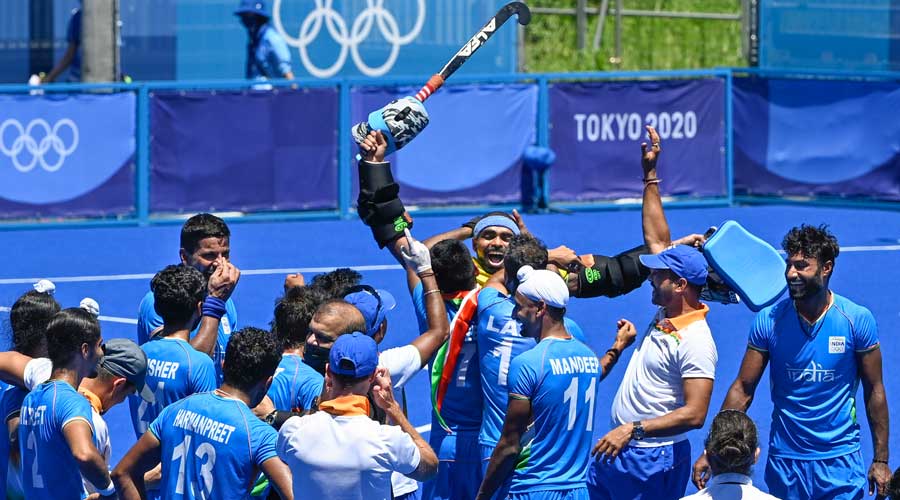 Indian players celebrate their victory over Germany in the mens field hockey bronze medal match, at the 2020 Summer Olympics in Tokyo.
PTI Photo
---
Calcutta
|
Published 06.08.21, 04:21 AM
|
---
Goalkeeper PR Sreejesh summed it up best, terming India's come-from-behind 5-4 victory over Germany in the bronze-medal play-off match at the Tokyo Olympics as a "rebirth" of Indian hockey.
Others, including captain Manpreet Singh and head coach Graham Reid, too were ecstatic, not holding back celebrations after the stunning win on Thursday morning.
The following are the reactions from some of the players and coach Reid:
Manpreet Singh (captain):
I don't know what to say right now… A fantastic feeling… The effort, the game, we were 1-3 down. I think we deserve this medal. We have worked so hard, the last 15 months were difficult for us also. We were in Bangalore and some of us were down with Covid-19. We would like to dedicate this medal to the doctors and frontline health workers who have saved so many lives in India. It's a great feeling, the best feeling. We came here for the gold, we won bronze… it is still a great thing. It's a great moment for all hockey fans. It's just a start here, it hasn't finished (with this bronze).
PR Sreejesh (goalkeeper):
This is a beautiful game. We have given the people of India a reason to pick up hockey, to play the game. I was prepared for everything today, these 60 minutes... I'm playing hockey for the last 21 years and I just said to myself one thing: 'Take the experience of 21 years and just play those 60 minutes'. Even for the last penalty corner, I said the same thing to myself: 'Sree, you worked hard for the last 21 years and this is what you want to do now, that one save'. I did it, and we are on the podium now.
Harmanpreet Singh (vice-captain):
A special moment for every Indian… A big achievement. We have made a lot of sacrifices but our focus was on being mentally stronger. In the last 15 months, we lived as a family in Bangalore. We were completely shut from the outside world. We were just focussed on our job. The women's team has achieved a phenomenal feat. They have already made the country proud. We will definitely go there (to the ground) to support them tomorrow (Friday).
Graham Reid (head coach):
I know that not just India, this group too has been waiting for a medal for a fairly long time. I know how much hockey means to India and I am privileged to help play a part in that. Before the game,
I asked the guys to make sure they bring the next level if something happens… For example, if you are down, you need to bring the next level of play and they did that very well.