Sourav Ganguly for total BCCI reforms
'When I came in as the India captain, Indian cricket was going through difficult times. It's a similar kind of situation now,' says Ganguly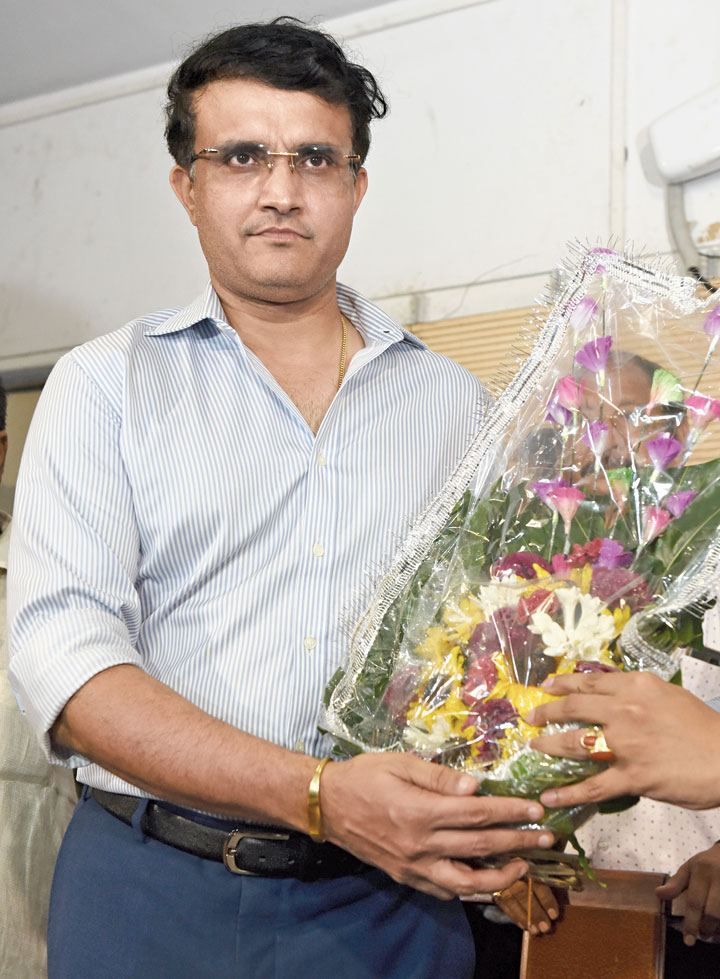 Sourav Ganguly at CAB on Tuesday
Pradip Sanyal
---
Calcutta
|
Published 15.10.19, 09:13 PM
|
---
Sourav Ganguly received a grand welcome as he entered the Cricket Association of Bengal (CAB) premises on Tuesday evening and the soon-to-be BCCI president vowed to hit the ground running by stressing on the need for "total reforms" in the Board.
Sourav had on Monday made it known that dealing with the issue of conflict of interest was high on his priority list once he takes over formally as Board chief after the AGM on October 23.
"Total reforms have to happen because it's a completely new system and structure. People will not be available for committees with this (conflict of interest) rule," Sourav said after he was accorded a welcome with showering of petals and confetti and a display of fireworks.
Sourav said that it's because of this contentious issue that icons such as Kapil Dev, Sachin Tendulkar, Rahul Dravid, VVS Laxman and Zaheer Khan are unable to be associated with Team India.
As a member of the BCCI's technical committee, Sourav had earlier stressed on bringing Dravid and Zaheer as consultants when Virat Kohli and his squad went on tours abroad. "Dravid is there at the NCA (National Cricket Academy). Of the rest, most of them are employed with the IPL. Whether they will leave those (assignments) and give time to the Indian team, I am not sure. That's all because of this conflict issue and that's why this has to be dealt with.
"You will not get good players because they are all taken away by the IPL, by commentary… So, you will not get quality players, whether it's a Zaheer or a Laxman or a Dravid or Sachin or Sunil Gavaskar, Kapil Dev, Anil Kumble...
"They have all been legends of the game who made a difference to Indian cricket. Even Harbhajan Singh… But you will not get them because of conflict," Sourav elaborated on Tuesday.
Filling up the IPL governing council too has become difficult, Sourav added. "Cricket administration has changed from those days. It's a lot tougher now. Because of rules, systems, Supreme Court (rulings), bindings… A lot has changed.People don't want to join the governing council because they have to vacate their positions in the state associations, as most of them who're representing the Board are either state presidents or secretaries. They are not ready to leave the posts of their state associations.So, actually, we have not been able to fill up the IPL governing council posts except that of the chairman, secretary and treasurer who are office-bearers and one or two more persons. It's all because of this. We have to find people to fill up the governing council," Sourav said.
Talking about his objective as the Board president, Sourav said: "When I came in as the India captain, Indian cricket was going through difficult times. It's a similar kind of situation now. The administration has been in major crisis over the last three years. I'm happy to get the responsibility to turn it around. What matters is if you turn it around… When it is tough, if people believe you are good enough to do it.With everyone in the BCCI, I hope we will able to turn the Board around," said Sourav, who became the unanimous choice for president after a roller coaster dinner meet in Mumbai last Sunday. "It's important India gets back to where it should belong in cricket."