Retro-styled Australians ride Richardson's pace to victory
Centurion Rohit talks of need to absorb pressure after loss in Sydney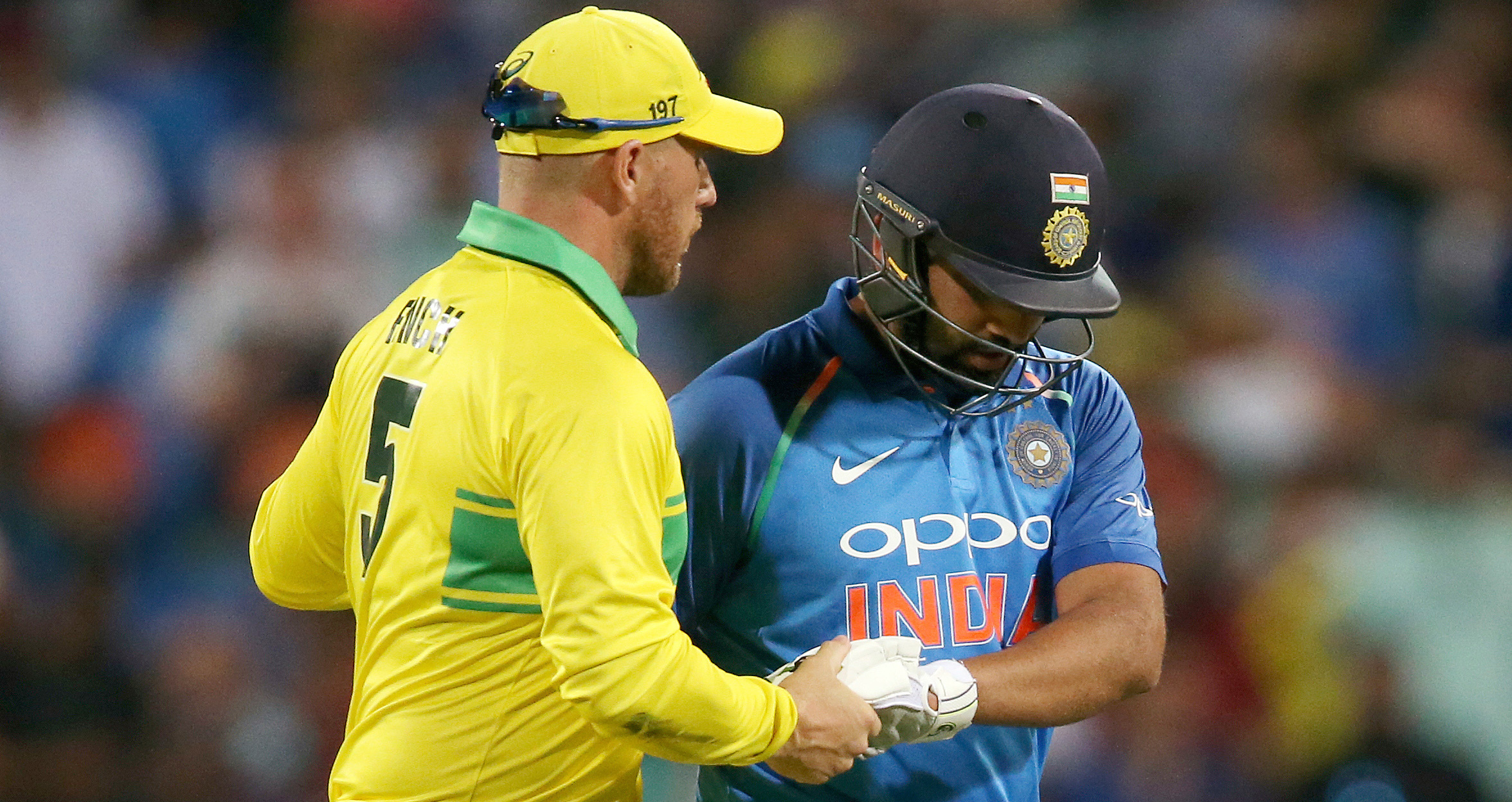 Australia's Aaron Finch, left, shakes hands with India's Rohit Sharma, right, after he was caught out against during their one day international cricket match in Sydney on Saturday, January 12, 2019.
AP
---
Sydney
|
Published 12.01.19, 09:36 PM
|
---
Perhaps, the new retro-style playing kit made the difference. Or, the pace and skill of young MoM Jhye Richardson. Bottom line is that Australia got the result they wanted; India the outcome they didn't want.
So, from winning only two of the 13 ODIs last year, World Cup holders Australia have started the new year with a bang: A 34-run win, just days after losing a Test series at home to India for the first time.
Shane Warne, for one, was all praise for Aaron Finch's men. "What a way to start 2019, a win in the first match. Wow," he applauded.
Virat Kohli, the India captain, was clearly upset. In a World Cup year, fumbles are best avoided as every match faces greater scrutiny.
"We are not very pleased with the way we played. We were fine with the ball (on an excellent surface), but kept losing wickets in such a short span of time...
"Looking forward to the World Cup, every team has to have the best combination. Days like this make you aware of the things you have to work on as a team," Virat said at the post-match presentation.
It didn't help that K.L. Rahul and Hardik Pandya got suspended by the Board less than 15 hours before the toss, which Finch won. Both head home on Sunday.
Requiring 289 to take a 1-0 lead in the three-match series, India were on the mat — three down for only four even before the fourth over was completed.
That stunned nearly 75 per cent of the 37,556 spectators who'd effectively taken 'control' of the SCG with the India Tricolour.
As at so many other venues across continents, it was a sea of blue just about everywhere.
With the Big Three rested for the ODIs, it was an opportunity for Western Australia's Richardson to press for more exposure. He didn't let go the chance.
Sharp, quick and possessing variations, Richardson caught India napping even though it was a D-N match and the visitors batted second.
"Dale Steyn's my role model," Richardson told The Telegraph. The South African icon would have been proud to see the speedster, who doesn't have the body associated with quicks, operate.
"I'm not better or worse (body-wise), I'm different... I'm learning all the time and, while my focus is on the next two ODIs, it would be great to play in an Ashes," Richardson pointed out at a Media conference.
Figures of 10-2-26-4 do justice to Richardson's gilt-edged effort. His victims included Virat. "I won't forget that wicket for a long time," he observed, smiling.
Virat's is, by far, the most prized scalp for any bowler. Kane Williamson and Joe Root follow. It's to be seen if Steve Smith regains that 'club's' membership once his 12-month ban is over, towards the end of March.
Both Bhuvneshwar Kumar and Kuldeep Yadav went for runs, but they did trouble the Australia batsmen. Peter Handscomb, Shaun Marsh and Usman Khawaja got fifties to enable the hosts reach 288 for five.
Virat rightly felt that 300-plus was par for the surface.
Handscomb and Shaun have, by the way, been dropped for the two-Test series against Sri Lanka.
After such a horror start, which included Ambati Rayudu not winning the Review (used so early, Dhoni couldn't ask for it when he would have benefited), the pressure on the middle and lower order was crushing.
Vice-captain Rohit Sharma, however, dropped anchor and Dhoni turned out to be perfect company even though his last competitive match was on November 1.
Given the crisis India were in, Rohit consumed 29 balls for his first 10 runs, but kept shifting gears thereafter. One of the cleanest and biggest hitters in International cricket, Rohit registered six maximums in a masterly 133.
Dhoni's contribution was 51 and the pair collaborated 137 for the fourth wicket.
"We've talked enough about learning. Now, it's time to execute — to absorb the pressure. International cricket is all about absorbing it. Today, we were put under pressure and weren't able to absorb it," Rohit conceded.
Had India won, Rohit would have dedicated Saturday's hundred (22nd of his career) to new-born Samaira. "We didn't win, so I'm not dedicating it to her," he stated.
Besides Dhoni, Shikhar Dhawan and Rayudu too hadn't played for ages. Surely, the national selectors must have a policy in place.
The next ODI is in Adelaide, on Tuesday.