Ole needs to solve jigsaw to fit in star catch
Left, right, centre? Where should Cristiano Ronaldo play at Manchester United?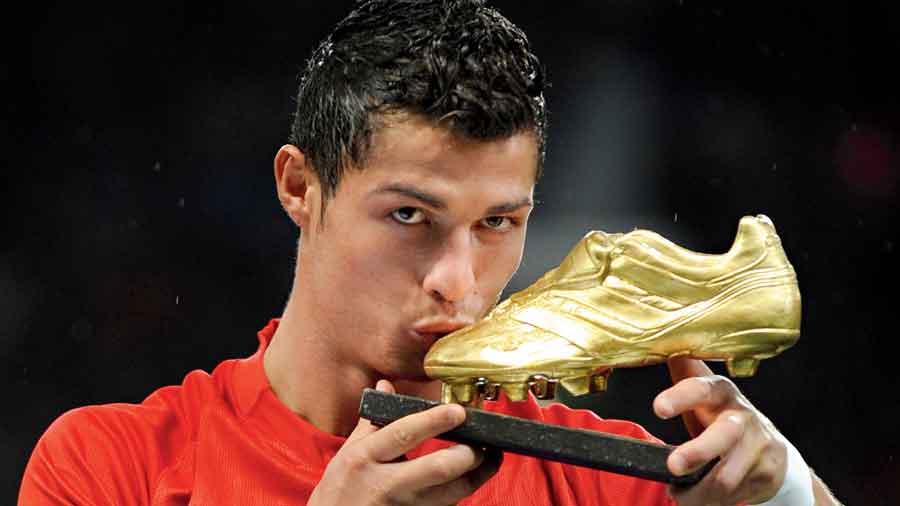 Cristiano Ronaldo with the 2008 Golden Boot trophy
File picture
---
Published 01.09.21, 01:08 AM
|
---
Ronaldo himself would like to play on the left wing, which has been his favoured position in Juventus. Here are the options that Ole Gunnar Solskjaer has for his most valuable player who is expected to play his first game after the international break when United host Newcastle United on September 11.
Left wing: Ronaldo is at his most dangerous when running down the left and cutting inside on to his right foot — 19 of Ronaldo's 36 goals from last season at Juventus were scored with his right boot.
Solskjaer has debated switching to 4-3-3 this season, but he has gone ahead with the same formation as last year, 4-2-3-1, in the first three matches of this campaign.
Solskjaer's problem is one of plenty. Paul Pogba likes to play in left wing, as do Anthony Martial, Marcus Rashford and Daniel James. Mason Greenwood can play on the left and Jadon Sancho started there against Wolverhampton Wanderers. Lone striker: Many like former club captain Wayne Rooney want Ronaldo to lead the United attack, but he has not played regularly as a lone centre forward since he left Old Trafford 12 years ago. At Real Madrid he played on the left of a front three that included Karim Benzema and Gareth Bale. Also, Ronaldo is not a traditional centre forward. He likes to drop deep sometimes and become a quasi-No 10 who creates chances for others. At present, Bruno Fernandes already does that very well for United.
Right wing: Ronaldo spent most of the first half of his maiden spell at United on the right wing, where Sir Alex Ferguson liked him to stretch opposition defences and deliver crosses to the likes of Ruud van Nistelrooy. But to play him in that position now would involve a risk. First, he is not as quick as he used to be. Second, United have just spent £73 million on Jadon Sancho, a top class right-winger. Why keep him on the bench in order to deploy Ronaldo in a position where he has not played for more than a decade?
Striker in a two-man attack: If at all Ronaldo plays as a centre forward, he could work in a two-man attack, with a diamond midfield behind him. Solskjaer used this system last season, most notably in the 5-0 win over RB Leipzig. The coach experimented with Martial and Rashford as a pairing during his second season, but has yet to try the system out since Edinson Cavani joined last summer. Given that they are much younger than Cavani, Greenwood or Rashford would be quicker options to play alongside Ronaldo.
When he has two up front, Solskjaer has permitted the strikers to drift wide, which suits Ronaldo, and it also creates space for Fernandes in the middle. But under this system, Sancho would have little role. Also, this is dependent on fast transitions from midfield to attack. Fred and Nemanja Matic are not good at that, so a lot of the onus would be on Scott McTominay and Pogba.