Nikhat Zareen: Girl who out-punched obstacles
After MC Mary Kom snub, 25-year-old boxer from Hyderabad shows indomitable spirit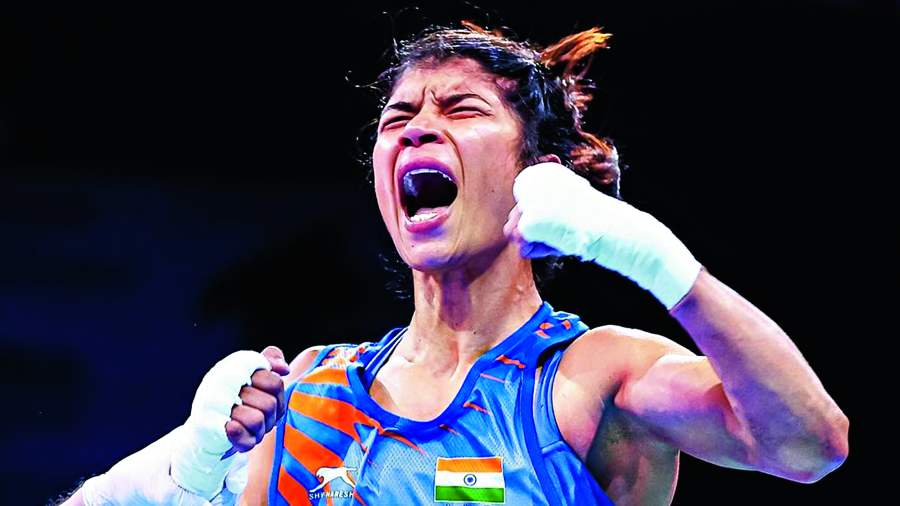 Nikhat Zareen exults after winning the flyweight (52kg) final over Jitpong Jutamas at the Women's World Boxing Championships in Istanbul
Instagram
---
Published 21.05.22, 01:53 AM
|
---
Spunky and always upbeat, that's Nikhat Zareen, India's new women's boxing champion. Even when the chips are down — be it an injury which kept her out of the ring for a year in 2017 or Olympic champion and icon MC Mary Kom's 'who Nikhat Zareen' snub — the 25-year-old boxer from Hyderabad has shown indomitable spirit.
Her gold in the World Boxing Championship on Thursday — Nikhat out-punched Thailand's Jitpong Jutamas by a unanimous 5-0 verdict in the flyweight (52kg) final — might have catapulted her to stardom back home, but only she and her family know how much hard work they had to put in for her to stand on the podium in Istanbul.
"Nikhat has seen too many obstacles in her young life. I pray no child goes through what she has faced. This gold will give her a world of confidence," her father Jameel Ahmed told The Telegraph from Hyderabad on Friday evening. "These three years I had to keep on boosting her morale. At her age, setbacks could have led to disaster. Nikhat also listened to me and her coach (Chiranjeevi). We knew she has the talent to make a name for herself on the world stage," Jameel, who had played football at one level during his younger days, said. During the pandemic-induced lockdown, Nikhat practised on the terrace of her Shaikpet residence and used to upload her videos on social media. "The international boxing federation and the Indian boxing federation (BFI) praised the way she was keeping herself fit," Jameel revealed.
"These two years, I focused on my game only and whatever the weaknesses were there in my game, I tried to improve," Nikhat had said after winning on Thursday.
That Nikhat was treading the right path was proved during the women's national boxing championships in October last year in Hisar. "Not only did she win the gold, she was also adjudged the best boxer. I knew that from then on Nikhat would go places. It's not easy to beat Haryana boxers in their own den," Jameel said.
Rewind to 2019. Nikhat had written to then sports minister Kiren Rijiju asking for a "fair trial" for the Olympic qualifiers. She was trolled on social media mercilessly while her idol Mary Kom had asked "Who Nikhat Zareen?" Zareen eventually lost the bout in the trials, missing out on a chance to earn a place in the Olympic qualifiers. After the bout, she broke into tears when an upset Mary Kom refused to shake hands.
"All those hurdles which I have faced in my career have made me strong. I have become mentally strong after all this and my thought process is that whatever happens, I have to fight and give my best," the former world junior boxing champion said.
According to Jameel, Nikhat's brilliant performance in the prestigious Strandja memorial boxing championships held in March was another indicator of things in store. "She was unstoppable in Sofia (Bulgaria) and my gut feeling was Nikhat would do well in Istanbul. You know you have that feeling when you see your ward making the right moves. She did not take a single wrong step in Strandja."
Nikhat's next mission will be a medal at the Commonwealth Games to held in Birmingham in July-August. She will be in the 50kg weight category. "In the CWG there's a 50kg division, I will prepare for that now," she said. Her father added: 'She is 51kg right now so it's easier to drop a kilogram." The main target is a medal in the Paris Olympics in a little more than two years. "Yes that's the bigger picture," Jameel's said.
Nikhat had watched her friend from the days of JSW's Inspire Institute of Sport, Neeraj Chopra, win javelin gold in Tokyo on television.
In Paris she will have a chance to become the first boxer to win gold. That would be the perfect answer to 'who Nikhat Zareen'.