Messi's Barca left chasing Mbappe and the shadows
Pique, Busquets no match for youthful PSG as Spanish giants stare at Europe exit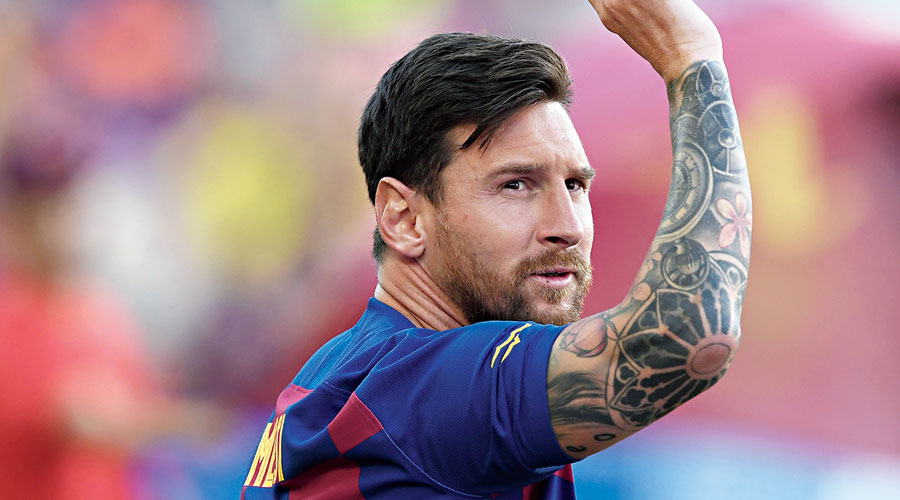 Lionel Messi
File picture
---
Calcutta
|
Published 18.02.21, 04:40 AM
|
---
FC Barcelona. The team, whose football from another planet became the point of reference for the world, has gone well and truly into a tailspin.
Six months ago, if you thought Barca had hit their nadir with the 8-2 humiliation at the hands of Bayern Munich in the Champions League, think again. This Barca of Ronald Koeman still can't compete in Europe and on Tuesday night, Paris Saint-Germain and Kylian Mbappe proved that emphatically with a 4-1 romp at Camp Nou.
The most enduring picture of Tuesday was a rampaging Kylian Mbappe zipping past an aged Gerard Pique. The 34-year-old defender, coming from a three-month injury lay-off, tried in vain to stop the Frenchman, 12 years younger, holding onto his shirt. The youngster made the night his own, stamping his authority with a classy hat-trick.
That frame itself showed the state of affairs in Barcelona. A team which kept us enthralled for decades is a shadow of its chequered past. And players like Pique, Sergio Busquets, who have won every football trophy under the sun, are left chasing shadows.
Mbappe's speed is terrifying. That's not a secret. But the way Barca succumbed in front of him was a debilitating blow. For this Barca, the
present is tense, future uncertain and the end is near. So we have a panting Pique engaged in a heated argument with teammate Antoine Griezmann, picked up by the pitch-side microphones at the empty stadium. The transcript of the alleged row has already gone viral on the Internet.
"Barcelona is a team in transition," ATK Mohun Bagan coach Antonio Lopez Habas told The Telegraph. "Also, in empty stadiums without fans anybody can beat anyone. For example, how can a Real Madrid player motivate himself against Eibar in a stadium with no spectators?" the Spaniard, who had coached teams like Sporting Gijon, Valencia and Celta Vigo, said.
You also feel for Lionel Messi. The player who gave everything to the club doesn't deserve this. AS Roma, Liverpool, Bayern and now PSG. Year after year in Europe, Barca fumble and let Messi down. His new teammates
like Pedri, or Francisco Trincão or Riqui Puig are good players but not of the class which enables you to compete in Europe.
On Tuesday, Messi scored a goal off a penalty, and took a couple of delightful corners which should have been converted. Even when down 4-1 (Moise Kean also on the scoresheet for PSG), Messi's intent was to at least reduce the margin so that in Paris on March 10, they have a faint chance.
"I could tell you lies but the fact is that at 4-1 down from the home leg, there are very few chances of going through. This match shows us how much we have to improve, particularly at Champions League level," Barcelona coach Koeman said.
He knows this PSG of 2021 is not PSG of 2017 who will fritter away a 4-0 first-leg advantage to lose 6-1 in the second. This team is well-drilled and means business.
On Tuesday, they didn't have Neymar and Angel Di Maria but still toyed with Barca. Mbappe brought back memories of the 2018 Russia World Cup when he ran Argentina ragged. If not for goalkeeper Marc-André ter Stegen and one Pedri goalline save, PSG would have scored three or four more.
In the build-up to the match, Barcelona, on its Twitter handle, had shared a Clement Lenglet practice picture. If you scroll down for comments, fans were already predicting how many Barca would let-in on Tuesday. Lenglet, low in confidence now after a string of poor matches, did not make any attempt to prove his critics wrong. Once Lenglet, Pique and Busquets went for an aerial ball, only to allow Mauro Icardi a free-header!
If Neymar recovers in time for the March 10 second-leg clash, it should be a tango with Mbappe and a warm hug to former teammate Messi.