MCC agrees to surrender tradition for comfort
Benched, a slice of Lord's heritage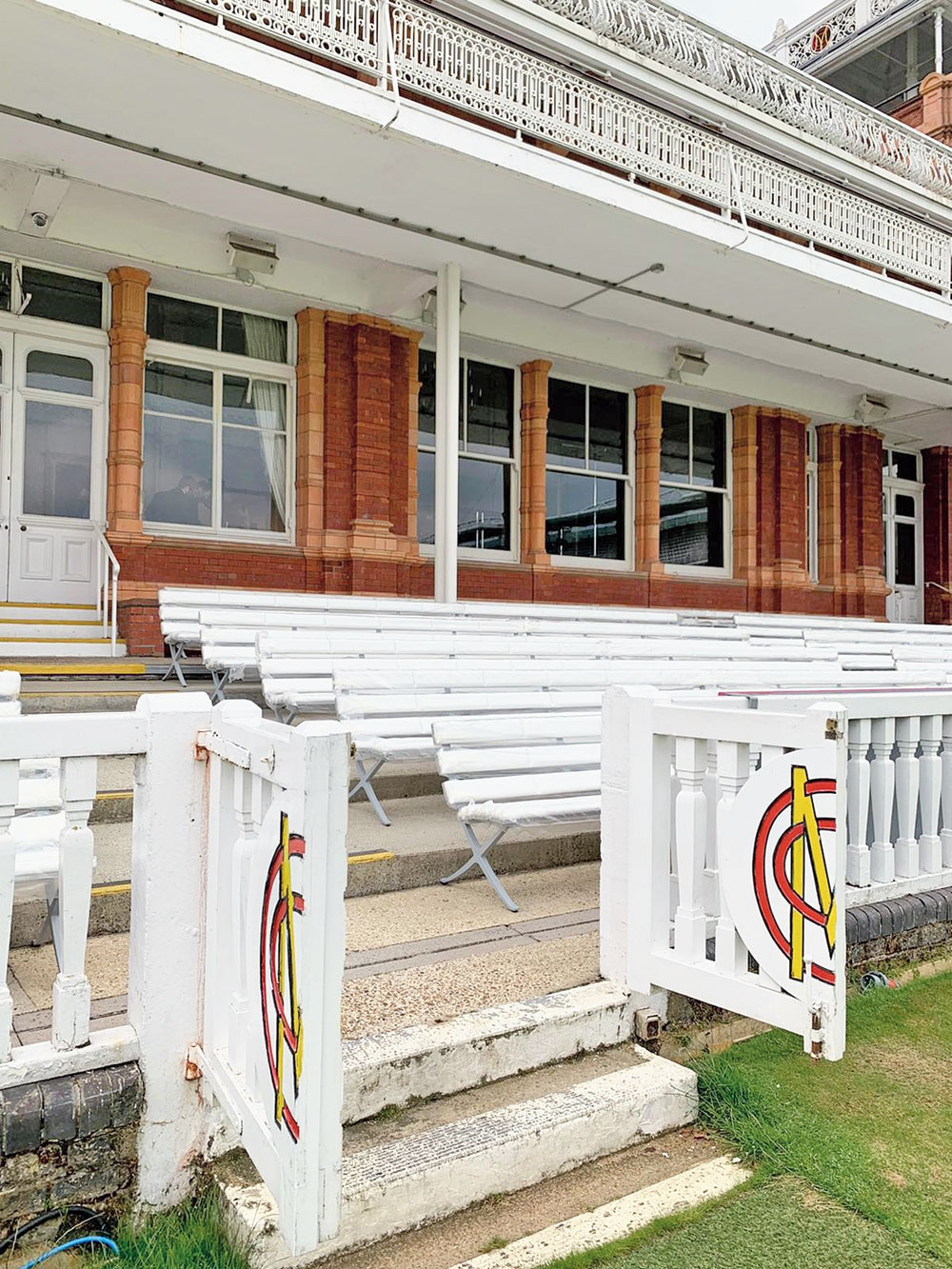 The new benches in front of Lord's pavilion.
(Courtesy: MCC)
---
London
|
Published 14.06.20, 12:40 AM
|
---
These days when the Black Lives Matter movement is seeking to get rid of yesteryear statues across the UK, a quiet — and peaceful — revolution has been taking place at Lord's, the home of cricket.
Old slatted wooded benches in front of the Grade II* listed Pavilion are being replaced by new more comfortable ones.
From the Nawabs of Pataudi, Palwankar Baloo, Vinoo Mankad, Polly Umrigar, Pankaj Roy and Vijay Hazare to Sourav Ganguly, Sachin Tendulkar, Rahul Dravid and Virat Kohli, Indian greats have all walked past the old benches in front of the Lord's Pavilion to and from their way to the most hallowed cricketing turf in the world.
"Yes, these benches are from the Pavilion Lower Tier, so many famous players would have walked past them when coming in and out of the Pavilion," Adam Matthews, a spokesman for the MCC, told The Telegraph.
But 128 of these slatted benches, which have retained the same design since 1889, though the wood has periodically been replaced, are being given away free of charge through a ballot to MCC members.
The old benches, which were hard to sit on, especially during long and quiet periods of play, are being replaced by padded seating.
The old benches come in two, three, four and five-seater options and are made out of softwood timber slats and supported from iron legs in a "serpentine" shape. While they have been well used over the years by many cricket fans, "each has its own character, and loveable faults, indicative of the life it has lived at Lord's".
Matthews added: "There was a lot of feedback from members over the past few years about comfort so we began a consultation with them. Members had the chance to try out new prototypes last year.
"The existing ones that are now being given to members via the ballot were re-made in 2005."
In a statement on Saturday, it was announced: "Marylebone Cricket Club (MCC) is giving its Members a unique chance to own a coveted piece of Lord's history, with the Club in the process of replacing a number of the famous white benches from its Pavilion.
"The strength of feeling from Members on the subject of benches in recent years prompted the Club to investigate options for more comfortable alternatives. Members were given the chance to test three different prototypes of new bench during last year's England v Australia Test, with one version the clear preference both in terms of comfort and appearance.
"The new benches are currently being installed on the Pavilion concourse at Lord's. They have been manufactured in Spain by BdB Barcelona, who have produced a bespoke version of their 'Type B' bench for Lord's.
"Those Members successful in the ballot for an existing bench will receive their seating free of charge.
"However, lucky recipients are encouraged to make a donation to the MCC Foundation whose mission is to provide transformative opportunities through cricket to young people across the UK and overseas. The Foundation's most recent appeal in the wake of the Coronavirus crisis raised over £78,000 to help feed 23,000 vulnerable people in Westminster."
Jamie Clifford, assistant secretary (membership & operations), emphasised: "We are very pleased to be able to offer all Members of the Club the chance to own a piece of Lord's history."
It was pointed out that "from its iconic ground in north-west London, MCC has led the game for over 200 years and helped take it from a national pastime to a global obsession. Everything we do is for the good of the game; from working with local communities to growing cricket's global influence.
"Founded in 1787, MCC is recognised as the sole authority on the game's Laws. There are approximately 18,000 Full and 5,000 Associate Members of MCC."
Try MP and leader of the House of Commons, Jacob Rees Mogg, an associate member, welcomed the move: "I know I should say we need to show a stiff upper lip, but cricket can be a very long game and those slatted benches can be very trying, especially during the last half hour of play. I watch cricket for fun and not for endurance, so in this issue I put comfort ahead of tradition."