KL Rahul banks on IPL momentum
The batsman has been named vice-captain for the white-ball matches apart from the batting and wicketkeeping duties he has been carrying out since last season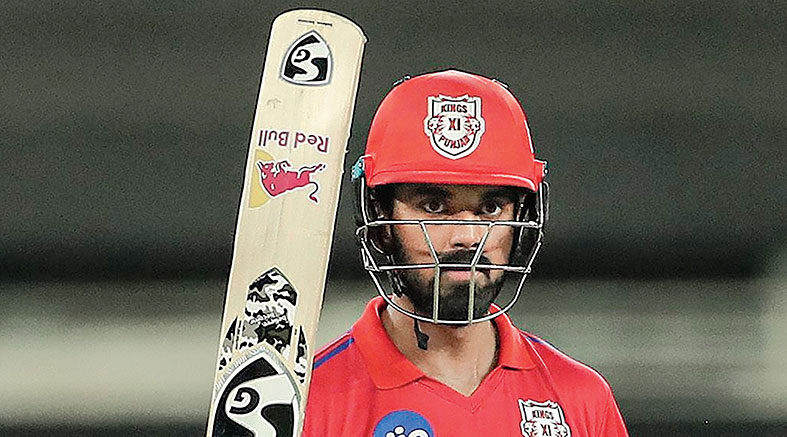 ---
|
Calcutta
|
Published 26.11.20, 03:27 AM
---
The world has changed so much over the last seven-eight months that KL Rahul had "actually forgotten" he had scored a century in his last ODI, versus New Zealand in Mount Maunganui, in February.
For sure, Rahul and his teammates are relieved to get a chance to don the treasured blue jersey after such a long hiatus in the first ODI versus Australia in Sydney on Friday. The game also marks India's first international appearance amid the pandemic.
For Rahul, though, the responsibilities have increased. He's not just been allotted India's batting and wicketkeeping duties, which he has been carrying out since last season, but has also been named vice-captain for the white-ball matches.
Rahul is game for the challenge. "I did get a little bit of a feeler during the IPL. I had to play similar roles there as well.
"It was challenging, it was new, but I think I got used to that role and I started enjoying it. Hopefully, it will continue the same way here.
"When you are playing for your country, you have 11 of the best guys who are all skilled with great cricket minds and great understanding. Besides, we have an able and passionate leader like Virat (Kohli) who's always there for the guys.
"It's a proud moment for me as I want to keep performing, as well as maybe take one or two steps ahead and make sure the team environment is great, and players are hungry and looking forward to winning games," Rahul said at a virtual media conference from Sydney on Wednesday.
Rahul agreed it's difficult to emulate the role Mahendra Singh Dhoni played behind the stumps for more than a decade. But he would be giving his feedback, particularly to the spinners or when it comes to field setting.
"Nobody can fill MS Dhoni's place. He has shown how a wicketkeeper-batsman's role should be played. We have learnt a lot from him.
"Guys like Yuzi (Yuzvendra Chahal), Jaddu (Ravindra Jadeja) and Kuldeep (Yadav), we have a decent friendship and understanding in the middle. I'll probably go and give them feedback on what I feel can be a better length and pace to bowl at or if they are doing something wrong or if we can change the field setting.
"Hopefully, I can get better at reading the games and give the bowlers and captain some good feedback from behind the stumps," Rahul said.
Batting position
In Rohit's absence, Rahul looks to be the ideal partner for Shikhar Dhawan at the top, though he says his position in the batting order will depend on the format.
"Yes, it will depend on the formats, and what the team wants of me and which combination sits better. In the last ODI series, I batted at five and kept wickets. I'm happy to play whatever role the team assigns me," he said.
Fresh start
His performance in this year's IPL for Kings XI Punjab has added to his confidence, but Rahul prefers to stay grounded as he knows well that India needs to press the "refresh" button against a strong Australian side.
"It felt good to get runs in the middle and hopefully, I can make use of that confidence and momentum going into this series. But yeah, it's a different format and we're playing Australia who are a very competitive team," Rahul said.