T20 final: Fans display India vs Pakistan rivalry, in the stands
Some Asian expatriates came in their own team's jerseys with even few Indian team skipper Virat Kohli T-shirts seen in the pavilion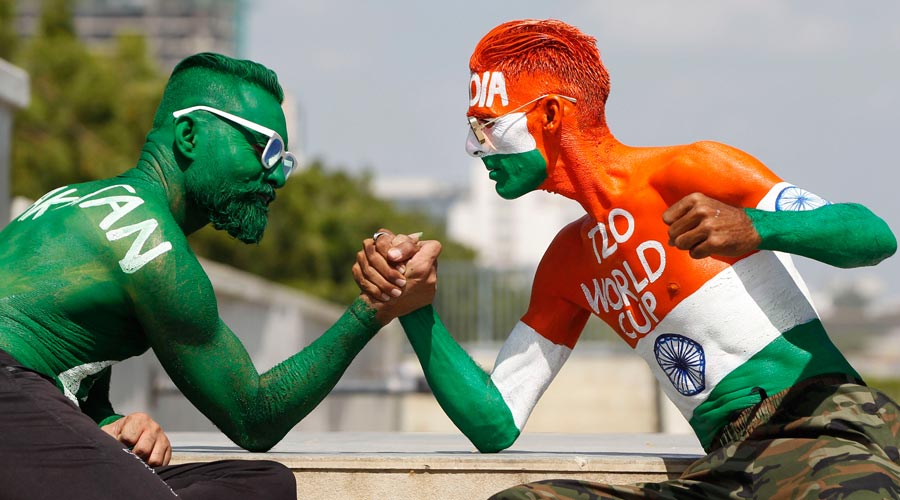 Camps were well marked out and the India-Pakistan rivalry was in full force too.
Telegraph photo.
---
Published 16.11.21, 02:59 AM
|
---
Majority of the spectators who turned up for Sunday's T20 World Cup final were Asian expatriates and though their teams were out of the competition, one wouldn't have guessed so from their outfits.
So many of them came in their own team's jerseys with even some Virat Kohli T-shirts seen in the stands.
Camps were well marked out and the India-Pakistan rivalry was in full force too. When a group of Indian fans was asked about them wearing the Australian jersey, "because they ousted Pakistan," pat came the reply.
Then again, some Pakistan fans waving the New Zealand flag remarked that they were backing the Black Caps since Australia had beaten Pakistan in the semis. A few Sri Lankan fans remained neutral, saying they supported the "nice guys" New Zealand.

Few takers
Many of the Asian expatriates who had purchased tickets for the final hoping their team would make the game were spotted trying to sell them before the match. They were so eager to part with the tickets that they were willing to give it away at lower prices. Still, there were no takers. 
It was a final with many vacant seats which forced a fan to remark: "When the gates were closed for spectators due to Covid, everyone made a big noise saying they wanted to watch cricket live. Now when it is open for all, they don't want to come." 
 
Short of $2000
During the evening's proceedings, a message appeared on the giant screen: "FTX pledges to Unicef $2000 for every catch taken", leaving few of the spectators excited.

An Indian fan said FTX should have pledged that amount to Pakistan's Hasan Ali for any catch he takes in the future. The talk about Ali dropping Mathew Wade in the semi-final continued on Sunday. Then, when Josh Hazlewood dropped New Zealand captain Kane Williamson, many remarked "here goes $2000".
When a Mitchell Marsh catch fell inches ahead of Daryl Mitchell, another comment followed.