ICC Cricket World Cup 2019: India's victory so emphatic, no tension
India lived up to the favourites' tag with a clinical performance that has almost squashed Pakistan's chances in the tournament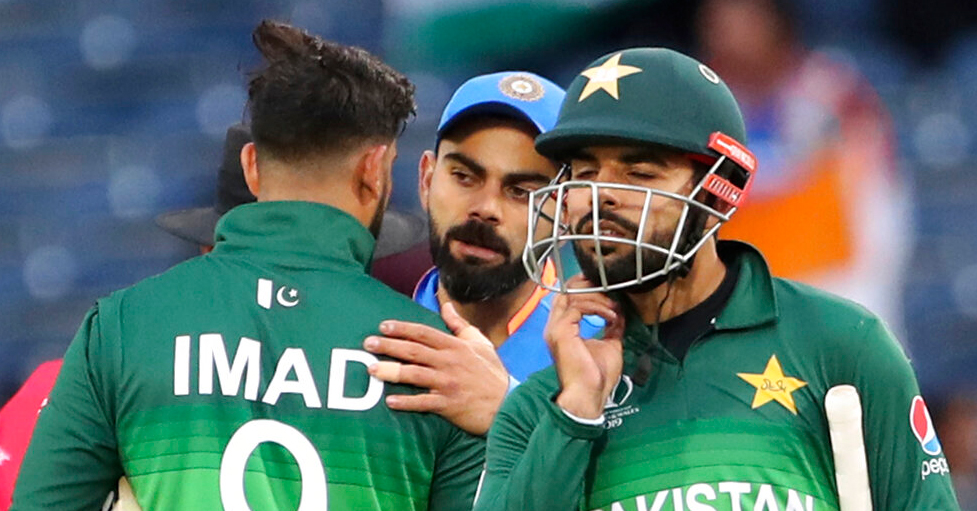 Indian captain Virat Kohli greets Pakistan players at the end of the Cricket World Cup match between India and Pakistan at Old Trafford in Manchester, England, Sunday, June 16, 2019.
(AP)
---
Manchester
|
Published 16.06.19, 09:45 PM
|
---
For the thousands of Indian fans waving the Tricolour at Old Trafford on Sunday, there was never a dull moment. They waited patiently in the rain to watch an Indian triumph.
No one had any doubt that India were going to notch their seventh victory in seven matches against Pakistan in 50-over World Cups.
Virat Kohli's men lived up to the favourites' tag with a clinical performance that has almost squashed Pakistan's chances in the tournament.
Old Trafford had been gearing up for this day since a long time ago. Around 400,000 had applied for tickets though the stadium holds only 26,000.
When the day finally arrived, the Indian spectators easily outnumbered the Pakistanis. Despite repeated screams of "India jitega" and "Pakistan jitega", there were no signs of any tension between the supporters.
Nor was there any show of extra emotion on the part of the Indians as their team registered an 89-run win via the Duckworth-Lewis method.
Kuldeep Yadav's superb delivery to send back a settled Babar Azam or Vijay Shankar's two wickets at vital junctures will remain in the memory but Rohit Sharma's 140 off 113 balls had already taken the wind out of Pakistan's sails.
Lokesh Rahul (57 off 78) and Virat (77 off 65) made their contributions but Rohit again showed his big-match temperament.
Rohit destroyed the Pakistani bowlers' confidence and helped India to an immensely challenging 336 for 5.
This was Rohit's second century this World Cup after the unbeaten 122 against South Africa. He attributed his success to the birth of his daughter Samaira.
"I'm just enjoying the space I'm in. I would put it down to the birth of my daughter. I'm just enjoying this phase from the IPL," Rohit said.
"As a team we are heading in the right direction. For us, it's important to keep ticking the right boxes."
The Man of the Match, however, didn't wish to pick this knock as the best among his 24 hundreds. "It's very hard to put any knock on top. All hundreds are important and it's tough to put any one on top."
What really propels him to come up with his A game in important matches? "Once I'm in my India T-shirt, I always come up with the A game. I treat every match as a fresh game and try to raise my performance."
Virat too felt that Rohit's innings had won the match. "Rohit's knock was outstanding again. K.L. (Rahul) helped Rohit, who showed why he's such a good ODI player…. It was a team effort to get to 336," the captain said.
"Kuldeep Yadav was brilliant. Babar and Fakhar (Zaman) were trying to play him out, but I wanted him to have a longer spell. The ball to dismiss Babar was outstanding. I think today was the best he bowled at this World Cup."
Pakistan Prime Minister and former World Cup-winning skipper Imran Khan's appeal to his team to play positive cricket seemed to have had little effect on his players.
"All fears of losing should be banished from the mind as the mind can only process one thought at a time. Fear of losing leads to a negative & defensive strategy & crucially mistakes by opponents are not pounced upon," Imran had tweeted a few hours before the match.
But Sarfaraz Ahmed's boys hardly showed the stomach for a fight, let alone the zeal to play positive cricket, finishing with 212 for 6 in their 40 overs, miles short of their revised target of 302.
The Pakistan captain defended the decision to field after winning the toss by citing the "moisture on the wicket". Imran had suggested that Pakistan bat first.
"It was a pressure game and those who handle pressure better, win. We failed today," Sarfaraz said. "We won a good toss but didn't capitalise. We didn't hit the right areas with the ball. But it was the right decision to go in with five bowlers."
He added: "It's very disappointing and it hurts.... We came up with a good second-wicket partnership when Babar and Fakhar were batting. But we lost wickets in a heap. That batting disaster led to the loss."