Get Set F1...
The Telegraph look at what lies ahead as fans rev up for the behind-closed doors race at the Spielberg circuit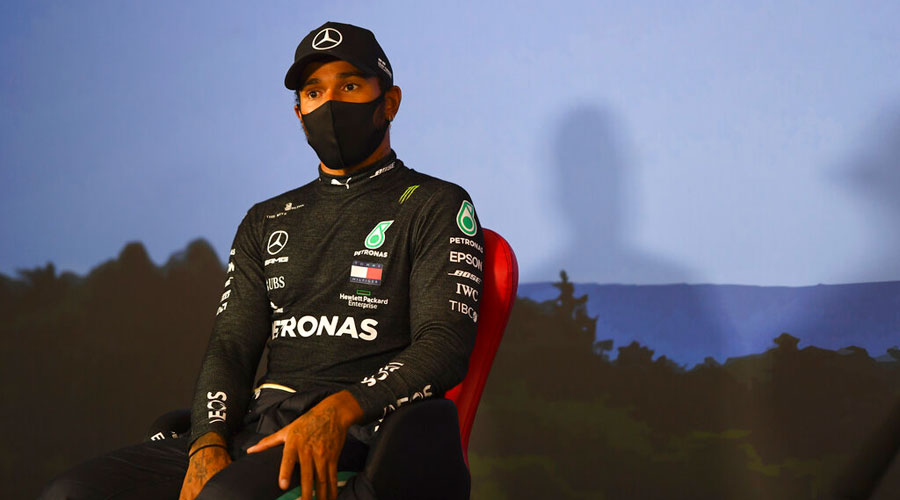 Lewis Hamilton on Saturday.
AP
---
Published 05.07.20, 01:00 AM
|
---
After over seven months since the curtain fell on the 2019 season in Abu Dhabi, Formula 1, forced into a break this year because of the coronavirus lockdown, emerges with Sunday's new season curtain-raiser, the Austrian Grand Prix.
We look at what lies ahead as F1 fans rev up for the behind-closed doors race at the Spielberg circuit.
The Hamilton legend
The main threat to Lewis Hamilton's bid to land a record-equalling seventh drivers' title is likely to be himself — just ahead of Mercedes teammate Valtteri Bottas and Red Bull's Max Verstappen.
The sport's first Black champion has admitted he is committed to racing for more than personal or team triumphs. "I'm racing for all of you out there who may feel that you don't have a voice," said the Briton.
The schedule
Eight races in 10 weeks; two triple-headers and a double. That's just the start. The F1 season has never been concentrated into such a short space of time. Only the first eight races have been confirmed, but unless there's a second significant coronavirus wave post-September, the campaign is expected to run till mid-December.
No spectators, but…
The opening races will be closed events, just as with football. But F1 bosses hope that fans, guests and partners will be able to attend later in the season when it is safe to do so. For now, only essential personnel will be in attendance — a maximum of 80 per team — and that's only after they have been tested for Covid-19 and produced a negative result before travelling.
Safety first
Once at the circuit, everyone will be wearing face masks and personnel can expect regular testing, with teams isolating from each other and adhering to social distancing measures. Driver briefings may take place outside if a large enough room cannot be found. Only select media will be allowed on site to cover the event and the remaining members of press that do attend will carry out interviews via teleconference. There won't be the usual drivers' parade or podium ceremony. 
Race wins
Hamilton has 84 victories from 250 starts, with Michael Schumacher's record 91 in his sights. Vettel has 53. Ferrari have won 238 races since 1950, McLaren 182, Williams 114, Mercedes 102 and Red Bull 62. Former champions McLaren and Williams have not won since 2012.
Looking ahead
A late finish means a shorter winter break. If all goes well and the season ends at the Yas Marina Circuit in Abu Dhabi, there will just be a three-month gap for the start of the 2021 season with the traditional curtain-raiser, the Australian Grand Prix, usually held in mid-March.