Forget the 28-year gap, thank No.10 for all he's done
Argentina's 1-0 victory over Brazil in the Copa America final gave Messi his maiden international trophy and his country's first since 1993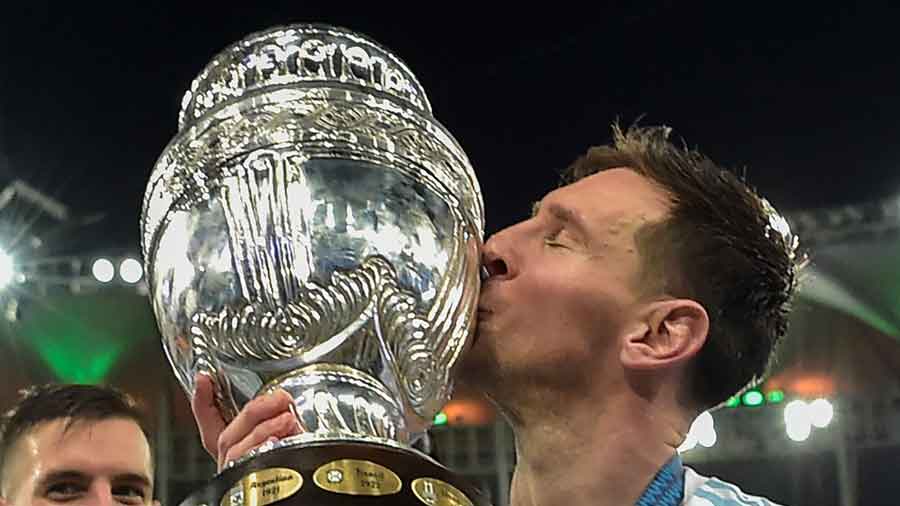 Lionel Messi
Twitter/@CopaAmerica
---
Calcutta
|
Published 12.07.21, 04:06 AM
|
---
In seven years, the frame has changed and how.
In 2014, on a pleasant July evening, sitting at a crowded bar near Copacabana in Rio de Janeiro, Argentine fans had sighed in disbelief. Lionel Messi's placement past Germany goalkeeper Manuel Neuer had just missed the mark by a whisker at the Maracana Stadium in the World Cup final. It was just before half-time. Another 58 minutes later, a Mario Goetze strike silenced the fans and a distraught Messi hid his tears as Germany — deservedly — walked away with the World Cup for the fourth time.
On Saturday (early Sunday morning in this part of the world) at the same Maracana when the referee blew the final whistle, Messi did not have to hide his tears. He sat down and cried as teammates came rushing to embrace their captain. 
The monkey is finally off Messi's back and Argentina's too. The 1-0 victory over Brazil in the Copa America final gave Messi his maiden international trophy and his country's first since 1993. He was just six then and Argentina did not win anything for the next 28 years.
For a footballer, who has won everything and anything under the 'lights' for Barcelona, it was always intriguing why Messi did not have the same success with the national team. But then we tend to forget Messi and the golden generation of Argentina players — many of them were part of the under-20 World Cup triumph in 2005 — played three finals in three years. 
The 2014 World Cup disappointment was followed by the two losses to Chile in the 2015 Copa America and 2016 Copa Centenario respectively. Had those finals been won, had those goals been scored or those penalties converted, then that Argentine bunch would have become immortals. Diego Maradona and the 1986 World Cup heroics would not have remained the only reference point. Fate sometimes plays a cruel game in sports.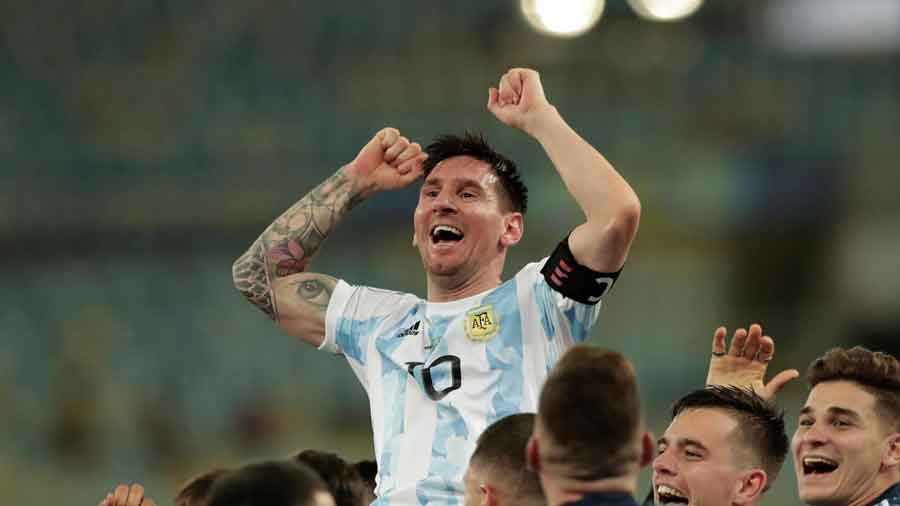 Of those highly talented players who promised much but did not live up to the expectations of the ever-demanding Argentine fans, only four survived the test of time and were at the Maracana for the 2021 Copa final. 
The 34-year-old Messi led from the front. Angel Di Maria, now 33 and probably the most under-rated modern-day footballer, scored an out-of-the-world winner; Nicolas Otamendi, 33, was a tower of strength at the back. Sergio Aguero, also 33, did not play any part. "Old guard," said Messi on his social media page smilingly posing with his three teammates flaunting the Copa.
For this quartet, this Copa triumph means a lot. Finally, they exorcised the ghosts of all those 'final' fumbles, that too against their arch-rivals in their own den. But no one was more rebuked than the little Argentine as the national team continued to falter. "Indifferent", "keeps his best form for Barcelona" (a club he is technically no longer with after his contract expired on June 30), "doesn't have the passion when playing for the national team" are some of the barbs thrown at him. But then we forget that a struggling Argentina, in danger of missing the flight to Russia, rode his hat-trick to qualify for the 2018 World Cup. 
It was not Messi's fault that there was a 28-year trophy drought for the two-time World Cup winners. His predecessors like Roberto Ayala, Arial Ortega, Hernan Crespo or Pablo Aimar all came and flattered to deceive.
But now at the twilight of his career, Messi has something to flaunt. This Euro has showed the yawning chasm between the European countries and the Latin American nations. So, even if we see Messi taking another shot at World Cup glory in Qatar next year, an Argentina triumph looks improbable. Clearly, in this Copa he was running against time. It was now or never.
The next Copa America happens in 2024 and by that time present-day football's most famous No. 10 is expected to hang his boots. Argentina, for a change, would be there wearing the defending champions tag. And for that tag, last worn in 1995 edition of the tournament, they owe a lot to that man with four goals and five assists.