Cristiano Ronaldo: Swag masks race with age
On Sunday, after being substituted at halftime, an apparently sulking Cr7 left the ground even before the final whistle was blown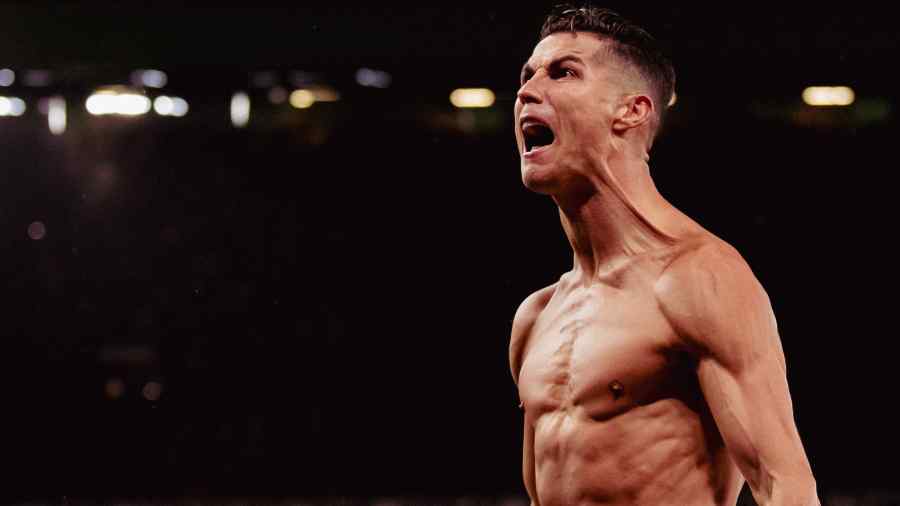 Cristiano Ronaldo
File Photo
---
Calcutta
|
Published 05.08.22, 03:37 AM
|
---
The swag turned into a sulk and then came the rap. Cristiano Ronaldo announced his availability for last Sunday's friendly between Manchester United and La Liga side Rayo Vallecano with a message "Sunday the king plays".
Four words oozing with the swag of a superstar. The swag was soon to disappear though. On Sunday, after being substituted at halftime, an apparently sulking Ronaldo left the ground even before the final whistle was blown. New manager Erik ten Hag, already earning a reputation at Manchester United as a strict disciplinarian who doesn't give a damn to starry tantrums, blasted the players who left the stadium before the match had ended.
"I certainly do not condone this," a miffed Ten Hag was quoted as saying. "It's unacceptable." Ever since he made a request to leave United so he can continue to play Champions League football next season, Ronaldo, 37, has been in the news. The day it became inevitable that United would have to play in the second-tier Europa League, the question was abound if the club would be able to convince their superstar to stay. For someone, who is the Champions League's alltime highest scorer, Europa hurts the ego. India's national team coach and former Croatia World Cupper Igor Stimac thinks Ronaldo wanting to play for a Champions League club is par for the course. "Why not? Champions League is the most important club competition in the world and not taking part in it means you can't win top awards. Ronaldo was always chasing records and to keep doing that he needs a club involved in the  Champions League," he says.
Ronaldo has always been in the headlines with his goal-scoring exploits. Even last season, one of United's worst, he scored 24 goals in all competitions. He has always stayed relevant and highly vis ible. But this is something else. His agent meeting clubs to say the most famous No. 7 is there for you. It's clearly the desperation of an aging superstar. Bayern Munich, Chelsea, Atletico Madrid have gone on record that the Portuguese superstar is not in their scheme of things.
Even though it has more to do with his huge salary — he earns around £5,00,000 per week — the perceived notion is that one of the modern generation's two best footballers doesn't have any takers. Why are the clubs reluctant on Ronaldo, who can still be the main source in terms of goals as well as very viable in terms of marketing? Modern football coaches demand all-round performance and the Portugal captain with all his defensive frailties does not gel into the system. He is no longer the player for whom coaches will tweak the system to allow him to thrive. Ten Hag is of the opinion that his superstar is not in sync with teammates. But what's alarming is the Dutchman raising questions about Ronaldo's fitness.
"To start with, he has to get fit. You can always be judged on what you are now, what you are presenting now, performing now." Ronaldo is not very unlikely to be part of United's first match against Brighton, at home on Sunday. Now the question is, will he be at all seen in United colours? Stimac says he doesn't expect Ronaldo to be part of United anymore. "It's obvious that staying at United is not an option for him at the moment and I can't see him involved there anymore."