Pop goes Pep but Klopp soars higher
Manchester City, in fact, have splurged over one billion euro in the last six seasons, but are yet to win the European crown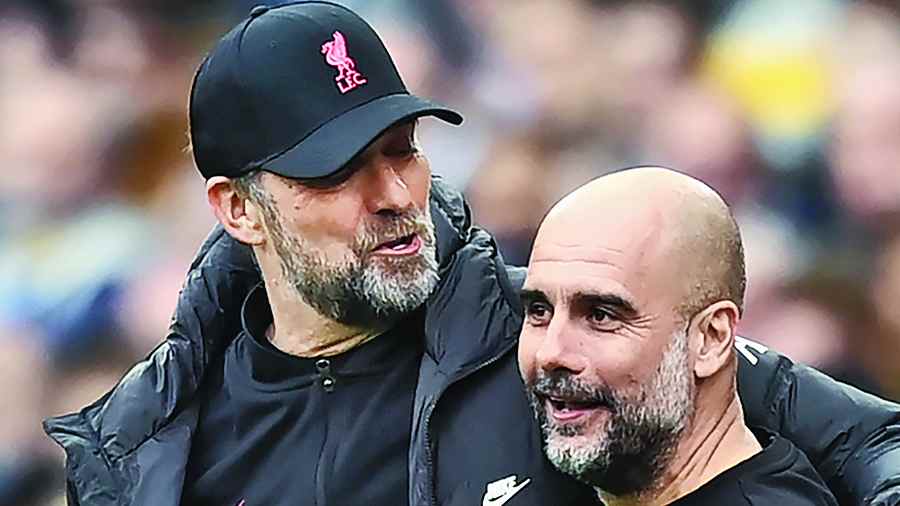 Manchester City manager Pep Guardiola (left) with Liverpool's Juergen Klopp during their Premier League match last month.
Getty Images
---
Published 06.05.22, 12:02 AM
|
---
Pep Guardiola's attempt to conquer Europe once again fell by the wayside on Wednesday, this time in Madrid. And now the question is when he would win the Champions League, which has been eluding the Spaniard since he last won with Barcelona in 2011.
At the Bernabeu, minutes away from booking a summit clash against Liverpool, Pep's men were undone by another of Real Madrid's miraculous comebacks.
By his own admission, Pep overthinks. Probably that over-thinking led him to forget the basic — never take out the goal scorer in a close game. Riyad Mahrez's substitution five minutes before full-time gave an impression as if Man City had the game in their pocket against a team who are notorious for turning a match on its head in the dying minutes.
While Man City and Pep have been left ruing what could have been, on Tuesday Liverpool showed what it takes to become a champion side.
They are on the threshold of becoming the greatest English side ever — if they win an unprecedented quadruple — and one Juergen Klopp could be hailed as the best coach to manage an English club. 
Transforming a team, mocked at by rival fans that Bryan Adams' 18 till I die was penned for Liverpool, into what they are now, Klopp has surely done the unthinkable.
Klopp is the antithesis to Pep's idea of football. He is more pragmatic when it comes to formations and works judiciously in the transfer market.
Man City's decision to splurge £100 million on Jack Grealish is debatable. Whereas Luis Diaz, the Colombian signed in January, came off the bench against Villarreal and masterminded Liverpool's entry into the final with a game-changing performance. A tale of two signings.
City, in fact, have splurged over one billion euro in the last six seasons, but are yet to win the European crown.
"The difference between the choice of the players of Klopp and Guardiola is that the former signs footballers who have not yet been top worldwide. Guardiola on the other hand signs players who already have recognition and are much more expensive," former ATK Mohun Bagan coach Antonio Lopez Habas told The Telegraph from Madrid.
"I am not saying Man City players do not have the calibre to win the Champions League, but to rule Europe, you have to be a team with a sense of belonging like Liverpool or Real Madrid," he added.
Habas is also not a fan of Pep's school of coaching where you have to be distressingly passionate of following style over substance.
"Look at Madrid. Their idea has always been to win. Style could be fashionable in today's football and to me it's a lie. Madrid, unlike Man City, always play the right football. I think after this debacle, Man City need to do something different, because it's becoming too predictable."
For all the talks of City and Pep's Europe jinx, they still remain on top of the Premier League standings. A point separates them from Liverpool. But the league is City's to lose. It remains to be seen whether the latest setback will have a crushing blow to their morale or they will rise to the occasion.