World Cup: Get in. Cheer. Get out. A Saudi excursion
Commuters are soccer fans, and they carry only what they need: banners, flags and a passport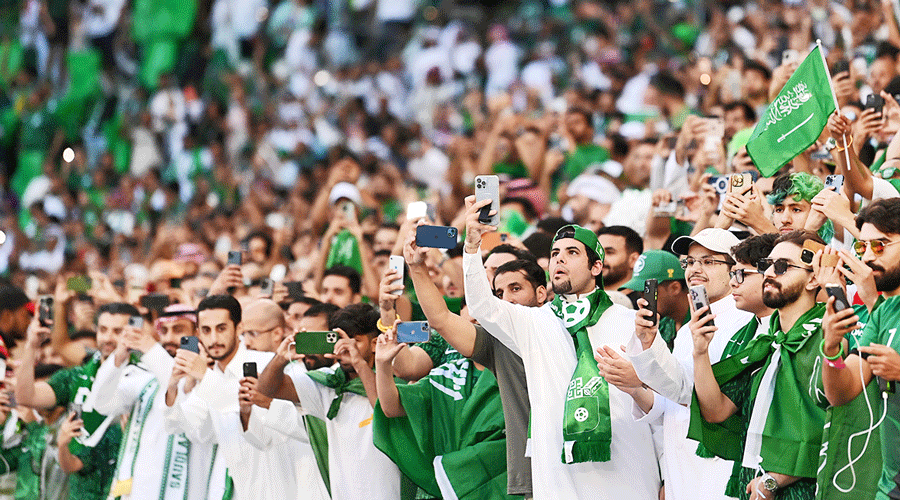 Saudi Arabia fans during the match against Poland in Al Rayyan on Saturday.
Getty Images
---
Doha
|
Published 28.11.22, 06:16 AM
|
---
Planes were landing, from all around the world, every few minutes. They came from London and Tokyo, Hong Kong and São Paulo. 
But among them were dozens of planes that had not come far, sometimes just a few hundred miles from the west and after barely reaching cruising altitude. They came from Saudi Arabia, Qatar's next-door neighbour, and they carried excited people in green jerseys and with no bags to check.
These World Cup commuters would not stay long. Kickoff was at 4pm (local time, on Saturday, vs Poland).
They would wake up back home on Sunday, a work day, in their own beds. They were soccer fans, and they carried only what they needed: banners, flags and a passport. And they brought a renewed sense of collective expectation as they arrived to cheer Saudi Arabia, the unlikely darling of the tournament, if not the entire Middle East.
Beating Argentina will do that. Every game, now, is bigger than the last. After losing to Poland, 0-2, the next, against Mexico on Wednesday, will decide if Saudi Arabia reaches the round of 16. That hope will generate another day like this one.
By midmorning, the airport in Doha was spilling out bursts of green. Among them were the brothers Faris and Salman al-Hassan, fresh off a short flight from Riyadh and wearing green jerseys and scarves.
They could have come by car, they said — Doha is about six hours from Riyadh — but Qatar, nervous about car traffic, disincentivised that idea for the World Cup. It created a temporary toll of 5,000 Saudi riyal (about $1,330) for those driving across the border during the tournament.
An alternative was to park at the border and hop on a bus at the Abu Samra, Qatar, checkpoint, as thousands of others had done over the past week.
The no-frills bus ride is little more than an hour, but the bus is not the hard part: Abu Samra is hours from any major Saudi city. So the choice was made by thousands: Commute by air.
Get in. Cheer. Get out.
"We will go straight to the stadium and come right back," Salman al-Hassan said.
About 20 flights arrived in Doha from Saudi Arabian cities between dawn and 1pm (local time) on Saturday, timed just for the afternoon kickoff.
At 11:15am, here came an Airbus 320 from Riyadh. Another big Airbus departed nearby Dammam, made a gentle parabola in the sky and touched down in Doha at 11:30am. In its slipstream was a flight from Medina, then another from Riyadh, then one from Damman, then one from Jeddah, across the Arabian Peninsula along the Red Sea.
That was in the space of an hour. Each flight, each giant jet, disgorged bright-eyed revellers and then went back to fetch more.
Into Qatar the fans came, through customs and past baggage claim — not a necessary stop for most — and into the hushed hall of the gleaming terminal.
Most, it turned out, had never been to Doha. It is an emerging global capital more than a regional destination.
This would be a quick fling, a one-day takeover. From the terminal, the Saudis caught the metro, got off at the Msheireb station in the city centre, walked around and ate, and then got back on the metro — the green line, fittingly — for an eight-stop ride to Education City Stadium.
There, Poland awaited, very much the visiting team. No matter the result, all of this had come as a surprise. Saudi Arabia's soccer team had arrived in Qatar as a classic underdog, its roster drawn mostly from domestic leagues.
It began the tournament with the longest odds in the field, 1,000-to-1, and permission from no less than the kingdom's de facto ruler, Crown Prince Mohammed bin Salman, not to worry too much about wins or losses.
But down by 1-0 to Lionel Messi and Argentina on Tuesday, Saudi striker Saleh al-Shehri became an instant national hero. Free on a breakaway, he sent a sliding left-footer into Argentina's goal. Al-Dawsari followed a few minutes later with a thunderbolt into the upper-right corner.
The Saudis led and held to win. It was such an unlikely outcome that Wednesday was declared a national holiday. That gave fans more time, presumably, to stage their in-and-out pilgrimages on Saturday and what will be at least one more.
Early on Saturday morning, a family awoke in their homes in Riyadh and got out of the door for the airport. When the match ended, just past sundown, the day reversed itself.
The stadium emptied. The metro's green line filled with Saudi fans. Thousands of soccer commuters crowded the airport again.
They divided themselves onto planes that brought them home in the same short arcs — to Riyadh, to Dammam, to Medina, to Jeddah.
They returned to the beds that they had left in the morning. An excursion more than a trip, but one with a feeling that will last.