Crowd leaves Daniil Medvedev heartbroken
The world No.2 has been cast as the pantomime villain of this Australian Open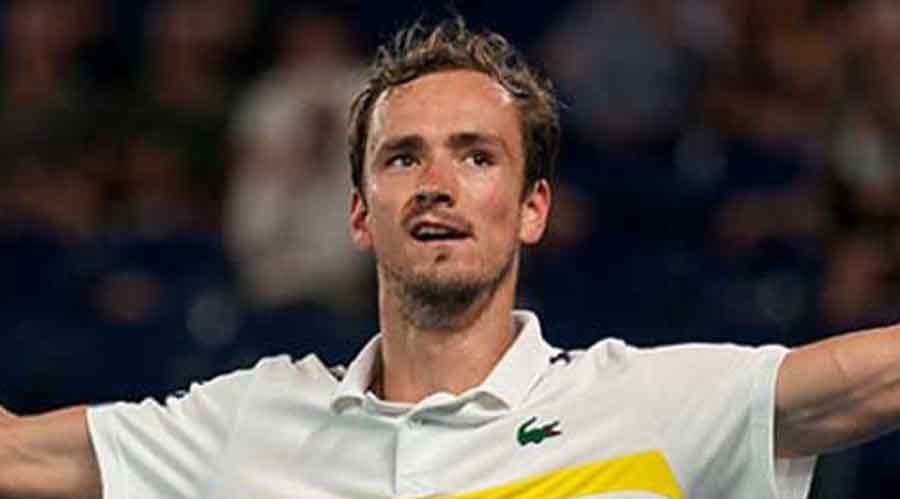 Daniil Medvedev
File Photo
---
Published 31.01.22, 02:26 AM
|
---
Daniil Medvedev fought valiantly, in fact he had the upper hand in the first half of the engrossing men's singles final at the Australian Open, but losing to Rafael Nadal, he was left crestfallen over the lack of crowd support for him at Melbourne Park.
"Before Rafa serves even in the fifth set, there would be somebody... like one guy screaming, 'C'mon, Daniil'," he said.
"(But) a thousand people would be like 'Tsss, tsss, tsss'. That sound. It's disappointing. It's disrespectful. I'm not sure ... I'm going to want to play tennis."
The world No.2 has been cast as the pantomime villain of this Australian Open. At different stages he has appeared to thrive on the negative energy directed towards him. But Sunday was not his day.
Medvedev seemed to play up the crowd for a period, just as he had done in earlier matches. He was belligerent too, both with the umpire and also with the ball kids, which scarcely earned him any friends.
During his runner-up speech, the 25-year-old spoke with bravado while praising his conqueror as an "amazing champion". But he notably made no reference to the crowd at all.
He started his post-match media conference by telling a lengthy story about a young boy with big dreams who always wanted to play on the biggest stadium courts of the world. After a lengthy monologue, Medvedev said he would gladly skip Wimbledon or the French Open if he could instead play in front of home fans in Russia.
"The kid stopped dreaming. The kid is going to play for himself," he said with emotion.
"It will be tougher to continue tennis when it's like this."
Just as Novak Djokovic has lamented the difficulty of winning support from the crowd when pitted against Roger Federer or Nadal, the reigning US Open champion experienced a bitter lesson on Sunday: Crowds love a hero, and the greats who have been around for longer will always have their support.
 (Written with agency inputs)