Who-calls-the-shots puzzle in Chennai Super Kings
It does seem that former skipper MS Dhoni is still taking most of the on-field decisions with Ravindra Jadeja positioned at the deep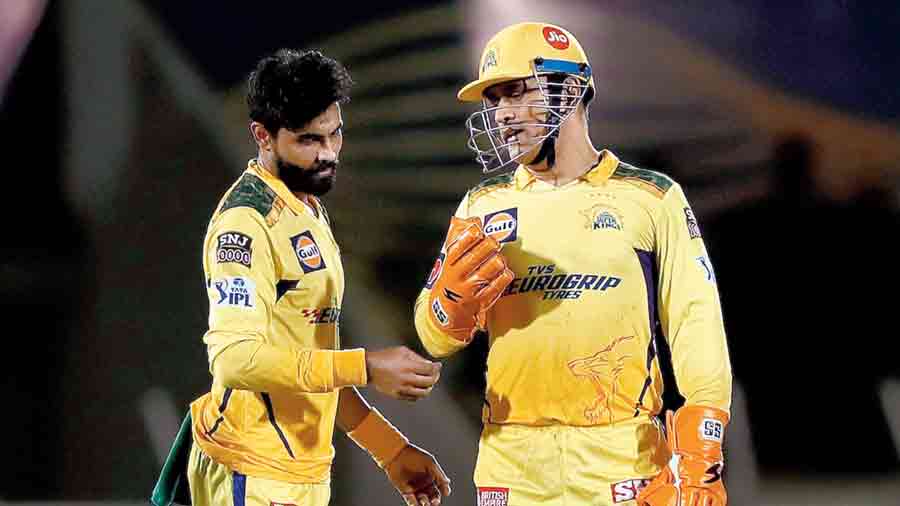 CSK captain Ravindra Jadeja (left) with Mahendra Singh Dhoni, his predecessor, during their IPL match against Punjab Kings in Mumbai.
PTI
---
Published 05.04.22, 12:16 AM
|
---
The start to Ravindra Jadeja's captaincy has been far from good with Chennai Super Kings losing all their three matches so far in the ongoing IPL. In fact, Jadeja's own performance with both bat and ball has also been short of expectations, which too has hurt the Super Kings as they are among the bottom-placed teams in the standings.
But what appears to be the talking point is the captaincy element in the Super Kings team, as it does seem that former skipper Mahendra Singh Dhoni is still taking most of the on-field decisions with Jadeja positioned at the deep. This was seen particularly during the closing stages of the Super Kings' clash versus Lucknow Super Giants last week, a game they lost in spite of posting 210 for 7 on the board.
Jadeja, though, doesn't look at it that way. "The last match against Lucknow was a high-scoring game, so there were chances of catches at deep mid-wicket.
"Our thinking was that it would be better if a good fielder was placed there. So since I was fielding there, I wasn't able to communicate with the bowlers much," Jadeja said at the post-match news conference after the Super Kings' embarrassing 54-run loss to Punjab Kings at the Brabourne Stadium in Mumbai on Sunday.
"But Mahibhai gives inputs, which is always good.
He is so experienced that we don't have to look anywhere else for advice.
"He's a legend and has been captaining for so many years. That experience is there in our dressing room, so we are lucky to get advice from him," Jadeja emphasised.
Given the situation CSK find themselves in, it wouldn't be wrong to say that Jadeja is feeling the heat and is under some serious pressure. Jadeja though asserted that he had mentally been ready to lead the side ever since he had been informed about his role as captain.
"I've been preparing for captaincy since I was told about it a few months ago. Mentally, I was ready to lead. I didn't have any pressure on me, backed my instincts and whatever thoughts come in my mind, I had decided I would just go for them," he said.
But he acknowledged that the Super Kings need momentum, quick.
"In T20 cricket, only one game is required to regain momentum and then the winning streak begins. We are searching for that one win.
"Once that comes, everyone is experienced enough in the team and aware of their roles in order to do the needful to take the side upwards (in the points table). We are just working hard to get back the rhythm and waiting for our plans to click," the skipper added.
Also, opener Ruturaj Gaikwad's inability to contribute at the top and seamer Deepak Chahar's unavailability has been among the Super Kings' concerns.
"We can't judge after just one or two games," Jadeja said. "We need to back all our players."