Shane Warne tribute: 'Ball of the century' & a 'bit of leg spin'
In December 1994, he became the first player in over 90 years to take an Ashes hat-trick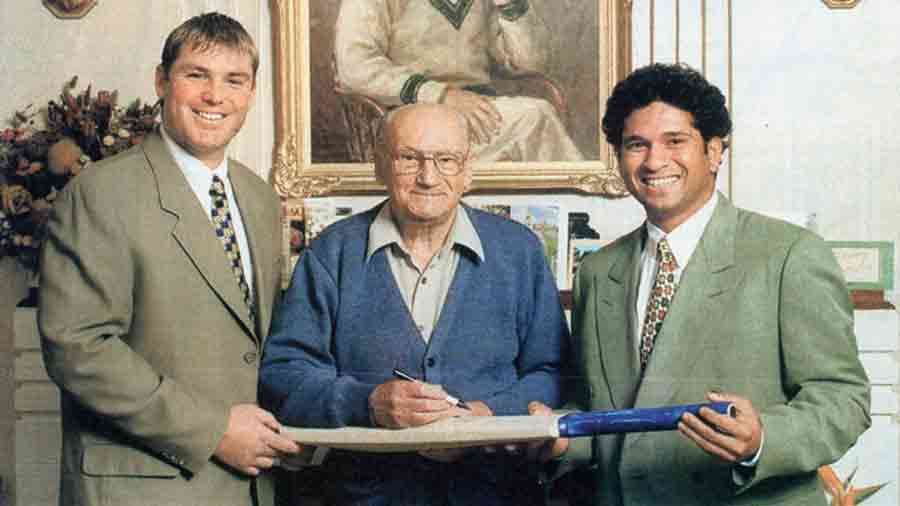 Warne and Sachin were present at Don Bradman's residence on August 27, 1998, to celebrate the legendary batsman's 90th birthday.
Twitter
---
Published 05.03.22, 02:02 AM
|
---
Shane Warne's career was the stuff dreams are made of. He can always be credited with saving the art of spin bowling at a time when it was continuously dominated by pace.
In Manchester, on June 4, 1993, with his first ball in an Ashes series, the legendary leg spinner stunned the world with a delivery that pitched outside leg and took a wild curve to rattle the top of Mike Gatting's off stump.
The pitch was damp and there were a few patches as well. But Gatting didn't know what had hit him. He stood his ground for a while before walking back. Even umpire Dickie Bird couldn't believe what he had just witnessed.
Richie Benaud, in his signature tone from the commentary box, said: "Gatting must have felt it perhaps hit the keeper and went back to the stumps. It was a perfectly pitched leg-spinner. I can understand Gatting disbelieving."
Warne had bowled the 'ball of the century', one to remember for ages for cricket enthusiasts. It was his first ball in a Test in England and his first in Ashes cricket.
The spin magician, 52, died from a suspected heart attack in Koh Samui, Thailand, on Friday, his family confirmed. An unknown then, Warne had turned a few heads on his arrival in England. Not for his bowling, but for the ear studs and the funky hairdo. But the leg spinner from Victoria had set the tone for the remainder of the series.
England never recovered from the first Test shock. Warne finished with figures of 4/51 and 4/86 in the first and second innings, respectively in Manchester. Australia won the Test by 179 runs and Warne was adjudged Man of the Match.
He always seemed to reserve his best for the Ashes. In December 1994, he became the first player in over 90 years to take an Ashes hat-trick, at the MCG.
Warne went on to become an integral part of Steve Waugh's all-conquering Australian side of the late 90s and early part of this century with the likes of Glenn McGrath, Ricky Ponting, Matthew Hayden and Brett Lee among others.
He was fined by the Australian Cricket Board in 1995 after admitting to taking money from an Indian bookmaker for providing information about pitches and weather during the Singer Cup in Sri Lanka in 1994. It wasn't all smooth sailing for the legend. In 2003, he failed a dope test for a diuretic and was banned from all cricket for a year in the middle of Australia's defence of the World Cup in South Africa.
He returned against Sri Lanka in 2004, taking 10 wickets in his first match to cross 500 Test wickets.
His rivalry with Sachin Tendulkar was legendary. During Warne's maiden series in India in 1997-98, Sachin had practised playing Warne round the wicket because nobody had till then attacked him in that area. The result: Sachin finished the series with 446 runs in five innings at an average of 111.50. A pale Warne had only 10 wickets in three Tests as India won 2-1.
In the Coca-Cola Cup in Sharjah that followed, Warne was again at the receiving end of Sachin's 'Desert Storm'. Warne admitted that the Indian had given him nightmares following a brutal assault.
Warne will also be remembered for his leadership skills after guiding Rajasthan Royals to the inaugural IPL title in 2008 though he never led Australia.
Despite his hurly burly lifestyle, Warne had no regrets. In his own words, "I liked loud music, I smoked, I drank, and I bowled a bit of leg spin. I don't have any regrets."