Ranji Trophy: With an eye on the past, two mentors chart a glorious future
Once teammates, 'khadoos' Chandrakant Pandit and Amol Muzumdar ensure this historic finals had only one winner: Indian cricket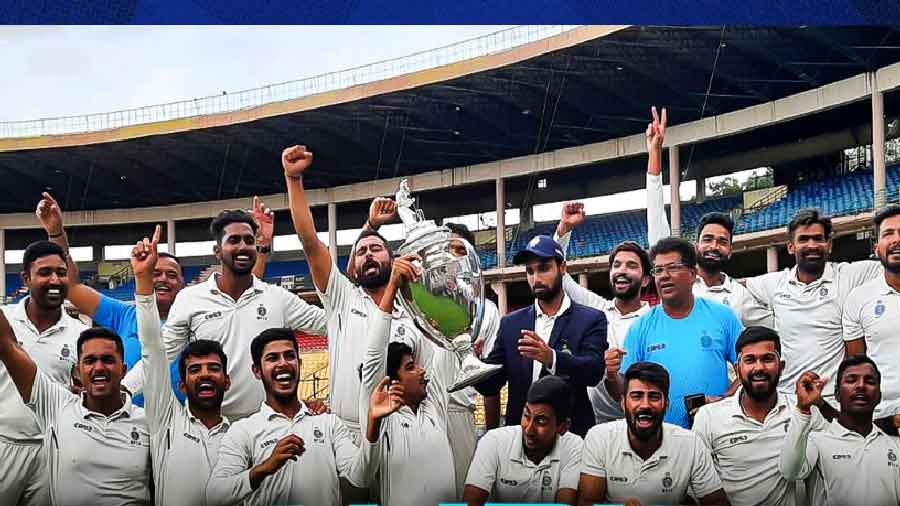 The triumphant Ranji Trophy-winning Madhya Pradesh side
Twitter/@BCCIdomestic
---
Published 26.06.22, 08:43 PM
|
---
A shade under a month after the Indian Premier League saw one of its newest entrants Gujarat Titans win the title on debut, another seesaw battle was unfolding at the M Chinnaswamy Stadium in Bengaluru. The powerhouse of Indian domestic cricket, Mumbai, a 41-time winner, against Madhya Pradesh, in their first final of a Ranji Trophy in 23 years.
The surround sound for the final was but obvious. Mighty Mumbai with an array of fine batting talent versus the fast-improving MP who were looking to win their first Ranji title. And in two storied characters in Chandrakant Pandit and Amol Muzumdar helming the charge, this was portrayed to be a battle of two Mumbai coaches too.
Having cut their teeth in the game under the iconic Ramakant Achrekar at Sharadashram Vidyamandir, both Pandit and Muzumdar have had fine careers playing for Mumbai. Muzumdar won the Ranji title on his debut in1993-94, and also on his captaincy debut in 2006-07. For Muzumdar, a win as coach would be the icing on the cake in what is Mumbai's 48th Ranji final appearance.
That was not to be and mighty Mumbai bowed to an audacious Madhya Pradesh. For up against Muzumdar was Pandit, one of India's finest coaches in the domestic circuit looking to win his sixth Ranji title with three different teams (after Mumbai and Vidarbha). In fact, Muzumdar was one of the mainstays of the Mumbai side that won successive Ranji titles under Pandit's tutelage between 2002 and 2004.
There is talk in Mumbai cricket circles that Muzumdar has brought the best out of his young unit, helping them discover their 'appetite for success'. Veteran Mumbai cricketers have even gone as far to say the famed 'khadoos' mentality, synonymous with Mumbai cricket, is well and truly back.
And it is this 'khadoos' attitude that Pandit has been able to successfully bring in to the MP team. Bristling with confidence, and showing maturity needed at this level, his team have been one of the standout performers thoughout the tournament, and signs are, they won't be done with just one good season. A strict disciplinarian who has in-depth knowledge of his wards, Pandit, ever since he took charge in 2020, has been working relentlessly to bring out the best talent Madhya Pradesh has to offer, and then finetune their skills to make them ready for the big battles. For someone who learnt the nuances of captaincy observing the late Ashok Mankad at Mafatlal cricket club in the late '70s, Pandit himself has come a long way. And his eye for talent is something that has benefited most sides he has been with.
It was this eye for talent that got former Indian cricketer and Mumbai cricketing giant Dilip Sardesai to once take the night train to Baroda to make it in time for the West Zone U-22 team selection meeting in the early '80s. Former Mumbai captain Shishir Hattangadi recalls Sardesai telling him "Chandu is India material, he will play for India one day Shish, he must be in the team. I have seen something special in him".
While Sardesai chose an out of form Pandit over another Mumbai colt with a couple of hundreds in the U-22 Zonals, Pandit would go on to achieve his rightful place in the sun as he established himself firmly in Mumbai cricket, even making it to the Indian team. Muzumdar, himself a storied figure in India's domestic circuit,  would also want to take it one step further being in-charge of the very team he played for with great success. Meticulous in his methods, and having clarity in communicating with the players, this gentle giant of Ranji Trophy has a glittering array of talent to work with.With wards like the irrepressible Prithvi Shaw, the magnificent Sarfaraz Khan, Armaan Jaffer, Suved Parkar and Tushar Deshpande to name but a few, both Muzumdar and Mumbai know they have their work cut out to ensure these talented youngsters can make it to the big league.
Pandit on the other hand, hamstrung by the unavailability of the likes of Venkatesh Iyer and Avesh Khan, has ensured that MP isn't lacking in bench strength. Yash Dubey, Shubham Sharma, Rajat Patidar and Kumar Kartikeya aren't exactly spring chickens when it comes to this level of competition, having formed the bedrock of MP's consistently clinical performances.
The record books will have an addition as the iconic Ranji Trophy will find new claimants. But what can't be missed is how nearly eight decades on, a now-forgotten rivalry in Indian cricket is coming alive yet again. The first team to beat Mumbai in a Ranji Trophy final, Holkar, were the storied team of the 1940s. In a span of 11 seasons from 1944-45 to 1954-55, Holkar reached the finals every time except 1948-49, and won four of those 10 finals. CK Nayudu, Mushtaq Ali, Chandu Sarwate, MM Jagdale, BB Nimbalkar and CS Nayudu were the invincibles who ruled Indian cricket making Holkar possibly the first powerhouse in Indian cricket though the moniker may not have existed at that time.
Decades on, Holkar has ceased to exist by itself, instead, playing as Madhya Pradesh with expanded geographical contours. Bombay too has moved on to be Mumbai, but has kept its iron-grip on the domestic cricket scene. But much like the two coaches who clashed swords at the present day Ranji final, there is, and will always be more than just a connection between the two cricketing legacies.
When the Hindus won the 1939 Pentangular, erstwhile Bombay erupted in joy, and neighbouring Poona saw a glittering reception specially for the four members of the winning team who were from Holkar – the Nayudu brothers, MM Jagdale and KV Bhandarkar, who were feted at the Poona Young Cricketers ground with a few thousand in attendance.
The princely patronage of the Maharaja, Yashwant Holkar II, his famed chats with CK Nayudu at the iconic Manik Bagh palace in Indore have almost been lost to memory, but a clutch of cricket-loving administrators are promising to bring the glory days back. And the intent is well displayed by Madhya Pradesh with their stirring performance this season. Mumbai cricket is in good hands too, and it all raises hope once again that domestic cricket, the true breeding ground of the next generation of talented cricketers, will once again find its pride of place.
(Sanjeeb Mukherjea is cricket writer and television commentator)